What an eyeful: Apple's cut price 27in iMac with Retina Display
Revamped all-in-one drives down the cost of 5K kit
Log in latency
Switching back into OS X, I fired up the Mac version of Batman: Arkham City, and saw the 3.3GHz iMac breeze to 52fps when running the game at 2560x1440 with High graphics settings, compared with 55fps for the 3.5GHz model.
That sort of performance means that this less expensive version of the 5K iMac still has the raw horsepower needed to handle high-end graphics applications and video-editing work.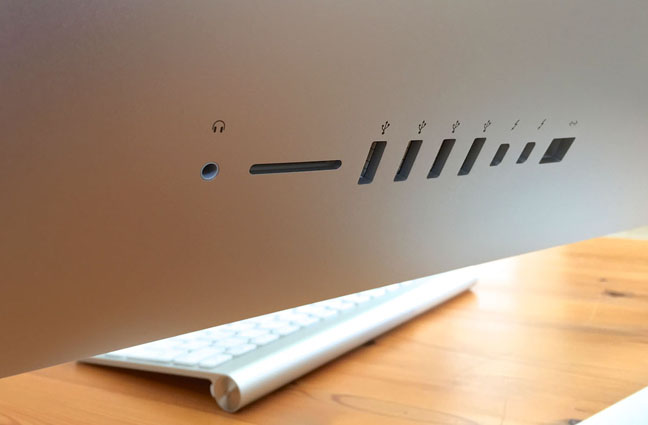 Interfacing aplenty: at least Apple hasn't removed the Ethernet port here
Disk performance does leave room for improvement – and the iMac's 32-second boot time seems like an age in these days of instant-on laptops and tablets – but the iMac includes two Thunderbolt 2 ports, along with its four USB 3.0 ports, so I'd be inclined to opt for an external Thunderbolt drive to help out there, rather than paying extra for Apple's build-to-order upgrades.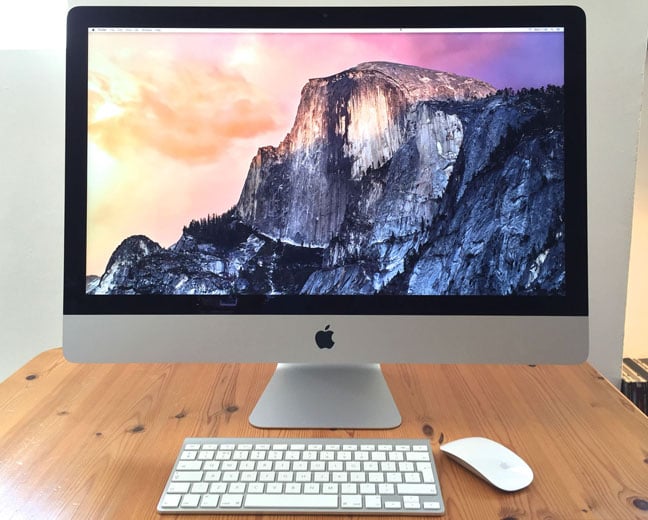 Who would have thought that Apple would deliver the cheapest path to 5k computing?
The Reg Verdict
Despite making a few compromises this new version of the iMac With Retina 5K Display still has the performance needed to handle the high-end graphics and creative applications that can most benefit from that 5K display.
The relatively modest disk performance might encourage some users to opt for the Fusion drive in the more expensive 3.5GHz model, but with 5K displays still costing well over £1,000 on their own, this 'more affordable' iMac is still a very attractive option for designers, video-editors, and other creative users. ®

What an eyeful: Apple's cut price 27in iMac with Retina Display
All-in-one with a 27-inch, 5120 x 2880-pixel display, Intel quad-core 3.3GHz i5-4590 CPU, 8GB memory, 1TB HDD and a Radeon R9 M290 GPU with 2GB VRAM.