This article is more than 1 year old
LG G4: Be careful while fingering this leather-clad smartie pants
Removable battery, micro SD expansion? Walk this way...
Smart goals
The Quad HD 1440x2560 display has been improved, delivering deeper colours. The blacks are eye-poppingly black – the kind of black black you expect from AMOLEDs, but on an IPS panel. The outdoor legibility has also been improved, I thought.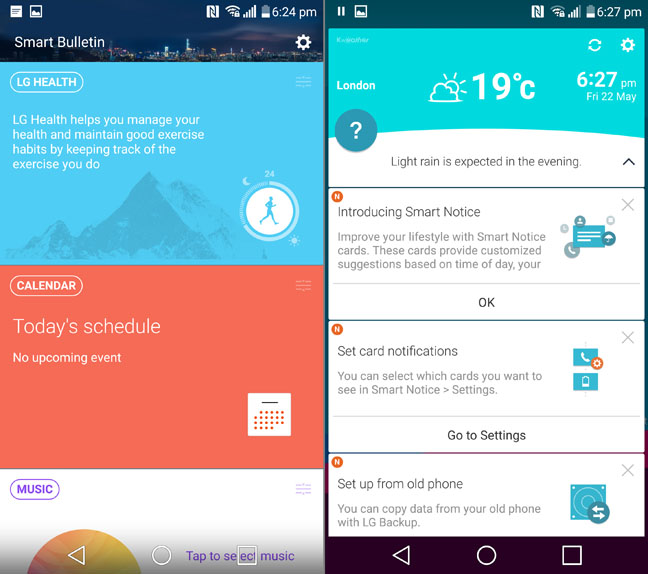 All the smarts...
The UI (UX 4.0) has also made tasteful incremental improvements over last year's, blending the stark austerity of Lollipop with LG's rather busy notifications quite well. And there are thoughtful additions. "Smart Actions" is a little like Motorola's er, "Smart Actions" – settings change based on location, time or whether a connection is active – but more limited in scope.
The default set is merely things that happen "at home". By default you don't get a notification to remind you the settings has changed. I found it impossible to tell the phone that it was in my home location. So the feature went untested, although this was a pre-production model, so I presume this will have been ironed out on retail units.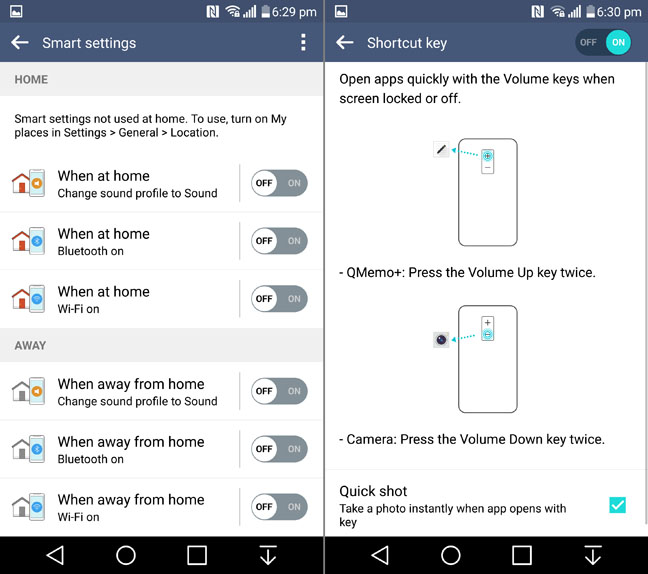 ...but some Smart features work better than others
Swipe right at the home screen and you get LG's portmanteau app in the same place HTC puts its HTC Sense web2.0rrhea app. I found this one to be more useful than I expected – it includes sub-panels covering calendar, settings, the IR remote QRemote, and LG Health and help. You can turn any or all of these off. The two most attractive UX features – knock to wake, and the not-exactly-secure knock to unlock – debuted in the G3.
Camera
The camera was top notch. A wide (f1.8) aperture and LG's laser rangefinder give colour-blasted images with plenty of detail, and near-instant shot-to-shot time. The exposure balance is excellent and performance in low light is more than impressive.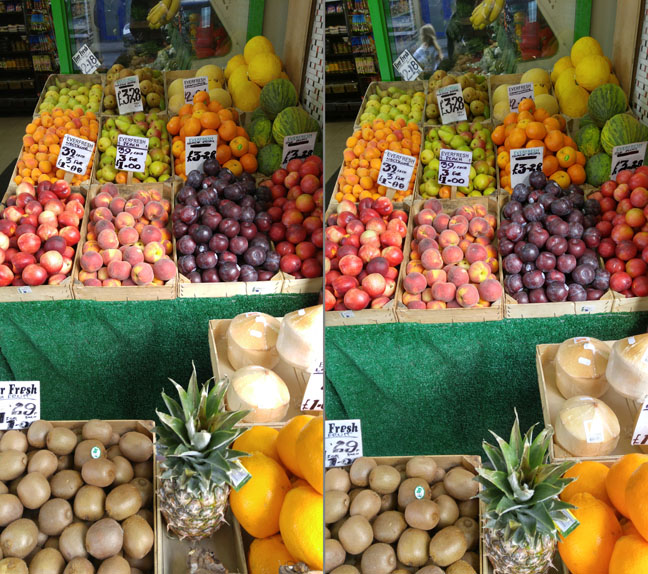 Image without HDR (left) and with HDR (right) – note less burn out on the items in the bottom right
Click for a larger image
Optical image stabilisation is included, and 4K shooting and Raw (DNG format) images are also supported. I really wouldn't want to call it between the cameras on the Samsung, Apple and LG flagships without substantially more testing. With the exception of HTC, it's a vintage year.
The LG came out slightly – not massively – ahead on battery performance. Last year's G3 was the first mainstream flagship with a power-guzzling Quad HD display, and despite packing a larger battery than rivalsthe display demands took their toll. I'd say the G4 is average. LG dodged the bullet by opting for the slightly slower Qualcomm Snapdragon 808, rather than the faster but thirstier 810.

Left to right: LG G4, Apple iPhone 6 Plus, Microsoft Lumia 930 – click for a larger image
Samsung's own chipset in the S6 wins out on those rare occasions you need raw speed, but in long-term use I've found the S6's power consumption is appalling unless you turn on the power saver. Neither comes out well next to the iPhone 6 Plus, and in Android land Sony reigns supreme for battery life. Largely because it's much more aggressive about turning down background tasks by default.