LTE will catch up with 3G by 2020: Ericsson
M2M? Lots of things with not much to say
---
Here comes 5G, except for one thing: most of the world will still be on pre-4G by 2020.
That's the conclusion of research by Ericsson, which finds that today's 7.1 billion mobile subscriptions are dominated by GSM/Edge services. By 2020, the biggest slice of the world's 9.2 billion services will be the 3.8 billion WCDMA/GSM services, with LTE close behind at 3.7 billion subscription.
As the research points out, "GSM/Edge remains a viable option for many users in developing markets" because of low cost.
The biggest growth in smartphone subscriptions between now and 2020 will be the Asia-Pacific, which Ericsson reckons will add 1.9 billion new users. The rest of the world will only manage around 1.6 billion new subs in the same period.
The Middle East and Africa is expected to grow by 55 per cent in total mobile subscriptions in the period, but from a low base.
Ericsson's traffic predictions are broadly in line with those from Cisco in its recent VNI report: monthly mobile data traffic will hit 30.5 exabytes per month, which is a lot more than today's 3.3 EB/month, but still dwarfed by the 140 EB/month traversing fixed networks.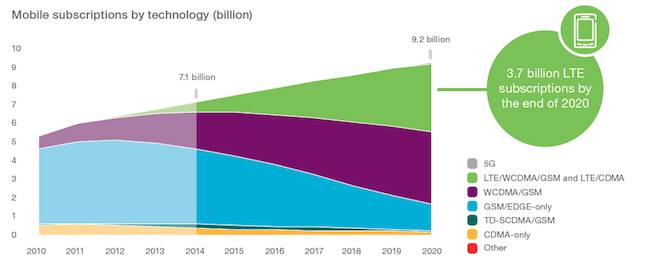 Ericsson reckons LTE will nearly catch 3G by 2020
Like Cisco, the Scandinavian superpower thinks there'll be lots of Internet of Things devices connected by 2020 – about 26 billion machine-to-machine devices. However, those things won't be generating enough traffic to get their own breakout in the chart, mostly because video is going to be mobile's killer app.
The company has upped previous predictions for mobile video by a few percent, saying it will take up 60 per cent of total mobile traffic by 2020.
What M2M communications will need, Ericsson reckons, is more spectrum below 1 GHz to maintain the kind of coverage the Internet of Things is going to need: "This enhances rural geographical coverage and improves deep indoor coverage in urban areas", the report notes.
The report is promoted here. ®