If it's the first week of the month (and it is) that makes it time to have a look at desktop OS market share as calculated by Netmarketshare and Statcounter.
This month, both outfits recorded a small dip in Windows 7 usage.
Netmarketshare has it dropping from 58.39 per cent to 57.76 per cent of observed traffic hitting the web servers it monitors. Statcounter has a drop from 53.81 per cent to 53.1 per cent.
Both also record small upticks for Windows 8.1. Netmarket's measure reckons it's gained 1.7 per cent of market share to hit 12.88 per cent of the desktop OS market. Statcounter has a 0.24 per cent rise for Windows 8.1 and 15.99 per cent market share.
Statcounter also has a surge for Mac OS, which it thinks is now just 0.03 per cent behind Windows XP's 10.54 per cent market share. Netmarketshare still has Mac OS a few points behind XP.
Let's look at the graphs so we can get a visual understanding of what's going on this month.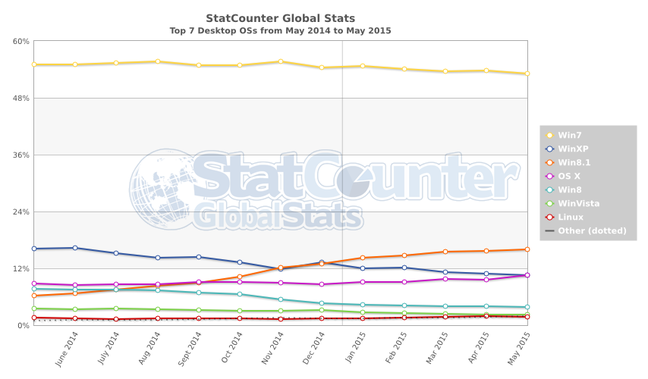 Statcounter desktop OS market share, May 2014 to May 2015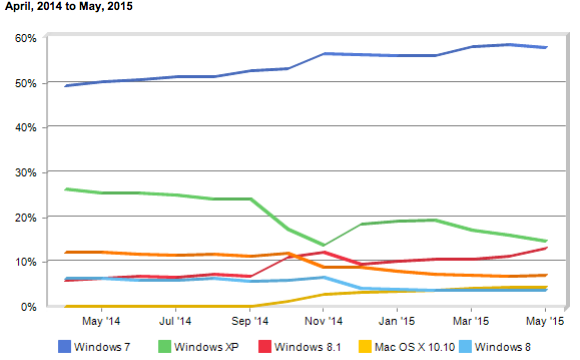 Netmarketshare desktop OS market share May 2014 to May 2015
What to make of this month's data? The free upgrades to Windows 10 Microsoft is promising mean that those buying Windows 8.1 machines today probably know their new hardware won't be horribly out of data once the new OS lands, which may explain the rise in Windows 8.1 usage. The dip in Windows 7 is a little harder to explain, but could also be seasonal and/or methodological variation.
Whatever the reasons for this month's wobbles, August' numbers are surely the one to watch so we can learn just what impact Windows 10 has on the market. ®
Similar topics