Festival tech: Charge your mobe while you queue for a pee
Gadgets for Glasto and other sun-kissed muddy mayhem
Pocket Pint Collapsible Pint Glass

Never before in a festival field have four round pieces of plastic brought so much joy to so many. The Pocket Pint Collapsible Pint Glass is just that, a collapsible pint glass that fits in your pocket. To imbibe all you do is remove the cover from the base and expand the 4cm thick nested parts into a pint-glass shape.
Just as long as you make sure each of the sections are firmly in place (you quickly develop the ability to do this with a flick of the wrist and a tug), then it's fully water beer proof. As there's a gap between each section when nested it's easy to rinse clean.
The fixed base gives it more stability on uneven surfaces than a conventional plastic pint glass and the plastic is stiffer too, so there's less chance of compression-spillage. All we need is for someone to invent a collapsible pint of beer.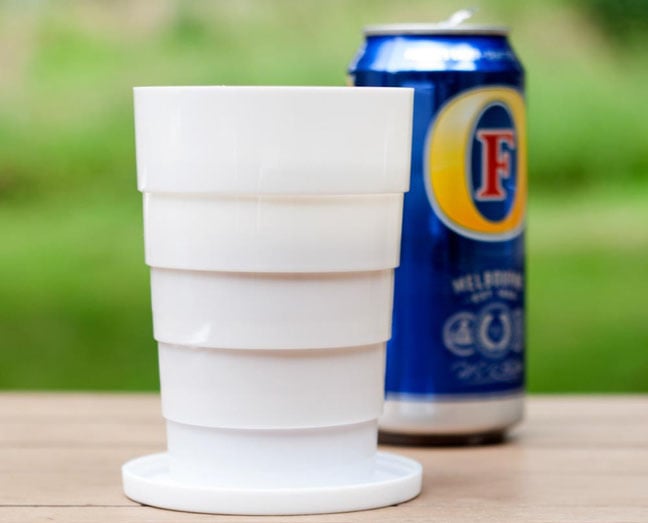 Soulra Rugged Rukus Solar Powered Bluetooth Sound System

At some point during any festival weekend, you're probably going to want to play some tunes off your smartphone over a speaker rather better than the one that's built in to it. The Rugged Rukus Bluetooth speaker is just the job, packing two surprisingly competent 1-inch speakers, a rechargeable battery and a solar panel into a small and light package that's IPX4 splash proof.
It's built like a brick outhouse too and has a couple of lanyard eyes so you can hang it from a tent cross pole. The makers reckon a full charge will play music for about 8 hours and that 5 hours of direct sunlight will provide said charge and I've no reason to doubt either claim.
There's a handy USB port to charge your phone, a 3.5mm AUX-in jack and a microUSB socket for mains charging. It's devoid of any sort of speakerphone facility but for the price that's just about forgivable.