Festival tech: Charge your mobe while you queue for a pee
Gadgets for Glasto and other sun-kissed muddy mayhem
UCO Arka USB Lantern

Rage, rage against the dying of the light. Or pack a torch. Actually pack an Arka because it works as a torch and a lantern. To transform from torch to lantern you simply pull the Arka open and fold out the feet. The 180 lumen LED provides plenty of illumination and is fully adjustable for whatever the required circumstances - bright for reading, dim for in-tent rumpy pumpy meditation.
The lantern part even has a nice frosted finish to cut down on LED glare. A full charge will give you between six and 50 hours of light depending on how high you have the wick turned up, and there's a handy emergency strobe. It's IPX5 water resistant and has a USB port, so you can use it to top up your phone. Packed down, the Arka is an impressively compact 13.3 x 6.5cm and weighs only 241g.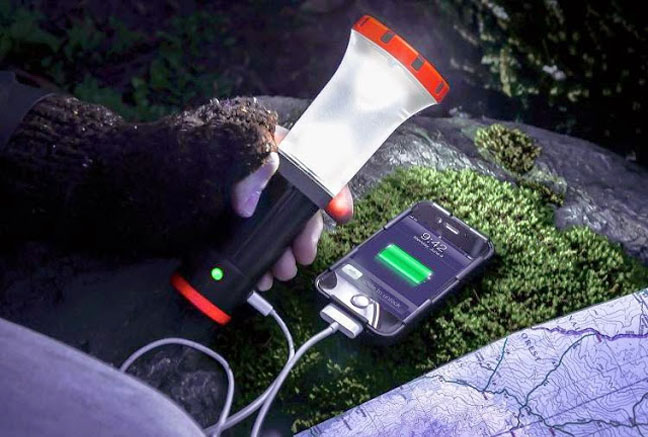 Urban Safe 30L Dry Flat Bag

Keeping dirt and water away from your tech is all well and good but frankly I'm just as concerned with keeping the great outdoors away from my socks, skivvies and other sundries. That's why I used a Dry Flat.
You can get Dry Flat bags in capacities ranging from 5 to 30 litres and I reckon the biggest is perfect for most outdoorsy, camping-type activities. Thanks to its heavyweight ripstop TPU outer shell and rather clever roll, fold and clip top, the Dry Flat is completely waterproof. In fact unless you fill the thing full of bricks it will even float.
With two D-rings and a shoulder strap it's easy to hang or carry and it packs down small when empty. It's no rucksack replacement but, as a way of keeping your shizzle clean and dry when living like a medieval peasant, it takes some beating. If 30 litres just isn't enough, the accompanying Dry Tube range goes up to 60 litres.