HP could overtake EMC in disk storage revenues – if IDC-revealed trends continue.
Networked storage array revenues are shrinking while server-SAN and hyper-scale storage revenues grow strongly, IDC said in its latest worldwide disk storage tracker.
Total worldwide disk storage revenues in the first 2015 quarter were almost $8.8bn, up 6.8 per cent year-over-year, with 28.3EB shipped, which was 41.1 per cent higher year-on-year.
EMC was the super canine, although its revenue share fell 6.7 per cent year-on-year to $1.53bn. Next was HP, with 19.3 per cent growth to $1.28bn; not so very far from EMC's number and poised to overtake it if these trends don't change. That 3PAR purchase really was very, very good.
But one great quarter is one thing. Having another EMC drop next quarter with HP growing again could be quite another.
Dell was in third place with $897m, up 6 per cent on the year. Then comes NetApp with $765m – representing a 10.5 per cent fall – and IBM in fifth place with $525m, a 29.3 per cent fall. Dreadful.
Original Design Manufacturers (ODMs) accounted for $1.1bn in sales, 22.9 per cent up on the year and evidence of hyper-scale disk storage growth. The Others category represents $2.67 Bn having grown 23.8 per cent.
An IDC chart shows the changes over the year: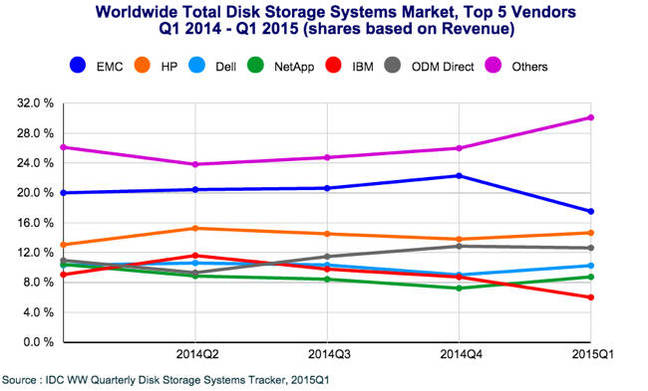 Dell tells us this marks its fourth consecutive quarter of total disk storage year-on-year revenue gains and it was the top overall supplier of total storage capacity (internal and external) for Q1, being number one in iSCSI array revenue and also in DAS revenue (internal and external).
The overall picture is different looking just at external disk storage;
EMC is top again with its $1.53bn and 6.7 per cent fall year-on-year
NetApp is in second place with the numbers above
HP and Hitachi tie for third place

HP has $512m which is a 2.6 per cent rise year-on-year
Hitach has $507m, a 2.8 per cent rise year-on-year

IBM is fifth with $434m, a 12.8 per cent fall
Others have $1.86bn having grown 12.1 per cent on the year
Overall, the big swings were away from IBM, NetApp and EMC, and towards the ODMs and the Others, with Dell, HP and HDS benefitting from smaller swings. ®
Similar topics