Analysis So you are King George Kurian of NetApp and it's your first day on the Iron Throne vacated by your ousted predecessor, Tom Georgens. You summon your courtiers, ask them what they see and why Tom G had to go - and then you decide what you see.
What do you see?
You see that the board put you in place and they can fire you as well as hire you.
The revenue growth picture is what did for King Tom. Customers aren't buying enough clustered ONTAP (CDOT) and they aren't buying enough NetApp boxes. The E-Series isn't taking up the slack. StorageGRID, the object storage product, is bringing in negligible revenue.
The 7-mode-to-CDOT transition is still part of the appallingly long integration of the acquired Spinnaker technology into ONTAP software, dating from 2004, eleven long years ago. NetApp has a patchy history of acquiring other technology companies in the storage industry. That has to be fixed, but that item is well down on your to-do list.
It's accompanied by a NetApp engineering issue: is it good enough? Engineering appears to be so slow at developing ONTAP and the hardware designs are conservative. Is safety-first the right approach? This is also an issue for the future.
Top of the list is a return to revenue growth, which is why you are in place, for now. Don't get too comfortable on the ferrous chair, as the game of CEO thrones depends on change.
Your courtiers are composed of two groups of people; CDOT supporters and the others. Hang on: after FlashRay's sacrificial burning at the ONTAP stake, are there any others?
There need to be, George, because the CDOT cohort – led by and influencing Tom – is what got Tom ousted in the first place. Of course, they will say not, believing that CDOT can take on:
Competing all-flash arrays – Dell, EMC XTremIO, HDS, HP, IBM, Kaminario, Pure Storage, Solidfire
Hyper-converged systems – Nutanix, Simplivity, EVO: RAIL
Scale-out systems – Isilon, coming EMC DSSD, Springpath
Hybrid arrays – Nimble, Tegile, Tintri, X-IO, etc
Cloud – Amazon, Azure, Google, etc
Big Data – Hadoop, Ceph, etc
Do you believe this?
They will say that NetApp isn't affected by Nimble, Tegile, Pure, Nutanix, Simplivity, Ceph, Hadoop, Amazon, etc, etc. That these are just froth rising and falling at ONTAP's core enterprise data centre edges. The core is safe. We need to execute better, of course, but there's nothing substantial, secular, that can affect ONTAP's central role at the core of the hybrid cloud.
Do you believe this?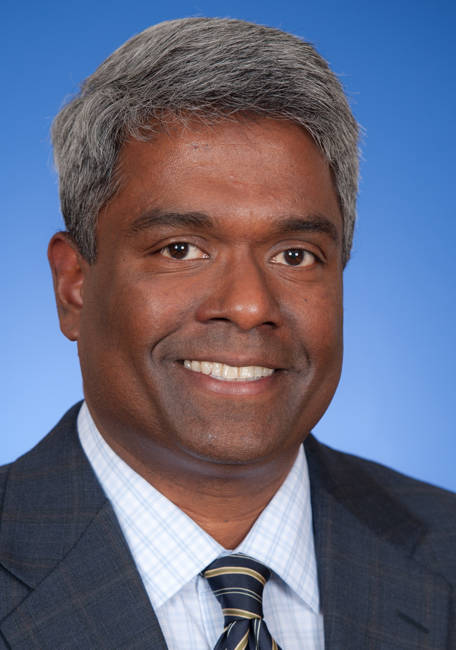 George Kurian, CEO of NetApp
The E-Series says ONTAP can't do high-performance computing storage or performance-led all-flash arrays, while StorageGRID says ONTAP can't do object storage. What else can't ONTAP do? Suppose you start thinking that ONTAP tries to do too much and ends up smothering NetApp opportunities rather than triumphantly extending them?
Is CDOT putting out NetApp's fire instead of being a growth engine?
ONTAP can't do hyper-converged systems, yet NetApp has ONTAP EVO:RAIL. What nonsense is this? It's the provision of networked storage to virtual SAN servers that don't need it and will get their own data services. Surely a joke of a strategy.
Do you have an ONTAP courtier who steps aside from the rest and diffidently suggests that ONTAP Edge – the ONTAP-V product turning a server's direct-attached storage into a virtual SAN – could actually become a real EVO: RAIL system, that NetApp could make an EVO: RAIL template like its FlexPod scheme? That NetApp could go further and build a scale-out, hyper-converged system using Supermicro servers, ONTAP-V and a Linux OS with containers and regain its engineering edge?
Do you hear the ONTAP Data Fabric voices, George? The ones that say such a fabric could have ONTAP providing a single, end-to-end, seamless data access fabric for on-premises, hybrid and cloud storage? It's a pretty strong vision, but will it prevent your competitors making inroads into your accounts across the whole gamut of competing storage technologies listed above?
Do you believe this?
George, were you appointed because NetApp realises it has been in denial over clustered ONTAP's limitations and strategic weaknesses and understands it needs to change? Or were you appointed because it doesn't want to change and you are part of the denial?
Are we going to see the CDOT blandness of King George or a bad-ass NetApp monarch? Are you the guy George, the way for NetApp to recover its mojo?
Do you believe this? Do tell. ®