Remake, remodel: Toshiba Chromebook 2
With this Glitzy Googletop it pays to be dim
---
Sound thinking?
Talking of insertions, when it comes to removing any attached storage media, just like the Mac, you should use the eject icon otherwise you'll get a warning. I rather prefer the no-frills Windows approach that doesn't complain either way.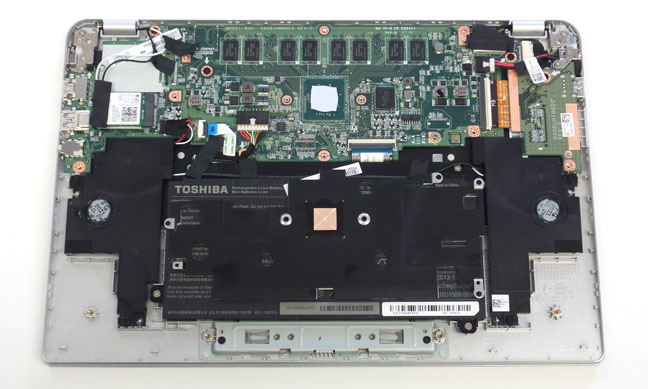 Innards with heatsink removed. No replaceable RAM or storage. Click for a larger image
Alongside the SD card slot, you get a USB 2.0 port on the left and on the right USB 3.0 together with a combo mic/headphone 3.5mm jack socket and a full-size HDMI connector. Inside, it's pretty much standard fare for a 2015 Intel Chromebook, namely a Celeron 2.16GHz dual-core N2840 CPU.
Being a conventional 13.3-inch form factor does at least give you a fair amount of space for a keyboard, which has a comfortable layout. The chiclet keys with a centred trackpad was easy to adapt to from the daily grind on a Mac.
The most notable difference being the fairly shallow travel of the keys which isn't ideal but you soon get over it.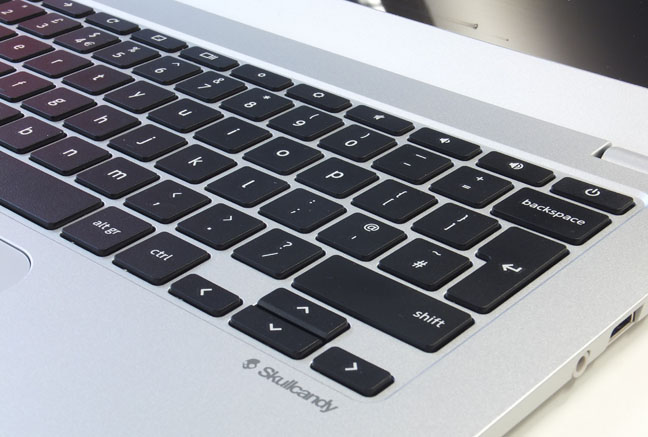 Well spaced keys but what Skullcandy brings to the party is unclear
On the palm rest, the Skullcandy logo lingers. As this audio accessory company name implies, its focus is on gadgetry to wear around the head. A curious choice, but as laptop speakers so often sound like headphone spill, perhaps this tie-up is seen as a justification?
Listening to the stereo speakers suggests there's still a long way to go before we hear anything remarkable. Skullcandy or no, the sound is thin, the bass a mere ghost and, to be frank, I thought the original CB30 Chromebook sounded just as good, while both benefit from being fairly loud.
While Chrome is quite happy streaming the likes of YouTube and the BBC iPlayer, it didn't fare so well when trying to listen live to my favourite net radio station, the delightfully eclectic FIP from Radio France.
Despite having a fully populated Google Plus page, listening to the station from the usual links — which rely on the multiplatform JPlayer — didn't always work. An independent site with net station links was more reliable, as was copying out the MP3 stream URL from the Fip site code and pasting it into the Chrome browser, which presented a rudimentary player transport.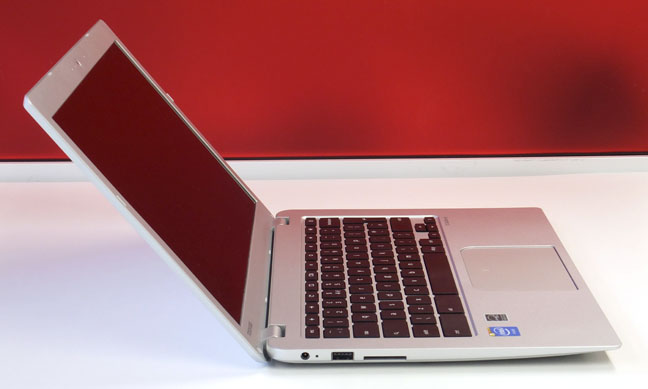 The screen tilt angle could do with going back a little bit further
As far as visuals go, the 1920 x 1080-pixel IPS display is vibrant and bright but with off-axis viewing shading is noticeable but not a major issue, although it isn't helped by reflections also becoming more obvious.
On the whole, the Trubrite display does quite well at staving off reflections and face on, it's a treat. However, it could tilt back a bit more – something that becomes more apparent when used on a desk than when languishing on the lap.
Although there is an array of noise-cancelling mics alongside the 720p webcam, it's the fit and finish of this part of the CB30-B-104 that looks rather cheap, as the all-plastic build appears more obvious. One advantage though, is it keeps the weight down. It measures up at 320 x 214 x 19mm and is a mere 1.35kg. I lugged it around in the lightweight STM Sequel bag which was over my shoulder for the best part of an afternoon and barely noticed it.
Like most Chromebooks, the all-plastic build makes the chances of survival after a drop questionable, but I've found that most people, once they've dropped and damaged a laptop it's a lesson learned and tends not happen again for a quite while. Still, it's a good job it doesn't cost that much, eh?

USB 3.0 on this side along with a 3.5mm audio jack socket and a full-size HDMI port
I hooked up the HDMI port to a projector which made the task of some online shopping decisions a bit easier as 'er indoors lazed on the bed giving her verdict on items by viewing an enormous screen of goodies that I was poring over on the Toshiba Chromebook 2.
I also tried out charging an iPhone 6 from the USB port and was surprised to find that I could mount the photos portion of the iOS device on the Chromebook. I've tried this before with an older iPhone and a different Chromebook, but not had any success.