Remake, remodel: Toshiba Chromebook 2
With this Glitzy Googletop it pays to be dim
---
Warm front
Unsurprisingly, Google invites you to upload the phone images to the cloud or you can opt save them locally by simply dragging and dropping to the Downloads area on the diminutive SSD. Opening up images locally does allow for some basic editing, but it was disappointing to find no EXIF data or even resolution info was available.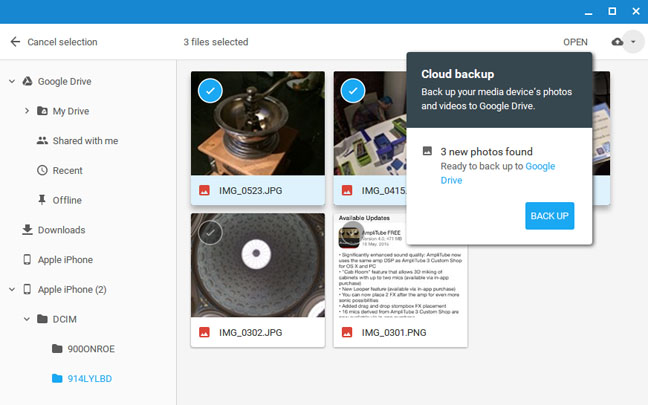 iPhone friendly image copying and sharing
You don't get any information on external drives, apart from remaining capacity, when it would be handy to check the format if there are problems copying large files.
The Chromebook 2 boots to the login screen in eight seconds and takes a further five seconds to produce the desktop and online browser. With extended use the CB30-B-104 does get a bit warm underneath at the back and above beyond the function keys, but we're not into plastic melting territory here.
With a moderately lit screen, the battery life lives up to its claims of nine hours for the full HD model. The 720p version is reckoned to last 11.5 hours.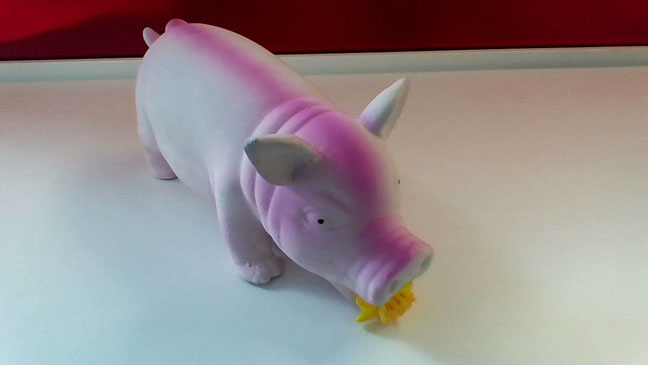 The 720p webcam is a bit on the dark and shady side. Click for a full-res image
I ran it solely for email one day, with it getting periodic attention and not much sleep, and after nine hours it still had a 20 per cent charge left. Later, I did some web browsing for a couple of hours, before plugging it in, in case of sudden death. You do get a five-minute warning which you can drag out if you dim the screen a fair bit.
Admittedly, this light use case scenario dragged it out for 11 hours but for rather more intensive activity and a bright screen setting, I found around six hours to be a more likely battery duration. Overall, it's having a bright screen that really uses up the juice here.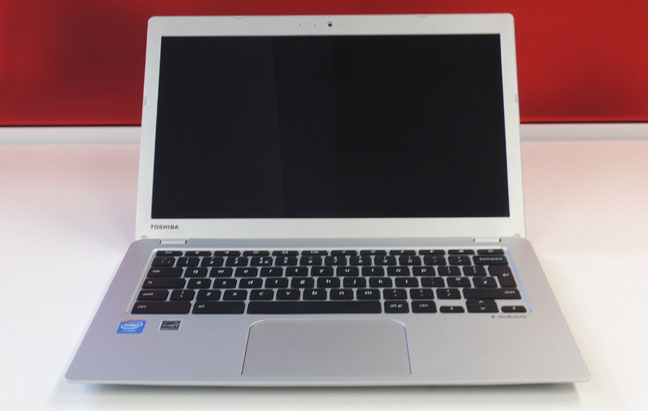 Despite being glossy, Toshiba's TruBrite display tech does a decent job of helping to keep reflections down
In use, there was the odd occasion when I thought it was going to grind to a halt, with slow jerky mouse movements, but I'd put this down to having multiple tabs open with Flash elements doing their worst on various pages.
The Reg Verdict
All in all, for a street price of around £270 there's little to complain about here if you can manage with the plastic build and you're prepared to meet Google's OS halfway, as this is no laptop replacement and never designed to be.
If you can live with the limitations, and see the doughnut rather than the hole, then you have a lightweight, cloud-savvy laptop with a full HD display, a decent battery life and a touch of corporate design. Beyond display options, there's not a great deal of difference among Googletops but with the Chromebook 2 Toshiba has made some practical choices at this price. ®

Remake, remodel: Toshiba Chromebook 2
Chromebook with 1920 x 1080-pixel 13.3in IPS display, Intel 2.16GHz dual-core Celeron N2840 CPU, 4GB of RAM, 16GB SSD, SD card slot, USB 2.0 and USB 3.0