Sales of Samsung's smartphones have slipped of late in comparison to the iPhone, but the chaebol is trying to steal some of the thunder from Apple's WWDC announcements by announcing a new device of its own.
The new handset, the Samsung Galaxy S6 Active, isn't much in the way of an evolution. Basically it's a S6 that's been ruggedized a bit. The outer case is dust proof, shock resistant, and waterproof up to 30 minutes in water to a depth of 1.5 meters.
Other than that, you get the standard 5.1-inch screen, a 16-megapixel rear camera plus a 5MP camera on front, an eight-core processor with 3GB of RAM, and 32GB of internal storage, minus the space taken up by Android 5.0.2.
The battery has been improved, however. The S6 active comes with a 3500mAh battery (up from 2550mAh in the standard S6) so all the rugged trail runners and exercisers out there won't need to worry so much about recharging.
"With the Galaxy S6 active, we're delivering consumers with high durability coupled with the powerful performance of Samsung's latest flagship smartphone," said Tim Baxter, GM of Samsung Electronics America's mobile division.
"The result is a smartphone that brings ruggedized capabilities and water resistance coupled with the camera, battery and design features that empower our consumers and business users to do more."
Sadly for those excited by a more rugged Galaxy S6, it's only going to be available in the US for AT&T users for the moment. There's no word on when anyone else will get it, but based on Samsung's rollout strategy it might be a little while before it goes out to a wider market.
Samsung's in a bit of trouble in the smartphone market at the moment. For years, the company had been the top dog in Asia, but the latest figures show Apple now rules the Chinese market, followed by local firms Xiaomi and Huawei.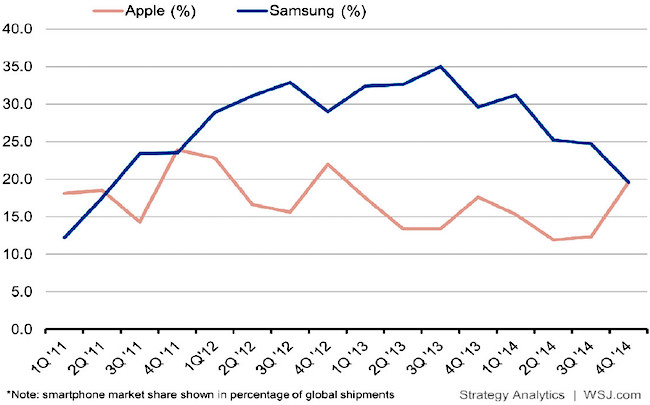 Apple v Samsung in terms of global market share. Source: Wall Street Journal
Sales in the rest of the world aren't going that well for Samsung, either, and the S6 Active isn't going to turn that around any time soon. But it's clear Samsung knows it has got to do something to arrest its decline in the sector. ®
Similar topics