This article is more than 1 year old
Violin posts yet more crappy results as it swaps out sales veep
Ask NetApp what happens when sales are slow...
Violin's revenues underwhelmed in its latest quarter as sales execution issues and a collapse in older product sales contributed to another big loss.
Revenues in the first quarter of fiscal 2016 were a depressing $12.1m, 41 per cent lower than Q4 of fiscal 2015 and 33 per cent lower than the $18.1m reported in the first quarter of fiscal year 2015; well below Violin's own guidance.
There was a net loss of $26.5m, better than the previous quarter's $46.8m and the year-ago quarter's $30m.
The good times aren't rolling around the corner for Violin, these being dreadful results.
CEO Kevin DeNuccio was blunt about it in the earnings call: "Our first quarter results fell far short of our prior guidance and expectations as Violin continued to manage through the short-term effects of transitioning our customer base to our new Flash Storage Platform."
Sales of the previous 6000 platform more than halved, being 60 per cent lower than the previous quarter; this being the second quarterly drop. Customers were transitioning to the new FSP product, launched 90 days ago, and some large sales didn't close in the quarter.
This chart shows the persistent undercurrent of red ink keeping profitability at bay: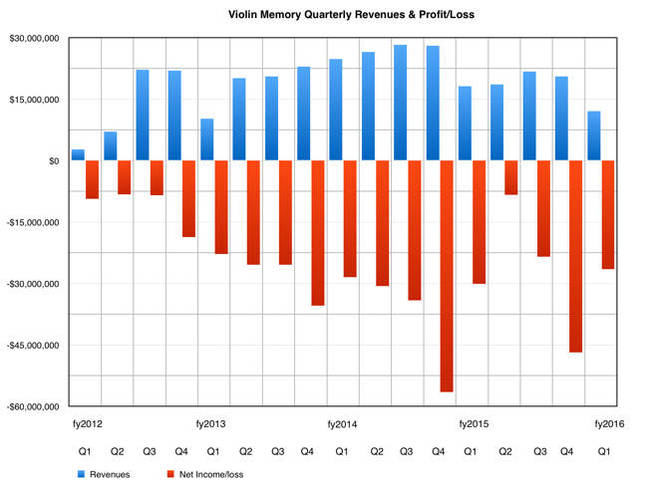 Revenue decline with a red ink hole beneath the water line. This needs fixing – and fast
DeNuccio further said:
We believe that this transitional headwind is now beginning to subside, and we are off to the strongest quarterly start to date with recognisable revenue already approaching 90 per cent of our first quarter total.

We remain confident in our strategy, underscored by the rapidly growing number of customers and opportunity pipeline for our new products, which more than doubled in the first quarter. Additionally, we have taken action to improve our execution and expect revenue to grow substantially in the second quarter."
The Q2 outlook is for revenues between $16m and $20m, $18m at the mid-point and $600k down on a year ago; not that great. DeNuccio talked of conservative guidance "in light of the guidance challenges we have had over the last couple of quarters."
Guide me, o thou great redeemer
In the earnings call DeNuccio agreed the Q2 revenue so far was $11m with six weeks remaining to pull in the $7m to get to the mid-point of the guidance. Sounds more than do-able. In fact, Violin has a stronger outlook but is being cautious in public after missing guidance two quarters in a row. We could expect $20m to be possible in this current quarter.
Q1 revenues of $12.1m and a net loss of $26.5m mean that for Violin to have made a $3.0m profit, its revenues should have been around $46.1m – almost four times higher. On the face of it, this is drastic sales channel under-performance.
Said Ouissal was appointed SVP for worldwide field operations at Violin in May, replacing Tom Mitchell, the VP for global sales operations. Mitchell had replaced Richard Dyke, now EVP Sales at startup Hedvig, in February 2014. Just over a year later he's being replaced as well. Thank you Tom, and goodbye.
Violin's CEO said the sales operation had been ramped up with "the building out of our channel organisation, establishing an inside sales operation and finally the signing of a strategic relationship with a leading global systems integrator. We expect to announce this relationship upon completion of our first joint sale."
DeNuccio continued: "Since the general availability of the FSP, more than 30 proof of concepts are now complete or are nearing completion. We believe that this will allow us to grow FSP revenue at an accelerating pace going forward. Supporting this are a couple of important trends. First, the number of the FSP customers doubled in the first quarter, while FSP sales grew to nearly half of product revenue. Additionally, our FSP opportunity pipeline is rapidly progressing and has more than doubled from Q4."
DeNuccio said of Said that his "technical acumen and customer engagement experience will provide our global sales force with strategic IT insight shared by very few in our industry."
The CEO isn't taking a salary, his compensation being stock options. If Violin doesn't make a profit its stock won't rise and DeNuccio gets no pay-off in stock sales for his efforts.
There'll be a lot of heat in Ouissal's kitchen as his responsibility is to fix the single biggest problem holding Violin back; shifting the kit. It's a big ask on DeNuccio's part, some might say a gamble, and Ouissal will have to dig deep to deliver the goods.
It's not just his neck on the block here. CEOs have to deliver the goods too, with Tom Georgens being a lesson from NetApp of what happens if they don't. ®