Solidfire has joined the million other suppliers partnering with Cisco and its UCS servers with a converged OpenStack system reference architecture.
Its AI for OpenStack – with AI standing for Agile Infrastructure and not Artificial Intelligence – joins another AI for OpenStack using Dell servers and networking and an AI reference architecture for VMware using Cisco servers and networking. It basically specifies:
Cisco UCS servers
Cisco Nexus networking

Cisco Invicta all-flash array

Solidfire all-flash array
Red Hat OpenStack Linux distribution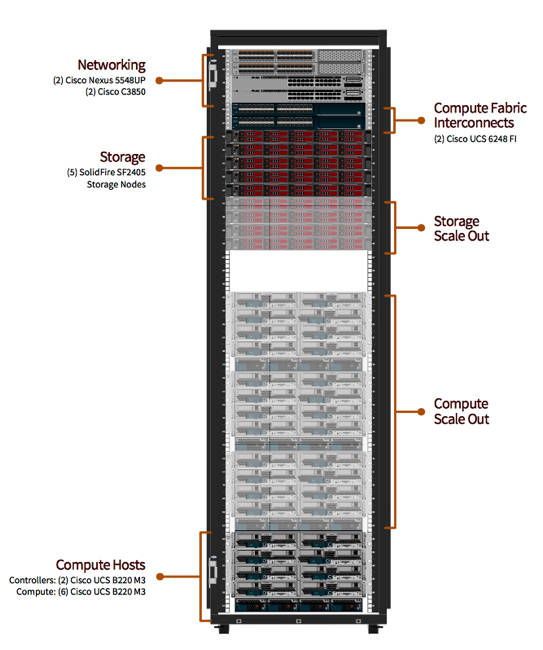 Solidfire Cisco-flavoured AI for OpenStack schematic
The base configuration is claimed to support at least 1,000 virtual machines and scale up to 2,500. The Dell flavour is less powerful, hosting up to 1,000 VMs.
The general benefit is that this converged infrastructure is simpler to order, install and operate than selecting, sizing and buying the component pieces separately.
Solidfire all-flash arrays (AFAs) scale out from one to 100 nodes snd have orchestration facilities via an API so that cloud service providers (CSP), and also enterprises with CSP-like requirements, can operate a tier-1 app scale-out infrastructure efficiently.
We understand that it's the combination of scale-out, quality of service and orchestration capabilities that separate Solidfire AFAs from the generality of enterprise AFAs, sold by Dell, EMC, HDS, HP, IBM, Kaminario, NetApp, Pure Storage and Violin.
It has no plans, we believe to add compute to its arrays and head towards hyper-converged systems.
Get a Cisco-flavoured AI for OpenStack brochure here (pdf) and request a demo here. ®