This article is more than 1 year old
Capita wins four out of five stars for 'good', 'inexpensive' service
Reviewers praise 'friendly, chatty' staff, 'value' and 'unlimited sauce'
Capita appears to have captured the hearts of locals in Waterloo, with reviewers rushing to shower the outfit with plaudits, and praising its "helpful and friendly staff" and "great value".
Laycee2008 gave Capita five stars, saying "Friendly staff and ave prices. Staff are really friendly too. We come back every time were in London!"
"The other good thing is they are open to 3AM which is really usefull for me. I will keep using this place until I leave the area," added jez34140.
Overall Trip Advisor gives it four out of five stars. Comments included "generous portions", "service was good", while its "excellent mixed grill" was praised by a number of reviewers.
JackieD2012 said "I brought 10 very hungry contractors here for lunch one day and nothing was too much trouble"
Darren from Larkhall said, "If you want a Kebab in Waterloo, don't go anywhere else. Really good and great value. Staff very chatty and able to take 4 or 5 orders at once."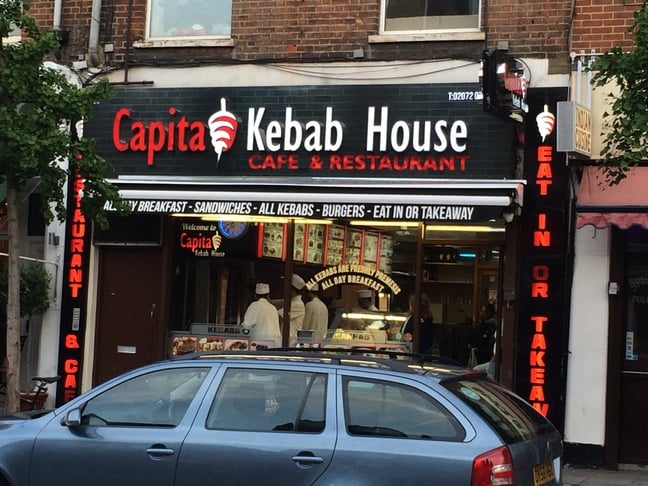 A reputation for service and sauce
Bootnote
It's been pointed out to us the picture clearly shows we are referring to the Capital Kebab House in Waterloo, and it's just a trick of the light which obscures the L. The much-praised kebab shop has nothing to do with the IT services industry giant, which has no reputation for unlimited sauce. Apologies for any confusion. ®