This article is more than 1 year old
HTC reflects on Champions League iPhone cock-up
And now for the final score – iPhone 1: HTC 0
HTC is recovering from the embarrassment of being unmasked as a user of the iPhone.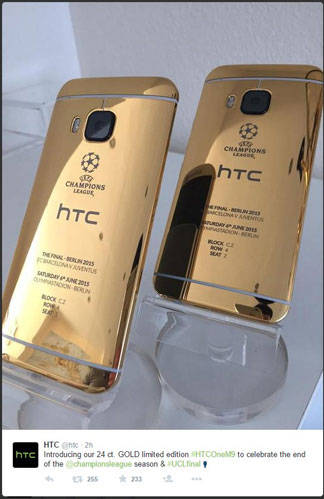 To celebrate its involvement as a sponsor of this year's UEFA Champions League, HTC produced a blingtastic limited edition, 24ct gold version of the HTC One M9.
And then it obviously had to take to Twitter to tell the world about how great the phone looked.
Unfortunately, HTC failed to notice that pure gold is very shiny, and as a result it reflects stuff. The stuff in this case being the person taking the picture of the golden phone.
What the reflection shows is that the photograph was taken with, and presumably Tweeted from, an iPhone. Maybe HTC agrees with our review, which suggested that the M9's 20MP camera is a little below par in the quality stakes.
It can't be because no-one from HTC who was at the event had an M9 with which to take the photo.
It didn't take long for the denizens of Twitter to spot the gaffe, and respond to the world's worst "I'm in a hospitality suite at the Champions League final and you are not" Tweet.
HTC rapidly withdrew the message, but what goes on Twitter stays on Twitter, so it wasn't long before screengrabs started appearing.
All in all, a bit of an own-goal. ®