Pics Microsoft will take orders for its ridiculo-sized Surface Hub, a huge wall-mounted touchscreen, from July 1, albeit at hefty prices - but it won't be shipping direct to punters.
The smaller of the two debut Surface Hub models is a 55-inch, 1080p-resolution version that Microsoft says is designed for offices, small conference rooms, and "huddle spaces," and will retail for $7,000.
The flagship model, on the other hand, measures a whopping 84 inches at the diagonal and delivers 4K resolution. Redmond wants $20,000 for it.
"When the PC launched, we had a mission to put it on every desk and in every home, because we truly believed in the transformative power it would have," Redmond's Surface Hub team said in a blog post. "So it won't come as a surprise that our ultimate goal is to put Surface Hub in every meeting space — to truly create a HUB where people can gather physically or virtually to connect, share ideas and make decisions. The price reflects that ambition."
The devices will ship to 24 markets worldwide on September 1, including Australia, Austria, Belgium, Canada, Denmark, France, Finland, Germany, Ireland, Italy, Japan, Luxembourg, Netherlands, New Zealand, Norway, Portugal, Qatar, Singapore, Spain, Sweden, Switzerland, United Arab Emirates, the UK, and the US.
A new category: fondlewalls
Surface Hub is the long-awaited commercialization of technology that Microsoft acquired when it bought New York City–based startup Perceptive Pixel in 2012. At the time of the merger, Ken DelBene, then boss of Redmond's Office division, said he expected the mega-screens to be "the hottest tech item this Christmas." As it turned out, bringing them to market took a little longer than that.
Along the way, Microsoft dropped a smaller, 27-inch version of the devices. It also rebranded the line, first to PixelSense before finally settling on Surface Hub (though not without some debate over whether the branding would confuse buyers of Redmond's Surface tablets).
Surface Hubs aren't really just overgrown versions of Microsoft's personal fondleslabs. They're designed to hang on walls and act as multi-user, interactive whiteboards. Their screens feature up to 100 points of touch responsiveness, meaning multiple people can fiddle with them at once. They also accept input from up to three digitizer pens at once and they have high-resolution cameras for things like holding Skype for Business meetings. Wi-Fi, Bluetooth 4.0, NFC, and a variety of ports give them a range of expansion options.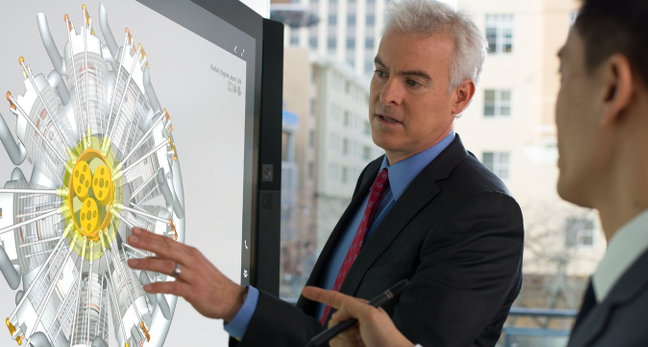 Try that on your dry-erase white board (Source: Microsoft)
Part of the Windows 10 family, Surface Hub should be able to run all of the same Universal Apps as Windows PCs and phones, Redmond claims. But it will also support a new category of "Large Screen Apps" that wouldn't work well on smaller displays, such as interactive architectural blueprints.
Made in USA – for better or worse
At the prices Microsoft is asking, however, it will be a rarified audience that latches onto Surface Hub, at least at first. But signs suggest the software giant isn't expecting a massive audience straight away.
For one thing, the devices are reportedly being manufactured not in Asia, but at a plant in Wilsonville, Oregon, not far from Portland. According to The New York Times, the size of the screens is so unusual in today's market that Microsoft couldn't find an existing assembly line in Asia that could handle them.
And there's another, practical reason for building the big screens in the US. The 84-inch Surface Hub reportedly weighs 220 pounds (100kg), making shipping it long distances prohibitively expensive, even given its already hefty price tag.
Even so, building Surface Hub stateside is a gamble for Microsoft. Motorola tried it when it debuted its original Moto X flagship smartphone in 2013, but lackluster sales rendered the experiment unsustainable, and Motorola ended up shuttering its Fort Worth, Texas factory after less than a year of operation.
But Microsoft says Surface Hub is such an unprecedented, original device for the workplace market that it's confident it will find a market.
"There is no doubt in our mind that Surface Hub is going to change the way groups work together," the Surface Hub team beamed. "Just as the PC revolutionized productivity for individuals, we see Surface Hub as a transformative tool for group productivity."
Redmond doesn't plan to sell the devices to customers directly, however. If you're interested in checking one out, you should contact local authorised sellers.
Global distributors include ALSO, Ingram Micro, Synnex Corp, Tech Data and TD Maverick, and resellers such as Atea, AVI-SPL, Bechtle, CSI Collaboration Solutions, Inmac, Insight, Kelway, Misco, PCM, Red Thread, Telstra and Whitlock will be part of the sales machine.
With disasterous effects, Microsoft didn't make the Surface tabs available to channel types for almost a year after launch, the devices were sold online by the company. Redmond decided not to repeat that mistake with the Hub. ®
Similar topics