Nutanix hyper-converges upwards with bells, whistles and KVM
Makes its Xtreme Computing Platform ready for launch
Comment In the name of server and storage efficiency, Nutanix has added KVM hypervisor support, erasure coding and new management to its hyper-converged systems, and promised VVOL-type integration, container and file-serving support.
The aim is evidently to increase scale-out X86 server node, storage and admin efficiency, and top-level simplicity, by converging functionality stacks below the app and admin interfaces.
At its .NEXT conference in Miami, the city where DataCore is based, it announced its Xtreme Computing Platform (XCP) with Acropolis compute and storage software and its Prism management product.
Acropolis consists of a customised KVM hypervisor, which along with ESXi and Hyper-V presents compute and storage services to guest OS' and their applications. The storage services come from a Distributed Storage Fabric (DSF): roughly a virtual SAN, offering on-demand VM-centric provisioning, compression, deduplication, data tiering, high-availability, disaster recovery, erasure coding, snapshots and clones.
It is said to operate at web-scale, with file-serving coming in the future. Our understanding is the VMware VVOLs are not yet supported – they will be – and that the Acropolis hypervisor will have VVOL-type integration with the DSF. This hypervisor will be skinny and lean compared to ESXi and Hyper-V and will take up fewer server resources. It will be plugged into the DSF with, we understand, ESXi and Azure integration following.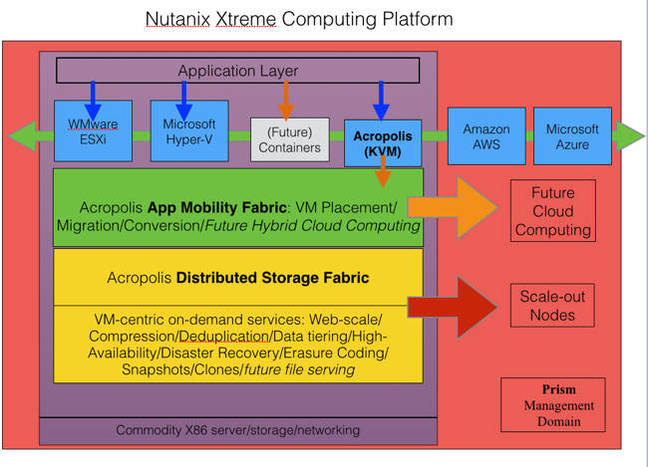 Nutanix' XCP concept
The Acropolis hypervisor supports openSUSE, Windows Server, CentOS, and Ubuntu guests OS' and will support containers in the future.
Nutanix is going to develop an App Mobility Fabric: a means of moving apps in VMs or containers in the future, between hypervisor environments with the necessary conversion. It will place apps in VM/container environments and also support moving such apps to AWS and Azure, and possibly other cloud compute environments. Nutanix is talking about hybrid cloud computing, implying its DSF, as well as virtualising server-attached storage (flash and disk), could include public cloud storage.
The erasure coding means that RAID can be abandoned for data protection purposes, with consequent savings in storage capacity and faster data rebuilds after a disk failure.
The Prism management platform will offer much smarter diagnostic and analysis functions to make investigating system performance and scalability issues much easier to do and faster to fix.
This integration – the converging of the storage and hypervisor functions – could result in servers having more resources to devote to applications, the sole reason for having them in the first place. If this is so, then XCP hyper-converged systems should be more capable and cost-effective than EVO: RAIL hyper-converged systems, as well as enabling customers to avoid VMware lock-in and any VMware tax.
Similarly, XCP systems could run faster than, or as fast as, SimpliVity's hardware-accelerated hyper-converged systems.
The app mobility fabric is one key to this Nutanix scheme and its development will be closely watched to see if it fulfils its promise. The other key is the Acropolis hypervisor. It will need to be significantly smaller and faster than ESXi, and Azure too, so that an XCP X86 server can run significantly more apps and run them faster than an ESXi server or an Azure server. Cue lots of testing inside Nutanix.
With erasure coding Nutanix could support objects and, in fact, files could be treated as objects in the coming file-serving technology. Again, we'll have to wait and see.
The XCP, Acropolis and Prism announcements give Nutanix and its channel partners lots to say to customers about how XCP is better than EVO: RAIL and how XCP solves VMware bloat and sprawl, as they might put it.
It's all got to work of course, otherwise this digital Acropolis will resemble the physical Acropolis: a temple to vanished gods, with bits fallen off and the roof gone. ®