Prelude to Foundation: Startup FDS builds next silo-melding platform
Decline of CEO's earlier empires does not deter eager investors
---
What we need is an all-singing, all-dancing, virtualising storage foundation that is software-defined, crafted for hyper-scale, offers file, block and object access and embraces the cloud. Yeah baby! What we need is what startup Formation Data Systems is developing: Foundation XV.
Co-founder and CEO Mark Lewis has blogged:
I have had two previous attempts to create a more ubiquitous data virtualisation layer... The first was a product called VersaStor, which started at Compaq and then migrated to HP. My second attempt was a product called Invista while I was at EMC.
He is actually a veteran of Digital Equipment Corporation, which was bought by Compaq.
EMC's Invista was a SAN virtualisation layer at a time when that was cool. IBM's SVC and HDS' VSP are the two remaining such technologies and EMC's ViPR is a newer incarnation in the same development thrust. Lewis was involved with Invista at EMC. Lewis' fellow co-founder, COO Andy Jenks, was at Autonomy, which was bought by HP at what it subsequently called an inflated price, and lawsuits are ongoing. He also spent time as storage division GM at HP and before that at Compaq.
Anyway, the two believe that the best way to get rid of multiplying storage silos is to have a comprehensive, ground-up designed virtualising software layer above the storage media, presenting access protocols and providing services across and underneath them. If we start thinking of EMC's ViPR reinvented, we're not a million miles away from the basic idea – except that access to existing legacy storage platforms is not supported.
They founded Formation Data Systems (FDS for short) in 2013 and gained $54.2m of funding in 2014. Effectively, this was a 2-part A-round with $15m and $24.2m components and a separate $15m venture infusion. The investors included Dell Ventures, Mayfield, Pelion Ventures, Third Point, Riverbed CEO Jerry Kennelly, Seagate CEO Steve Luczo and others. Investors were certainly keen on putting dollars in.
You can read blogs by the senior execs here. The web site is full of Silicon Valley startup apple pie and motherhood sayings: "Passion fuels excellence", "simpify, simplify, simplify, repeat" and "demand incompatibility". Yeah, right. They're founders: they have to believe their own dreams.
Their product is Foundation XV, with XV standing for extensible virtualisation.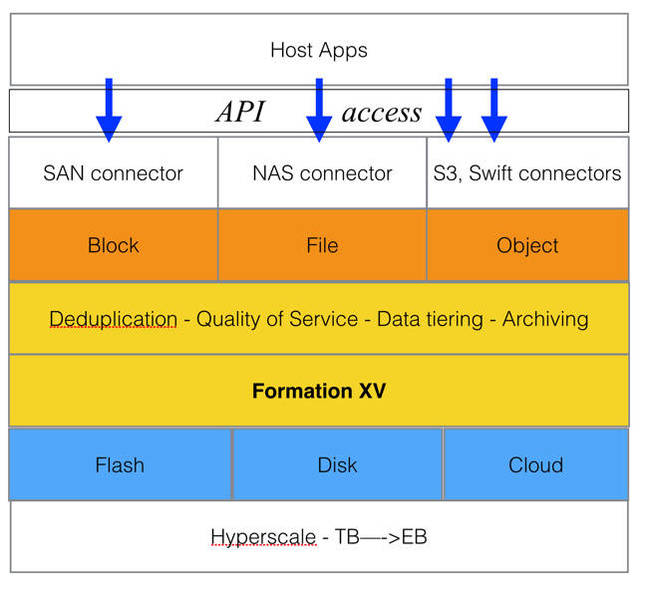 Formation Data Systems concept
Data services include disaster recovery. The hardware is your expected commodity kit. FDS is still busily developing and testing its software and it is very early days. We expect it will integrate with host apps in virtual machines and containers. Hadoop and Big Data analytics will also appear somewhere in its scheme for sure.
Find out not a lot more at the company's website and think of Hedvig, Infinidat, Primary Data, Rubrik and other all-in-one, virtualised, silo-melding, storage technologies. ®
Similar topics
Narrower topics