Catalogic has hustled out a flagship product update extending its copy data management to all VMware and NetApp ONTAP environments and supporting Docker.
Copy Data Management (CDM) aims to save disk space by identifying duplicate and unwanted copies of data and helping you get rid of them. It also helps build automated data copy workflows to replace ad hoc scripting.
The ECX product had its second major release in February, providing support for NetApp's Clustered Data ONTAP and some VMware products. V2.1 is the first update to that and adds;
7-mode Data ONTAP support for snapshots and mirrors added to existing Clustered Data ONTAP
Auto-discovery of NetApp nodes
Supports VADP (VMware APIs for Data Protection) backup functionality in order to move VM copies from their production system to technology to copy virtual machines from their production environment to an off-host ECX-supported storage system
VMware performance improvements
Docker-based deployment supports multiple host containers which can distribute the processing load and so improve performance
Catalogic is also setting up a so-called ECX Marketplace into which it will introduce new features, report types for example, for customers to download. Customers could also upload their own developed ECX utilities or reports, with REST APIs, to the Marketplace.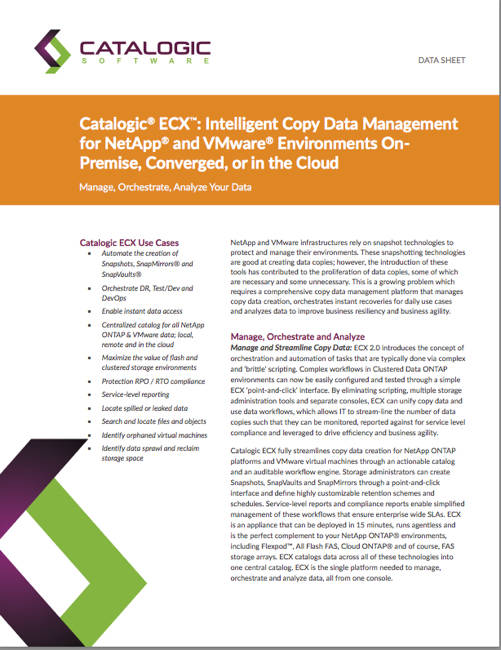 ECX 2.0 datasheet. Click image to get your own PDF copy.
ECX 2.1 is available now with prices starting at $5,000/controller. You can download a free 30-day ECX evaluation.
We can look forward to ECX supporting more storage environments in the future, with IBM Storwize, SVC, V9000, and FlashCopy Manager prime targets — Catalogic CEO Ed Walsh spoke at a recent IBM Edge conference. HP after that maybe? The more the merrier. ®
Similar topics