This article is more than 1 year old
Oculus Rift noggin-bucket ... heyyy, errr ... have we all got them on already?
Maybe that's why we don't know what they cost
Pics+Vid Oculus, on Thursday, showed off its Rift virtual reality digi-goggs that it will sell to world+dog in 2016. The upstart company also announced a new partnership with Microsoft: the Redmond software giant will bundle an Xbox wireless controller with every headset.
"We're finally ready to deliver on the dream of VR," Brendan Iribe, CEO of Facebook-owned Oculus, told reporters today in San Francisco. "This will change everything – we've been dreaming about this for decades."
The new Rift, which will go on sale in the first quarter of next year, will be a lightweight virtual-reality headset covered in fabric; inside, there are two OLED screens facing the wearer's eyes. A dial on the bottom of the unit adjusts the gap between the screens and the user's eyeballs so he or she can focus on the images.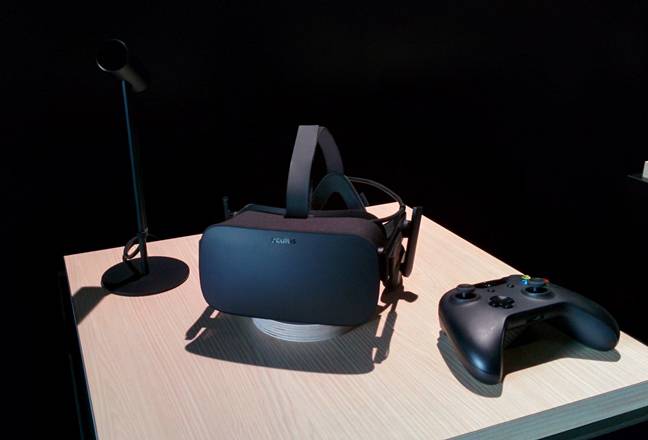 The Oculus sensor, Rift, and Xbox controller ... Credit: The Register
The headset's position and movements are fed into whatever game is being played via a gadget on the user's desk: this gizmo is connected to the PC, and wirelessly communicates with the Rift to determine where the player is looking. The system, dubbed Constellation, links up the sensors on the front of the front and sides of the goggles to glean positioning information.
Stereo speakers are attached to the sides but these are removable, so that those who prefer to use their own headphones can stick with whatever keeps them happy. There was no mention of a microphone, however, which will disappoint collaborative or trash-talking gamers.
As for a gaming controller, Microsoft will bundle an Xbox controller with every headset, and has been working with Oculus on compatibility. But Microsoft won't be the only ones providing controllers for the Rift.
Oculus founder Palmer Luckey showed off twin hand controllers, dubbed Touch. These have thumb joysticks, a trigger, and two control buttons and can also detect hand movements like thumbs up and waving, and allow players to pick up items based on finger movement combos.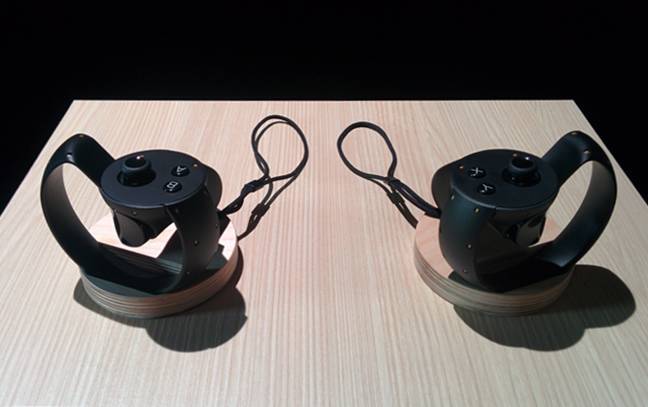 The prototype Oculus Touch controllers ... Credit: The Register
The Touch controllers are still in the prototype stage, and will be sold when they are ready, presumably at a price premium. Oculus is likely to carry on bundling the Xbox controller for the moment as a base-level input device.
Phil Spencer, head of Xbox, said Windows 10 will work with the Rift seamlessly via DirectX12 and gamers will be able to stream their existing Xbox games into the headset, albeit projected on a virtual screen rather than in immersive VR.
There will be plenty of games that allow for a full virtual experience at launch, Oculus promised. Over 16 gaming companies are developing content exclusively for VR play, including what looks like a stonkingly good space fighter game developed by Eve Online dubbed Valkyrie. Elite will also be available at launch.
Oculus is also wooing developers, promising to put $10m in the pot for independent games developers to compete for to build games that use the headset. Both the Unity 5 and Unreal 4 games development toolkits will be free to Rift developers.
So what kind of rig are you going to need to run the Rift? Oculus has released the minimum specs required and it doesn't look too cutting edge, but you can forget about using the Rift with most laptops.
Gamers will need a PC with at least an Intel i5-4590 processor, 8GB of RAM and a graphics card that's either a Nvidia GTX 970 or AMD 290 equivalent or greater. It will also have to be running Windows 7 SP1 or a newer version, be HDMI 1.3 video output and have at least two USB 3.0 ports.
There's no word on price for the unit, but the rumour mill suggests a hefty $500-odd for the headset and controller. Oculus declined to comment on any figures at the event. ®