This article is more than 1 year old
BlackBerry on Android? It makes perfect sense
Secure, well-managed, compatible with apps – think about it
Analysis Four months ago, BlackBerry announced it was porting key features of its BlackBerry OS software to Android and iOS – stuff like its onscreen keyboard, Universal Search, and the notification Hub.
It was only a matter of time before word emerged of somebody actually grabbing this idea and running with it. The only surprise is that it's BlackBerry itself.
Virtually nobody outside China, except for Apple, makes money from making smartphones. HTC has wiped out a year's profits in just one quarter. Samsung's smartie market share is falling. And that's when your operating system comes "for free."
BlackBerry has shown that developing your own platform – particularly one that doesn't ship in significant volumes and that nobody else uses – is very costly. Before BlackBerry OS 10 was launched two and a half years ago, BlackBerry's then-CEO Thorsten Heins hinted at licensing the operating system. BB10 turned into a flop, and BlackBerry now has to license what it can. Which, nevertheless, turns out to be something quite substantial.
BlackBerry has been taking its wares and services cross-platform for some time; this made its huge investment in BB10 all the more hard to justify to the financial markets.
Today's CEO John Chen is one of the most frank, and possibly the wittiest, chief execs of any tech company, and he's talked himself blue repeating the strategy: BlackBerry will continue to sell devices as long as it is profitable. But he's been less emphatic about whether the phones will run BB10.
Of course, they don't have to. Two years ago, German Chancellor Angela Merkel switched to a BlackBerry with SecuSmart providing the secure voice-call encryption. BlackBerry now owns SecuSmart, and it's licensed for use in a new Samsung/IBM tablet. It isn't hard to imagine BlackBerry software "hardened" with SecuSmart that runs on Android. BlackBerry has hinted at more collaboration with Samsung.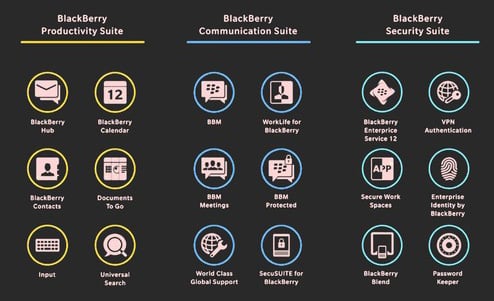 Toolkit ... BlackBerry's software available for licensing
Playing devil's advocate in Barcelona earlier this year, I asked BlackBerry executives at Mobile World Congress why they should bother investing in BlackBerry OS 10 at all, when anyone can license its components or use them on another OS?
It's the sort of question you'd expect would provoke a long, detailed and passionate response: far away in the distance, on a high hill, is a shining city full of riches, and the road to it is marked "BB10." Unimaginably magnificent new capabilities would be added along the way, and so on.
But the answer I got was that BB10 needed maintenance work to run on newer chipsets. Ah.
That suggested to me that while BlackBerry wasn't about to withdraw entirely from BB10, perhaps the Canadian company wanted a minimal footprint on the ground. A few engineers keeping the OS running on whatever hardware appears next out of the factory. A few military advisors, so to speak, while the rest of the troops battle on other fronts.
Chen's expertise as a turnaround artist is in selling enterprise software. His impressive handpicked leadership team, including veterans from Sybase, knows this turf very well, much better than newcomers. The plan is to grow the software side into a $500m-a-year business.
"One thing that philosophically changed a lot from 16 months ago: we're committed to making software as a business," Chen told a gathering of analysts and press at MWC. "Our software technology roadmaps address everybody's phones and everybody's end points. An end point is more important than 'phone'."
The difficulty with developing on Android and iOS – assuming BB10 is gradually put into maintenance mode – is the dispersal of resources. That isn't the only obstacle.
On Android, it would be easier to integrate Blackberry's software into the shell; the Hub would most likely be the shell. iOS is so locked down, the Hub would need to be a standalone app.
BB10 is pretty distinctive, and its portfolio of tools now quite rich; differentiating it from the pack of cheap 'droids shouldn't be difficult, particularly if it builds on an AOSP base and is free of the Google-ware. (Samsung has it own app store, and would surely be happy to help.)
Thanks to increasing concerns about internet security, the market is now taking this much more seriously. BlackBerry has a magic glue, its own network, that makes what would otherwise be me-too services much more compelling. It has a huge enterprise footprint already. There are worse places to be in the brutal world of phone hardware today than selling a secure, well managed, compatible-but-better Android to people who want a secure compatible well-managed phone. ®
Bootnote
When I asked how BlackBerry would flog its BlackBerry Productivity Suite – the bit that makes an Android look like a BlackBerry – they told me the price or go-to-market strategy hadn't been decided yet. It was still under discussion.