This article is more than 1 year old
Denon delivers low-cost DTS:X AV kit. Finally Dolby Atmos gets some competition
Multichannel 3D audio? Sounds great to us
Breaking Fad Last week, amid the playboy splendour and shabby chic that is Monte Carlo, two giants of the AV and Hi-Fi world were busy putting a glam new spin on the latest audio tech. Sibling brands Denon and Marantz took the wraps off a slew of cutting edge audio components at an impressive dealer product showcase.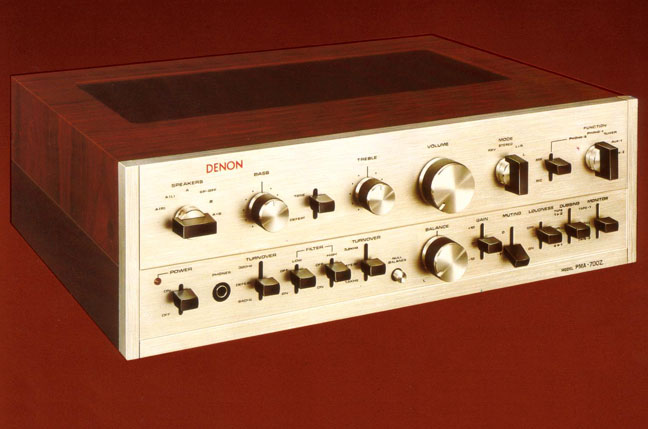 Vintage Denon PMA 7000 Z hi-fi amplifier from 1975
Other brands are similarly busy prepping next-gen kit for launch, but while Denon and Marantz are keen to be been seen leading from the front – hence their sexy confab – rivals are adopting different strategies.
Yamaha, the biggest seller of AV receivers in the UK, is embargoing its key new products until the huge German IFA technology expo in September (lips sealed, sorry), while Pioneer and Onkyo (now joined at the corporate hip) continue to put the emphasis on budget Dolby Atmos kit (although DTS:X announcements are surely imminent) – Onkyo's incoming TX-SR444 Dolby Atmos receiver is priced at just £350.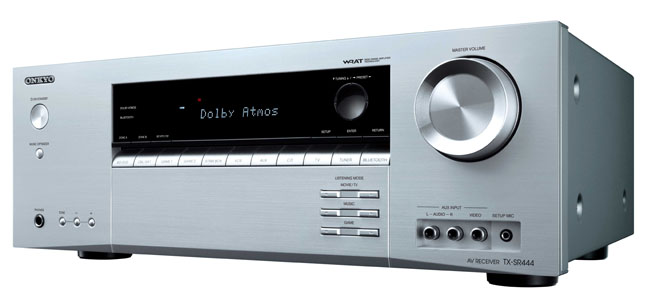 Surround yourself: Onkyo's TX-SR444 Dolby Atmos AV receiver will cost just £350. Any spare cash will go on additional speakers
Hi-fi land is a curious place right now, awash with contradictions. High Res Audio is definitely gaining traction, yet vinyl continues to spin back into life. The AV receiver market is contracting but more R&D is going into it than ever, from 4K high frame rate support to new immersive audio codecs.
The hot topic in Monte Carlo centred on DTS:X, the new object-based sound system to rival Dolby Atmos. We've explored DTS:X already, but perhaps what's surprising is that the system will land in stores without any great price premium attached.
All new 2015 Denon and Marantz seven channel AV Receivers will support DTS:X, with prices starting at just £500. If you bought a Dolby Atmos AVR a few months ago for the same price, my advice would be to get it on eBay and fast.
The first DTS:X Blu-ray is due in July. Lionsgate will release science fiction outing Ex Machina with both DTS:X and a DTS Headphone:X option, the latter offering immersive audio through regular headphones, so no new hardware is required. The catch is that the UK release of the same movie does not have a DTS:X audio option, it's only appearing on the US disc. Let's hope that's not going to be a trend.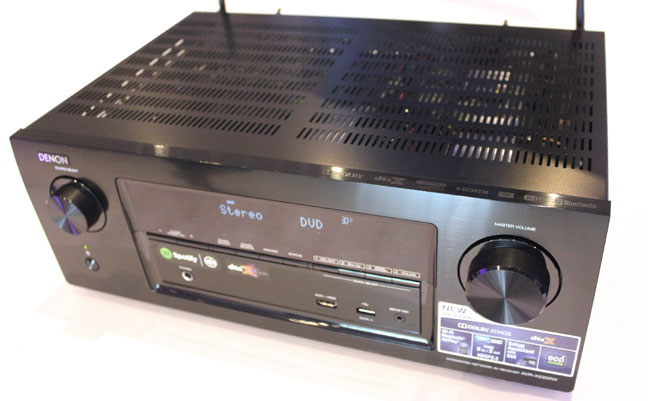 Denon AVR-X2200W DTS:X AV receiver
Meanwhile, the Dolby Atmos Blu-ray catalogue continues to grow. American Sniper and John Wick are the latest BD titles with Atmos audio, thankfully giving buyers something more interesting to watch to than teenage popcorn movies.
The soon-to-launch DTS:X-enabled Denon AVR-X2200W, at that £500 price point, is likely to be a siren for many home cinema fans. It's a 7-channel design (5.1.2 in Atmos parlance, the middle .1 being the LFE bass channel handled by a separate active subwoofer, the .2 being overheads), with 95W per channel and a generous eight HDMI inputs.
The step up, Denon's £1,099 AVR-X4200W, also allows you to firmware upgrade to Auro 3D for an additional €150. Auro 3D is the wildcard in the immersive 3D audio race. However, having recently borrowed a system to evaluate it, I can categorically state that the format doesn't have a cat's chance in hell of achieving mainstream acceptance.