Carbon nanotube memory tech gets great big cash dollop
Forget NAND, this here carbon tube stuff is the future, baby
Future memory hardware startup Nantero has had a big funding round, suggesting its technology is getting closer to becoming a reality.
It got $31.5m in an over-subscribed round to continue developing its nanotube-based non-volatile RAM (NRAM) semiconductor technology, which it says has DRAM read/write speed and is ultra-high density – think terabits.
Nantero said it will retain data for >1,000 years at 85 degrees Celsius or more than 10 years at 300 degrees Celsius.
The power consumption is said to be essentially zero in standby mode, and it needs 1/160th of the write energy per bit that NAND does. Oh, and it can scale below 5nm geometry, be 3D multi-layer and have two bits per cell (MLC), and uses standard CMOS production processes.
The funding history:
2000 – founded by Greg Schmergel and Tom Rueckes
2001 – $6 miliion A-round
2003 – $10.5 million B-round
2005 – $15 million C-round
2012 – $10 million D-round
2015 – $31.5 million E-round
Charting this shows the sudden increase and a funding pick-up seven yars after the C-round. Clearly NRAM isn't an easy tech to develop.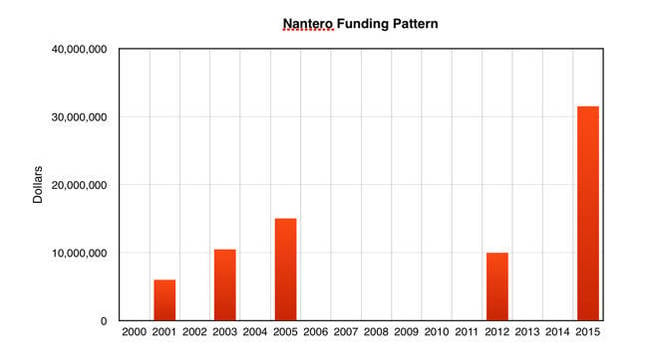 Back in 2012, it said it had fabricated high-yielding 4Mbit arrays of NRAM in CMOS production environments. Three years later it says its NRAM "has already been installed in multiple production fabs and is currently being designed into innovative new electronic products that require increased storage, low power consumption, high speed, reliability and high endurance".
Very good. The new cash will pay for "the acceleration of NRAM as the leading next-generation memory for both storage-class memory and as a replacement for flash and DRAM".
Greg Schmergel had a quote in Nantero's announcement: "We have more than a dozen major corporate partners actively working on NRAM. We are excited to begin the next phase of commercialisation, which will bring Nantero's NRAM into volume production and change the course of electronics innovation for decades to come."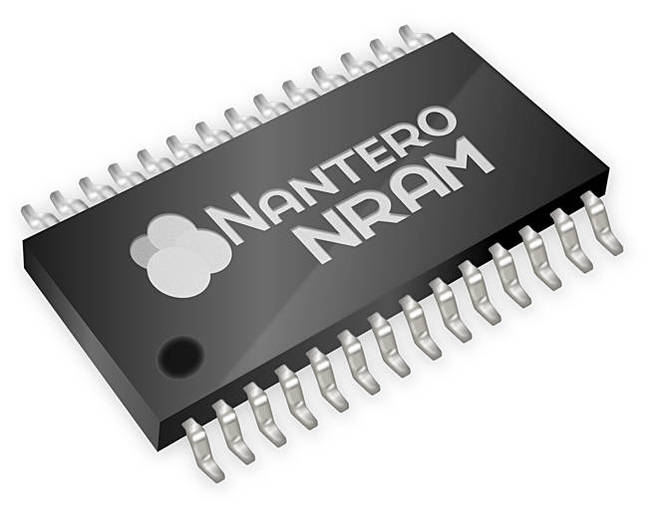 Nantero NRAM chip
Another quote from Alan Niebel, founder and CEO of Webfeet Research: "WebFeet applauds Nantero for reducing the costs of the CNTs in an NRAM chip by 10x in the last two years, making NRAM CMOS compatible and finally proving NRAM viability with commercial production capability from its licensees."
One more from Yann de Charentenay, Senior Technology and Market Analyst, Yole Développement: "In Yole Développement's January 2015 Emerging Non Volatile Memory Technology and Market Trends report, we found that this market was worth $65m in 2014. However, it's now at a crossroads. The choice between STTMRAM, RRAM, NRAM and other technologies for the right emerging NVM should be made in the next two years... Nantero's technology provides both the performance of STTMRAM and potentially the low cost of RRAM."
RRAM or Resistive RAM is that class of technology occupied by HP's memristor initiative.
So we might see NRAM appearing in both standalone and embedded memory applications in the next few years, giving every other post-NAND replacement tech a great run for its money.
Get some more info on Nantero's carbon nanotube tech here. ®