Crossroads Systems takes wrong turn. Is it running out of cash?
Looking to litigation as a saviour could be risky
---
Comment It isn't pretty watching this. Poor beleaguered archival product vendor Crossroads Systems reported even worse results for its second quarter than its dire first quarter, as well as a diminishing cash balance.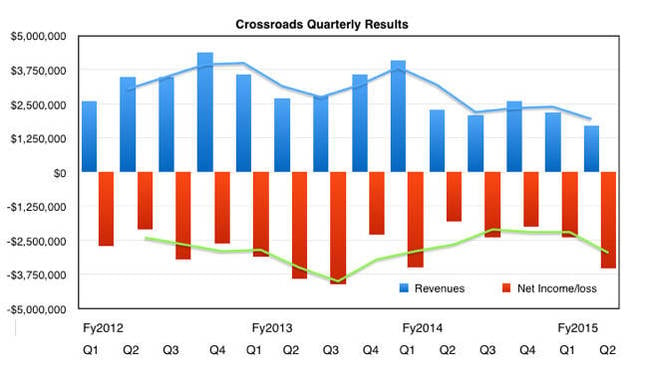 Crossroads Systems quarterly revenue and net income. Moving average trendlines added.
Crossroads is an archiving company, its flagship product being called StrongBox. The company is suing a number of bigger stage suppliers for infringing its patents. It's also using a rights issue to raise cash.
Second-quarter 2015 revenue was just $1.7m. It was $2.3m a year ago and $2.2m last quarter; this is bumping along the bottom.
The net loss was a thumping $3.52m, worse than the $1.8m recorded a year ago and $2.4m last quarter. You can literally see the revenue air leaking out of this boat and the red ink-stained water pouring in.
What did management have to say? "The decrease is primarily attributable to a decrease in custom development revenue as well as an expected decrease from our OEM SPHiNX product."
In the earnings call CEO Rick Coleman said: "HP's decision in the second quarter of 2014 to replace our OEM SPHiNX product with its own product ... was a surprise to us and it's had a severe impact on what was millions of dollars of quarterly revenue for us."
Mark Hood, EVP of corporate development, said the StrongBox offering was now stronger than ever, with broader applicability than its original archive focus. It could be used, for example, by NetApp customers to defer a costly migration to ONTAP v8.
He says StrongBox will become "the premier provider of performance-defined storage" — there's optimism for you.
Could StrongBox sales grow? Coleman said that's "certainly our hope and our expectation but I am not able to make a forecast. It's too difficult to predict when we are relying on outside [distribution-led] sales forces."
StrongBox product revenues aren't taking up the slack from the list SPHiNX revenues, hence the IP lawsuits, but these are costing money.
According to the company: "Operating expenses for fiscal Q2 2015 increased twenty-five per cent to $4.5m, compared with $3.6m in the same period a year ago. The increase is attributable to litigation expenses related to the company's ongoing patent infringement lawsuits against NetApp, Oracle, Cisco, Quantum, Huawei and Dot Hill."
Crossroads is suing several large tech companies for patent infringement, stating that, since 2001, it "has licensed the '972 Patent Family to more than 40 companies and received in excess of $60m in license and settlement revenue".
Coleman said: "The cases that we have against NetApp, Oracle, Cisco, Quantum, and Huawei are all handled on a contingency basis. The cases against Dot Hill and the defense against the Quantum case filed against Crossroads are not on contingency," and Crossroads has to pay the bills for those.
Well, at least those lawyers are earning money.
Comment
Coleman was optimistic about the outcome of the IP lawsuits, and remains "confident that we will recover a fair return on behalf of our shareholders from each and every defendant."
A fair return means this: "Using a reasonable fact-based damages model, we think the litigation recovery with this set of defendants could be worth in excess of $200m. For a company with a market cap of around $40m, the awards of trial represent significant shareholder value that we intend to pursue relentlessly."
So the rights issue cash is needed, crudely speaking, to fund the litigation and keep the company going, because StrongBox revenues on their own are insufficient and its cash is running out.
The company said that as of April 30, 2015 "cash, cash equivalents, and restricted cash totalled $5.1m, compared with $8.4m in the previous quarter."
That's $3.3m gone in a quarter. At this rate it will run out of cash in Q4 and that will be that, game over, unless it gets the rights issue cash.
Not that Coleman allows doubt to enter his game plan: "Two years ago when the Board and management team were reconstituted, we set out on a mission to unlock significant shareholder value ... Yes, we have challenges but I am as confident as I have ever been that we will be successful." ®