File sharer Box's burst into profitability is still being delayed (for quarter after quarter) by its massive, heavy boat anchor of pay-nothing customers.
First-quarter revenues rose 45 per cent from a year ago to $65.6m, beating Wall Street estimates, while the net loss deepened 23 per cent from a year ago to $47.3m.
Revenue growth rates look unlikely to generate a profit while free users are in the vast majority.
Box co-founder and CEO Aaron Levie, talked of "our healthy customer adoption and strong billings growth of 58 per cent year over year," in his canned quote.
Co-founder and CFO Dylan Smith added: "We are proud to have achieved revenue growth of 45 per cent year over year, driven by our continued success moving up market and closing more enterprise deals."
What about profits Dylan? "While we continue to focus on investing in technology innovation and growth, we also remain committed to achieving positive free cash flow. Our Q1 results show the progress we have made toward this milestone as we demonstrated significant improvement in our operating cash flow."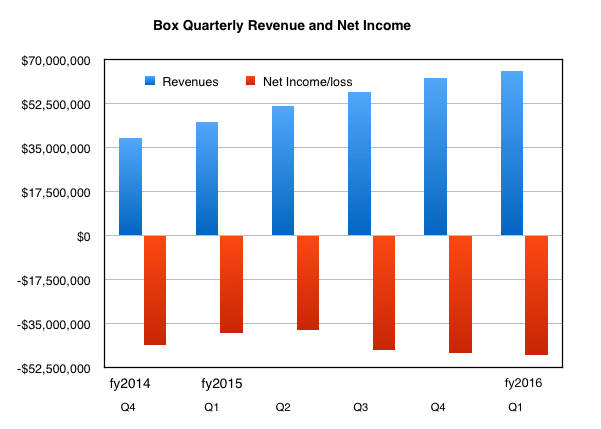 Box added more than 2,000 customers in the quarter, passing 47,000, but the number of ones actually paying is the interesting — if only we knew it.
The company tells us more than 3.7 million of its 37 million registered users are paying ones. That's 70 per cent up on a year ago. Great, but the business is still no money machine, with the vast majority of its users paying zip all.
Revenue next quarter is thought to be between $69-$70m; 35 per cent annual growth at the mid-point. What we have here is a nice steady and growing business.
But, unless growth is dramatic or costs get cut markedly, profitability is going to be a good few quarters in the future, not to say a couple of years or more away at current growth rates.
Could it drop its freemium model; abandon its pay-nothing customers, to reduce costs? Investor pressure might cause that conceivably.
How long will shareholders wait with relatively low growth compared with costs before dumping the shares? Messrs Levie and Smith might be quite interested in the answer to that question. They'll have to box clever. ®