I Saw a Man, Once Upon a Time in Russia and How to See the World
Potent plots, oligarchs and overlords and much, much more
---
Page File El Reg bookworm Mark Diston trawls through the latest from the publishing world encompassing Owen Sheers delivery of an intense portrayal of accidents and their consequences. Ben Mezrich gives a gangster-esque spin through the corridors of power and industry in Russia, and Nicholas Mirzoeff takes on the gargantuan task of how we define ourselves visually.
I Saw A Man
Owen Sheers is a Welsh poet, playwright and novelist, and I Saw A Man is his fourth work of fiction, a novel mainly about loss and guilt. The story commences in Hampstead, North London when Michael Turner, a recently widowed writer calls on his neighbours to retrieve a screwdriver he had lent them.
Michael finds the back door open and enters, when we then have a flashback over Michael's previous life, learning how he met, married and lost his wife Caroline, a journalist killed in a drone attack in the tribal regions of Pakistan.
The first thing which becomes apparent is this is a novel full of poetic sensibility, rather than poetic language; the text is without flourishes, but unpicks the protagonist's lives deftly and with great insight. Literary middle class lives are too often rendered banal or ridiculous, but Owen Sheers' characters are very human and believable.
As Michael finds no-one in and steps through his neighbour's house, we segue back into the past again and discover how Michael had arrived in Hampstead from Wales after his wife's death and befriended his neighbours, Josh and Samantha and their two young daughters.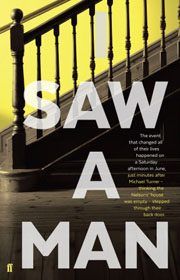 The other thread of the plot involves Daniel, the drone pilot in Las Vegas who killed Caroline. He is haunted by his actions and leaves his family and the USAF, and we learn he has contacted Michael to atone for his actions and the two start up a stunted dialogue, Michael sending Daniel lists of questions about the events surrounding Caroline's death.
Back in the present, Michael is still proceeding through Josh and Samantha's house. He climbs up the stairs, thinking of his wife and finds that the first floor too is apparently deserted. Then of course, disaster strikes and the rest of the novel concerns the fall out from this event.
I Saw A Man is a carefully constructed and powerful novel which really gets beneath the skin of its characters and shows the long-term effects of guilt and loss. The novel is set at the beginning of the financial crisis of 2007-8, and Josh works for Lehman Brothers and gets made redundant.
All three of the principal male characters seem to get irrevocably more lost as the story develops – it is a superbly scripted bourgeois Greek tragedy.
Owen Sheers is a writer of great depth and ability, and the description of Michael's literary style could be of his own: "His style became the antithesis of gonzo journalism: an eradication of the writer in writing." I Saw A Man is probably more likely to appeal to a more mature reader and those with some experience of life and loss. It was also been running on BBC Radio Four's Book At Bedtime this last fortnight, read with ominous intensity by Mark Bazeley and is currently still available on iPlayer Radio.

Author
Owen Sheers
Title
I Saw A Man
Publisher
Faber and Faber
Price
£14.99 (Hardback), £5.99 (eBook)
More info
Publication web site