Vulture at the Wheel I wanted to like the Vauxhall VXR8, but I didn't and I'm still not entirely sure why not. It's very fast and has the magic ingredient I look for in a car: exclusivity.
Not the you-can't-afford-it kind of exclusivity, but a special kind of petrol-head, what's-one-of-those? exclusivity. I used to own a VX220, which was a Vauxhall version of a Lotus Elise. Vauxhall only sells about 55 of these a year and like the VX220 it isn't made by Vauxhall. While the diminutive sports car was made by Lotus in Hethel, this big muscle car is built by Holden in Australia.
It's about as subtle as you would expect for something painted Fanta orange – Vauxhall call it Fantale. It has a 6.2 litre LSA V8 with an Eaton supercharger, identical to that used in the Chevrolet Camaro ZL1. It puts out 576bhp, has 740Nm of torque and is the first car I've seen which measures fuel consumption not only in miles to the gallon, but also in gallons per hour.
The Eaton supercharger has 4-lobe rotors, 9psi boost and delivers 1.9 litres of air per revolution. The drivetrain also features a standalone water-to-air charge cooling system, separate transmission and differential cooling systems, and a water-to-oil engine cooling system.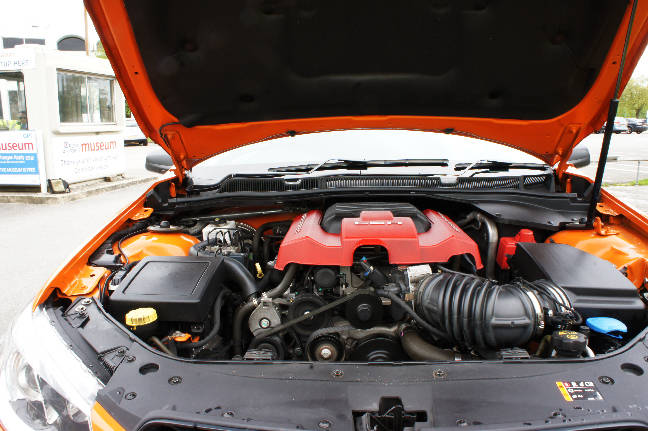 Engine is 6.2 litres of GM LSA V8, complete with Eaton supercharger. Lordy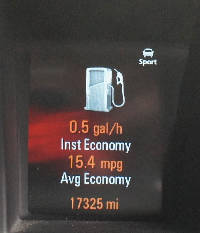 Environmentalists should look away now
The twin clutch system is nothing like as heavy as you would expect in a car with so much torque, while the stubby gearchange is good, but not rifle-bolt slick. Delivering drive to the rear axle is an MG9 spec, 6-speed manual transmission with oil cooler. An optional 6-speed (£1,700) automatic transmission is also available. Yeah, right.
Despite weighing 1,882kg the VXR8 will do 0-62 in 4.1 seconds and is limited to 155mph. Forum chat indicates an unrestricted top just speed shy of 190mph. But what is really impressive is the speed at which it will accelerate at the higher reaches. During the test it was more than capable of keeping up with the traffic, even when the traffic was a Mercedes C63 AMG. The Merc did sound better though – not that the Vauxhall is feeble. Nothing sounds as good as an angry V8.
In terms of four-door, four-seat performance, the natural rivals for this car are the Mercedes E63 AMG (£75k before options), the BMW M5 (£71k) and the Tesla P85D (£75k) so at under £55k this is something of a bargain. Where is falls behind the rivals is in class. This is hard to define. There is a nice big screen but the huge VXR logo on the centre binnacle is chintzy.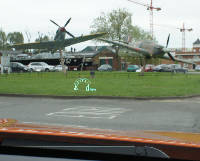 Head-up display doesn't show targetting info
The head-up display has the fighter pilot vibe going on, showing speed, revs and g-forces. There is position adjustment, but whatever I did there was always a nasty reflection of the binnacle. Head-up is one of those features which you start off thinking is pointless, then decide is a little annoying and distracting and finally miss when you've not got it.
As old school as the VXR8 is, the telemetry information is race-car comprehensive, wth the eight-inch touch screen making Big Data feel like something you need to just get down to the shops. You can even copy the information to a USB stick. This includes a g-force meter – as the V8 rumbles in idle, shaking the car, the meter flickers in sympathy. There are four settings: touring, sport, performance and track, the latter of which being a little more restrained than Ferrari's "Race" or Tesla's "Insane", but then even this monster is a full second slower to 60 than the Tesla P85D. The modes configure the traction control, stability control, steering speed, torque vectoring, bimodal exhaust, magnetic dampers and launch control. You control the modes with a rotary knob down by the handbrake.