Waking up the neighbours
There are control flaps for both air intake and exhaust. These allow you to choose between "wake the neighbours" and "wake the whole street". While that sound is a reason for buying the car, the extreme, high-pitched wail the Continental 255/35 R20 (front) and 275/35 R20 (rear) tyres produce on motorway concrete is nasty to the extent of being painful. Maybe you can use it to justify driving that little bit faster to get it over and done with, but in practice you slow down to reduce the discomfort. There is some bump and thump over potholes, but that is to be expected with low-profile tyres on 20in rims.
The Brake Torque Vectoring helps reduce understeer by generating a "rotational moment" in the rear axle while the car is under power. The Electronic Stability Control (ESC) system detects the understeer, applies braking to the inside rear wheel and transfers torque to the outside rear wheel, preventing the front end from washing wide. You can watch all this going on with suspension, slip and steering information in the on-dash display.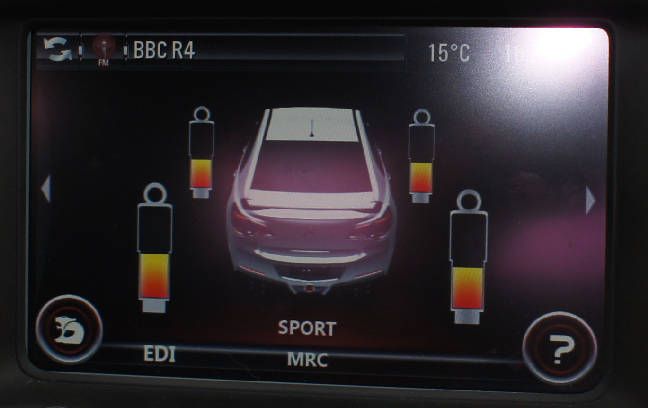 You can watch the wheels bounce
A big car with lots and lots of power takes quite some stopping. The VXR8 has AP forged 6-piston calipers with two-piece discs front and rear. The calipers – forged from 6061 T6 aluminium – offer a high strength-to-weight ratio with good brake modulation and feel. EVO magazine recently did a back-to-back comparison between carbon and steel brakes and found that while carbon was better for repeated high-speed braking, say for track use, steel initially gave better retardation.
The car's gadgets include blind spot indicators, automatic park assist, front and rear park assist, reversing camera and forward collision alert. A camera above the rear-view mirror scans the road ahead up to 14 times per second. When a crash is predicted, the driver is alerted with an audible tone and a huge red flash in the HUD. Anticipating hard braking, the system applies sufficient brake pressure to close the space between the brake pads and discs, thus delivering a quicker brake response time.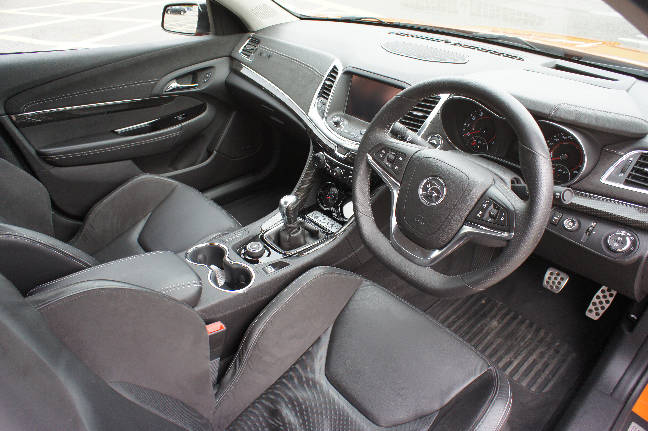 Interior is comfy enough, but it's no luxury liner
Because you sit low in the electric seats and the engine burbles it feels more like a racing car than a leather and Alcantara luxury ride, and despite the active dampers it feels like a big car. But with experience and confidence, you start to lean on it and the bravery is rewarded. Steering isn't up to the race-car vibe, though, being a little remote. No, that's not quite fair – by normal car standards this is great, it's just that the rest of the car feels like you should be competing in touring car races, but the steering doesn't. The wheel is good, though, with Alcantara on the inside of the rim.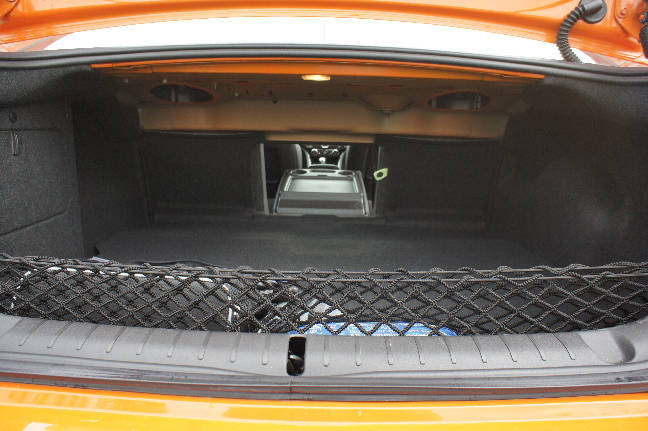 The VXR8 has a decent boot
The Reg verdict
Even if it wasn't bright orange, the VXR8 would be gaudy and brash. It's as though someone only looked at the numbers. What it most has going for it is that it's not one of its German rivals. Buying one marks you out as someone who has thought long and hard about what to buy, but given that you can now buy a Maserati for similar money, it remains a car you're pleased to see on the market but think someone else should buy. Not least because it's the first review car we've had a speeding ticket in. ®

Vauxhall VXR8: You know when you've been tangoed
Gaudy, brash and not worthy of a price tag that falls into the Maserati bracket.