Pics Regular Reg readers will be aware that our Low Orbit Helium Assisted Navigator (LOHAN) rocket wrangler Paul "Lord Shax" Shackleton, when he's not lighting blue touchpapers, may be found brewing 18 per cent ABV mead or blowing his own head off with 1.5 million Scoville masala omelettes, featuring the awe-inspiring Carolina Reaper chilli pepper.
Well, with a horrible inevitability, Paul recently decided it would be a really outstanding idea to knock up some mead and bottle it with a Carolina Reaper, leaving this devil's brew for 10 weeks or so to allow the chilli to exude its payload of capsaicinoids.
The result is "The Reaper" – 14 per cent ABV liquid death described by its maker as "hotter than the fires of hell". He's not far off, as it turns out, as myself and my Spanish mates can attest.
A couple of weeks back, a very suspicious-looking postman delivered a plain brown cardboard box to my doorstep. Inside, was one 500ml bottle of The Reaper, seen here with Paper Aircraft Released Into Space (PARIS) veteran José María Pita: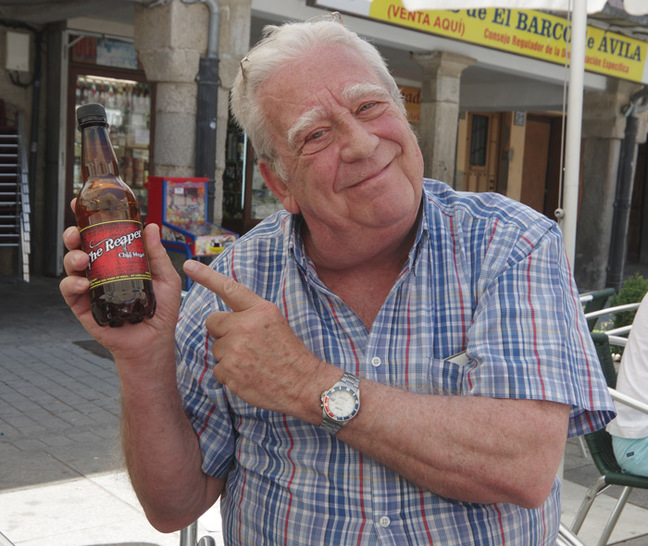 José María worked in London for several years, and speaks pretty good English, so as soon as he'd read the label, politely and very wisely declined my offer of a quick livener.
Evidently, I needed a more receptive test group, receptive being a euphemism for "drunk" in these kind of experiments. Cue a trip to the Chiringuito de La Carrera, the riverside setting a few years back for our pierogi versus patatas revolconas post-pub nosh deathmatch.
Cristina Moreno Rubio is still in charge of the bar, and agreed to pour out a few shots on the proviso that she would not herself be obliged to partake.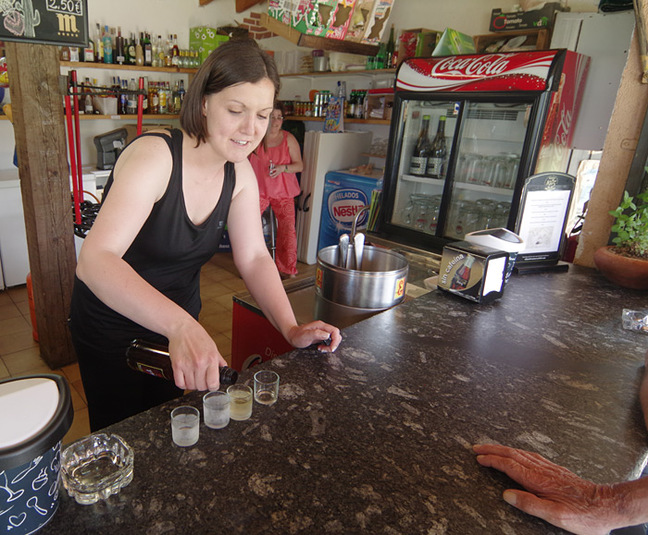 Just as she was decanting The Reaper, her other half Quique rolled up, proving a willing first victim for the diabolical tipple. Readers should be warned that the following photographs contain distressing scenes of people in extreme pain and loudly effing and blinding: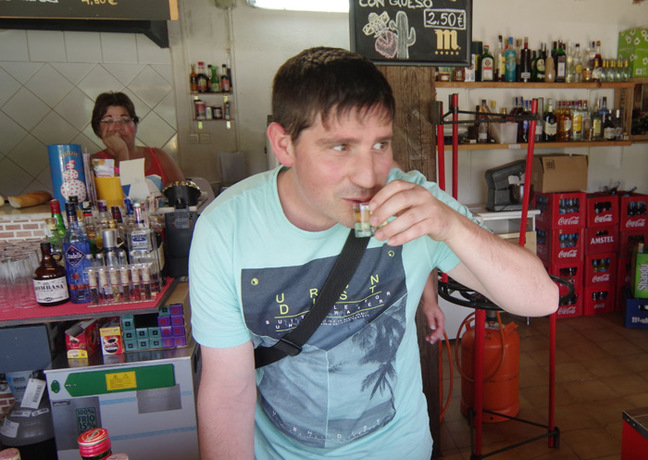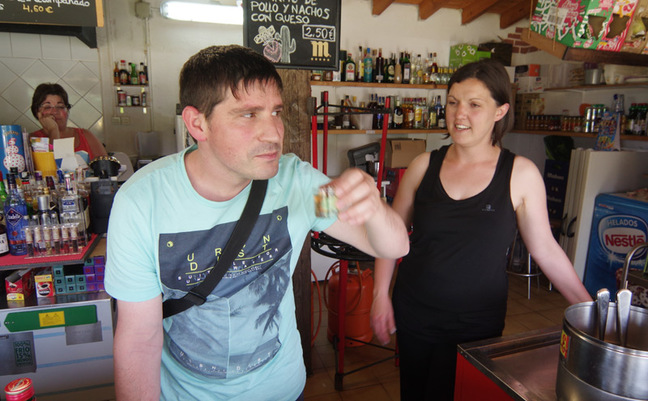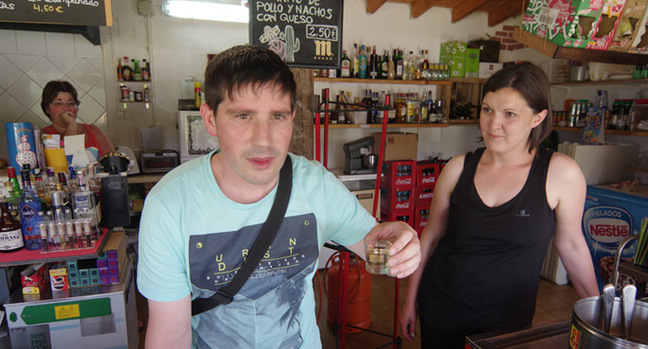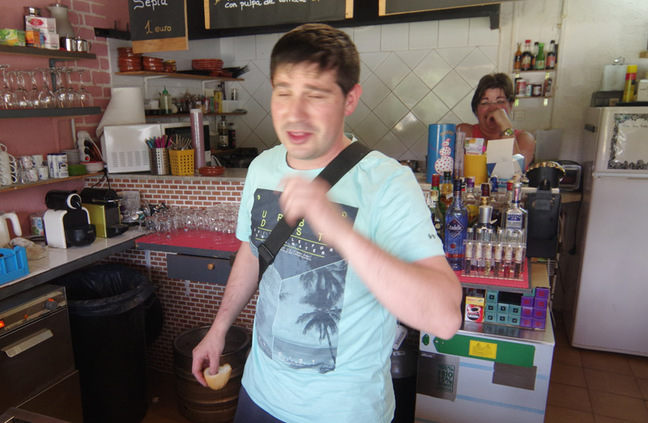 Next up to the shot glass of doom was my old mate Ramon, excavator operator supreme and he of the Portuguese builder in a hole outrage: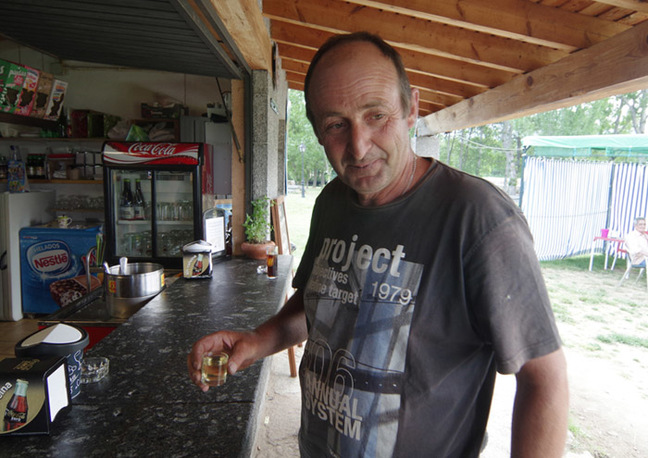 I'm disappointed to report that young Ramon, while handling himself like a real man inside the cab of a JCB, managed just one sip of The Reaper before making his excuses and leaving, we believe to throw himself into the river.
Local chap Juan, meanwhile, decided on a one-hit, full-slug line of attack, and paid the price, much to the amusement of Marcela Rementería Pérez*: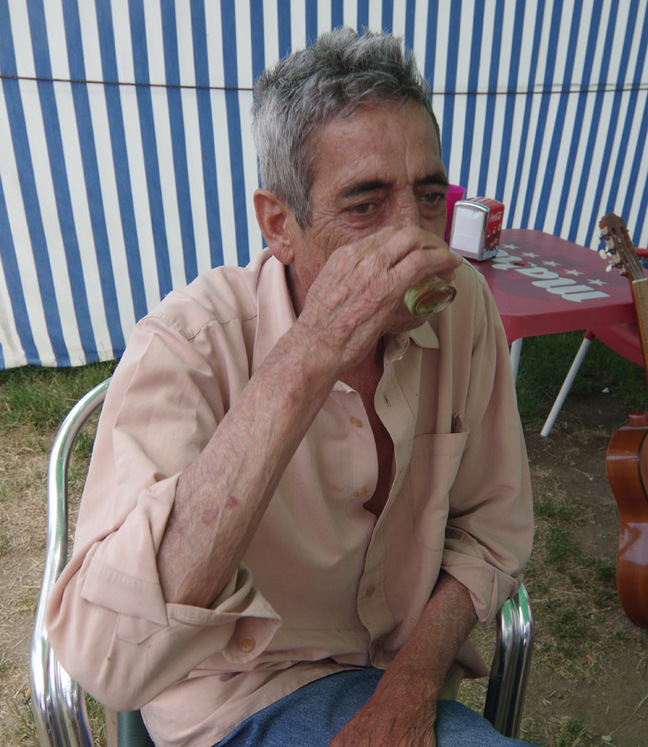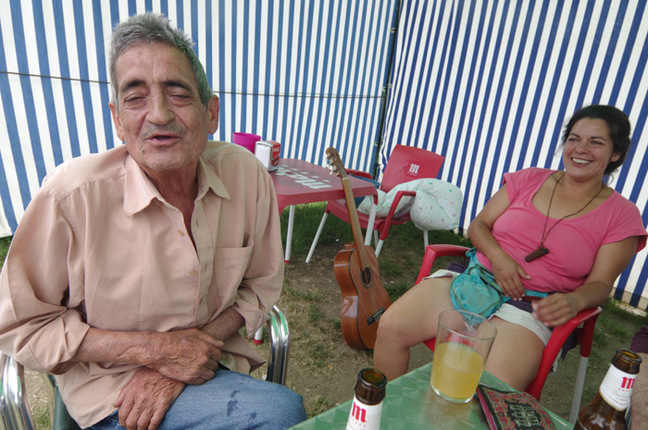 Marcela's mirth was short-lived, however, as she too soon discovered the terrifying effects of English homebrew chemical warfare: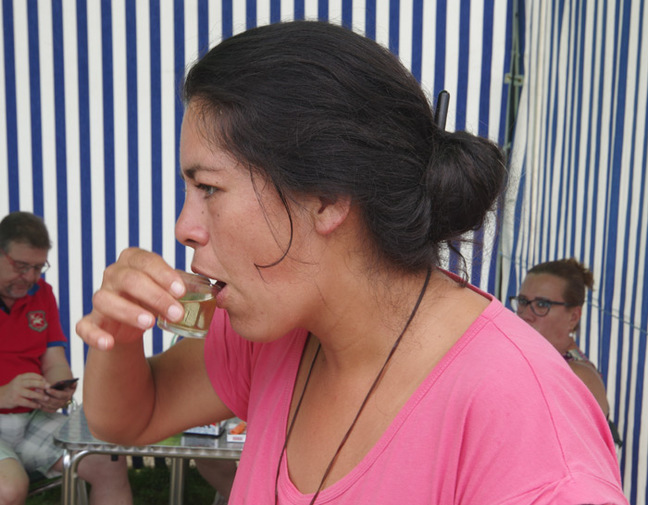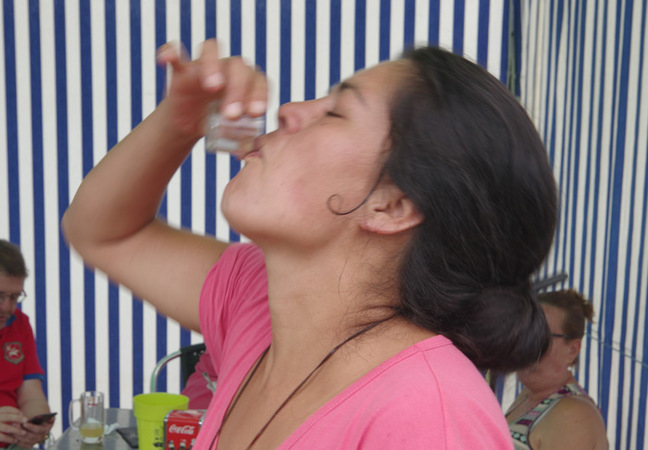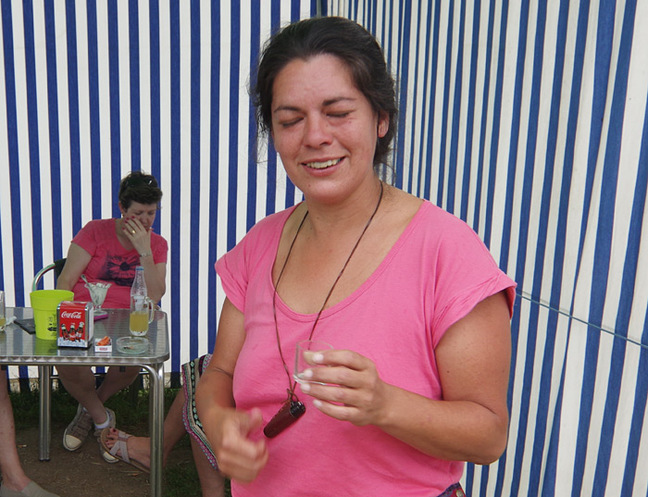 Yup, those are tears, and to be perfectly honest, I don't blame her. I had two shots of The Reaper, and after about 20 minutes of quality swearing, had recovered sufficiently to get on the mobile to the emergency throat transplant clinic. I swear the roof of my mouth was still tingling the next morning, which is hardly surprising considering I'd put the liquid equivalent of a hot poker into my gob.
So, you're wondering, were any of the locals able to confront The Reaper and laugh in the face of napalm mead? The answer is yes, in the shape of Fernando ...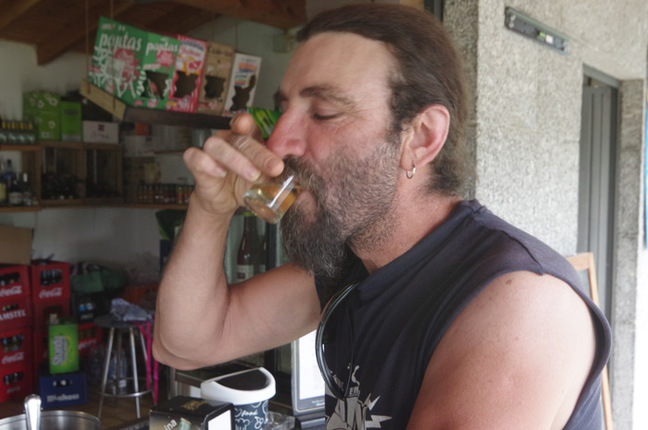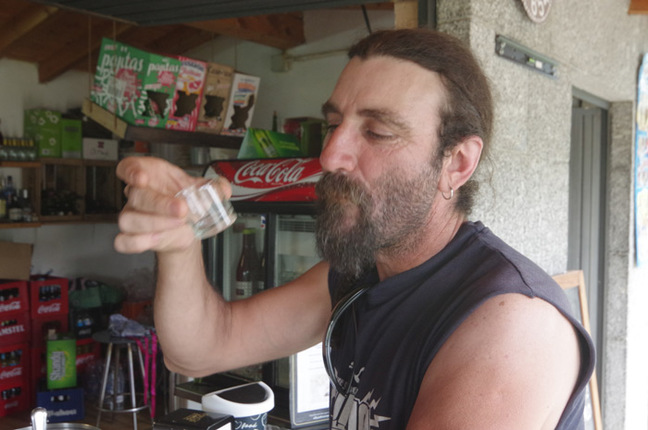 ... and it's a tip of the hat to the man who sank a pair of shots without any apparent effect, before nonchalantly declaring: "Not bad." ®
Bootnote
*Marcela participated in the pierogi versus patatas revolconas deathmatch, as you can see here.