Renault Kadjar: La Regie's new full-sized, inexplicably named SUV
Pretty soft-roader loaded with latest Android infotainment system
For those who care about style, space, on-road behaviour and economy
Where the drivetrains differ is with the automatic offerings. Nissan use a CVT affair, but Renault prefers a dual-clutch automatic arrangement. So do I, so score one for the French.
The two-wheel-drive automatic models (1.5L diesel only) come with something called an Extended Grip system, which claims to enhance traction and control on slippery surfaces. Since I didn't get to drive a Kadjar so equipped, I can't tell you how well it works.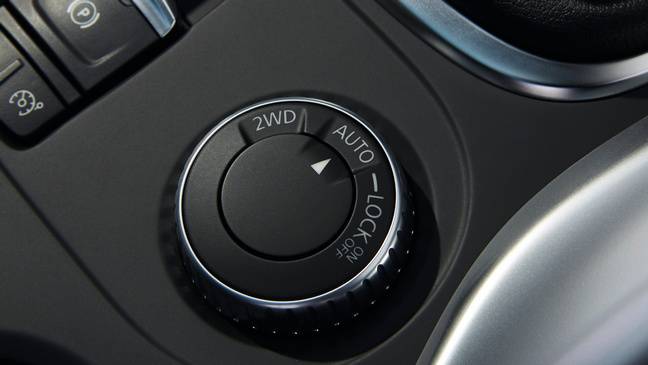 Four-wheel drive version lets you choose between front, automatic or locked four-wheel drive. Should cope with an icy Waitrose car park
The four-wheel drive system, available only with the more powerful diesel engine, was pretty impressive. Depending on the terrain or the setting you chose to turn the rotary knob to, the Kadjar can run in either front wheel drive, an automatic torque split mode that can shunt up to 50 per cent of the available grunt to the rear wheels, or a locked 50:50 torque split for when the going gets properly circular.
The dusty tracks of the Bardenas Reales didn't really stretch the all-wheel drive system, but the suspension soaked up the bumps impressively well and the torque split transmission dished out the goods in a completely undetectable way. In fact, if it wasn't for the torque split indicator on the dash and the fact I wasn't upside down in a ditch I'd never have known the AWD transmission was doing its thing.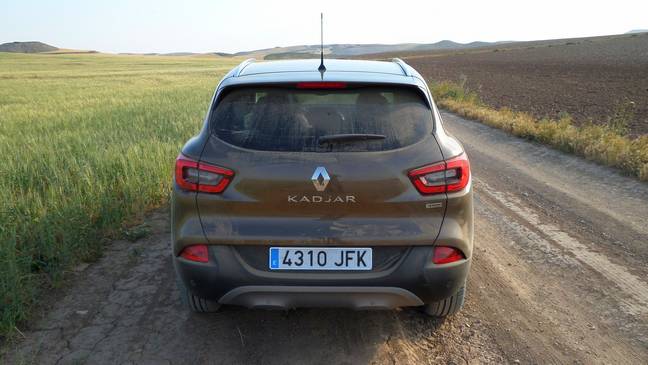 Kadjar all covered in't mud. Or Spanish dust to be more accurate. In this terrain the Kadjar works just fine
Of course, the road tyres and low-ish ground clearance (200mm) make the Kadjar, like all cars in this class, a vehicle you'd think twice about taking entirely off-road. But that won't bother Renault one iota.
Just as the Qashqai successfully took the place of the little loved and dull-as-dishwater Primera in the Nissan UK line-up, so the Kadjar will hoover up to potential Laguna buyers, the big hatchback having been a victim of the range cull in early 1212 that also saw the Wind, Modus and Espace models unceremoniously yanked from UK forecourts.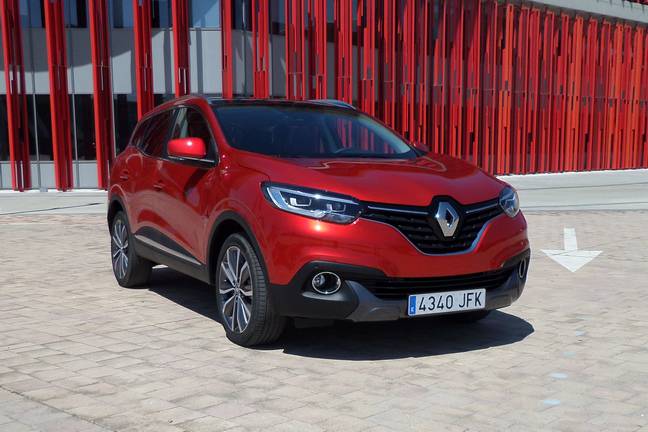 Kadjar needs to attract ex-Laguna buyers and fill a large hole in Renault's UK range
The majority of potential customers for the Kadjar will be interested in style, space, on-road behaviour and economy rather than greenlaning or driving up Scafell Pike. The Kadjar certainly ticks the first two boxes and it also scores well in the last two categories. Hustled along the twisty Spanish roads there was surprisingly little body roll and plenty of grip.
The six-speed manual gearboxes were slick and precise and I've no reason to seriously doubt the official combined consumption figures of 50.4mpg (1.2L petrol), 74.3mpg (1.5L diesel) and 58.8mpg (1.6L diesel 4 wheel-drive). Despite there not being an abundance of power on tap, keeping both the petrol and diesel Kadjars moving along at a pace was no real chore. That's largely thanks to there being plenty of low-down torque across the engine range.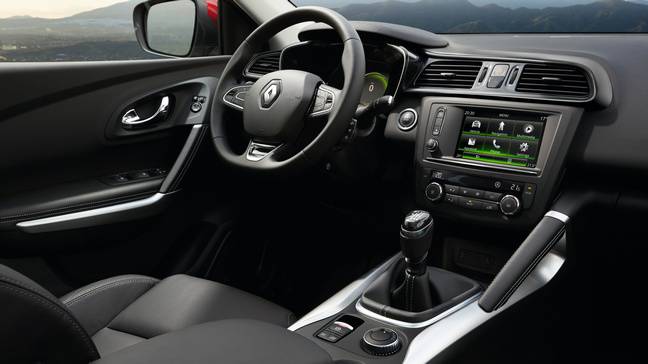 Kadjar's cabin is a nice place to be. Centre console dominated by 7-inch R-Link 2 display
The Kadjar will see the UK debut of Renault's new R-Link 2 infotainment system. Based around a 7-inch touchscreen (sadly the new Espace with its funky 8.7-inch portrait R-Link 2 screen isn't coming to Blighty), it's Android-based and let's you download a selection of curated apps from the R-Link store.
Compared to R-Link 1, a system that always suffered at the hands of Renault's insistence on calling it a "tablet", v2.0 is much easier to use. It's far more reactive to the touch and faster on the draw. More tablet-like in fact. I'd have liked to have spent more time fiddling with it, but the review cars only had a handful of apps installed and all bar the TomTom satnav where in Spanish.
One really handy feature of R-Link 2 is that it can be set with up to six driver profiles, which adapt the vehicle to different driver preferences – radio stations, seat position, lighting ambience, phone link and such like – with a single click.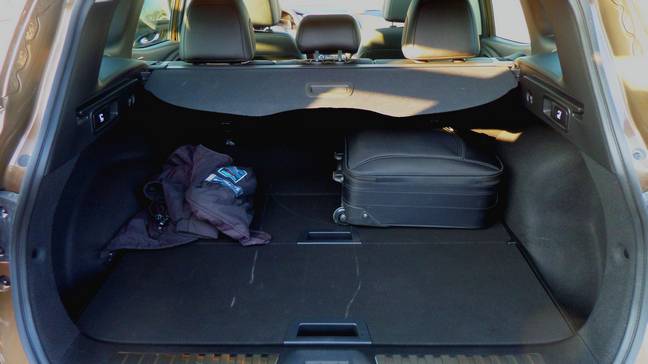 Kadjar is bigger than Qashqai all around. Boot is a handy 42L more capacious. Elbow room is 'class leading', apparently
Renault expect 80 per cent of Kadjars sold in the UK to be powered by a compression engine and only 8 per cent to have four wheel drive. That sums up the SUV market in a nutshell – people want an economical pseudo-rugged estate, not an off-roader. Fair play to Renault, as that's exactly what it has delivered. Expect to see a lot of these things on the road and sharpish.
The Reg verdict
Choosing between a Kadjar and a Qashqai is really just a matter of which you prefer the look of and which dealer is offering you the most kit for your money. My own opinion? I think the Renault is the more enjoyable to drive on tarmac and I favour Renault's idea of an automatic gearbox over Nissan's. And I prefer the looks of the Kadjar. I'd go as far as to say it's the prettiest vehicle in its class. It felt well screwed together and the cabin was a pleasant and comfortable place to sit. The Kadjar also looks set to be £500 cheaper than the Qashqai model-for-model and has a larger boot. Keep in mind, though, that the Nissan is assembled here in Blighty while the Renault is bolted together in Spain. ®

Renault Kadjar: La Regie's new full-sized, inexplicably named SUV
Renault's new soft-roader: a full-sized, inexplicably named SUV
Price:
From £17,995 OTR. Deliveries start in September. RRP