OPEN WIDE: Microsoft Live Writer authoring tool going open source
Hanselman: 'I didn't expect this little tweet reply to cause a ruckus'
---
Microsoft will release its blog authoring tool, Live Writer, as open source, according to a tweet from developer evangelist Scott Hanselman.
The goal of Live Writer was to make it easy to author blog posts while working offline in Windows. The editor is based on embedded Internet Explorer, and despite that handicap the tool was immediately popular.
Offline authoring generally beats typing into a browser, especially for bloggers out and about with intermittent connections, and Live Writer does most things right.
Unlike Word, it generates clean HTML and gives easy access to HTML source. Firing up Live Writer was quicker than using full HTML authoring tools such as Dreamweaver (or Microsoft's FrontPage), and publishing a post was a single click.
Live Writer was created by JJ Allaire, brother of Jeremy Allaire (the duo who built the ColdFusion web development tool). Allaire Corporation was acquired by Macromedia (itself later acquired by Adobe) in 2001.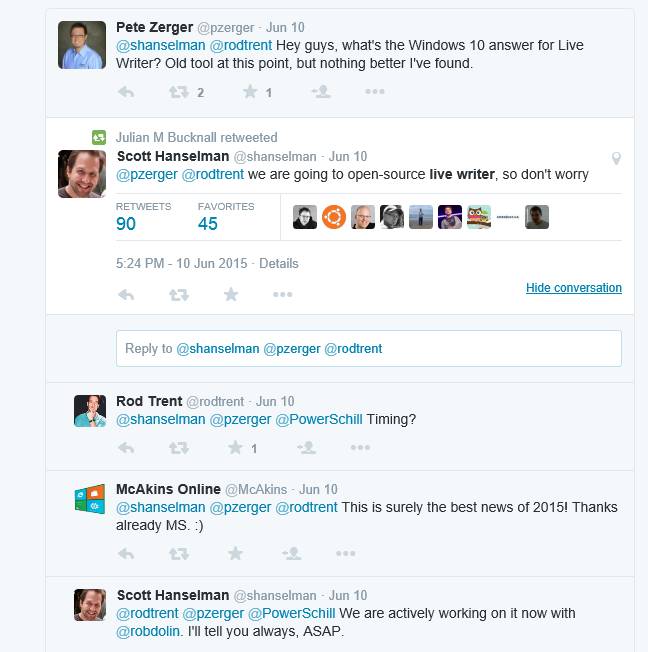 JJ Allaire left Macromedia to found Onfolio and create a tool for gathering data from the web, and Onfolio then built a blog authoring tool called Onfolio Writer.
The company was acquired by Microsoft in 2006, and at Microsoft Onfolio Writer became Live Writer, first released in 2007. It has always been free.
The original thinking behind Live Writer (as its name suggests) was as part of Microsoft's "Live" initiative, Microsoft's effort to run an all-encompassing online platform including community content (mmm, remember Windows Live Spaces?).
However, Live Writer was always able to publish to a range of blogging platforms, including WordPress and TypePad. Live Writer supported the Moveable Type API (used by TypePad) and the Atom publishing protocol as well as the ability to post to Live Spaces and SharePoint.
Live Writer survived various strategic shifts at Microsoft, with new versions appearing in 2008, 2009 and 2012. The tool improved, including plug-in support for third-party add-ons, although there's a possibility the company was not sure what to do with it.
Live Writer became part of an optional download bundle called Windows Live Essentials and was never much promoted. Users had to know where to find it, as well as working out how to install it without getting all sorts of other unwanted software and settings.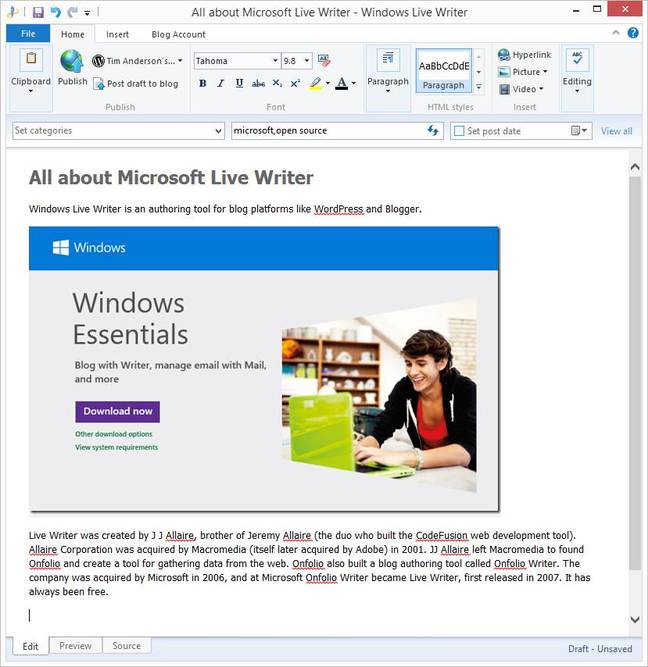 Windows Live Writer is to be open source
The product is still available today and you can download it here though as ever you should do a custom install and unselect stuff you do not need, and it has not been updated since 2012.
However, it is still rather good. One of its smart features is that after configuring a blog account, it downloads the CSS style sheets from the blog so that it can present pretty much what the post will look like as you type and edit.
Post an image to WordPress, and you get proper image handling automatically, with each image a hyperlink to a full-size version. You can even add watermarks to images. Live Writer is also popular among developer bloggers (like Hanselman) and there is plug-in for adding nicely formatted source code.
What this means is that Live Writer is an ideal candidate for open source, with users who are well placed to improve it. Hanselman's tweet is the first indication that Microsoft might actually do this.
What will happen to Live Writer? Well, Hanselman has also been involved in the cross-platform Visual Studio Code, a programmer's editor built using Google's Chromium HTML engine, so it would not be surprising if there are efforts to migrate Live Writer in the same direction.®