This article is more than 1 year old
Intel inside: Six of the best affordable PC laptops
Budget machines to leave you quids in and spoilt for choice
Product Roundup The continued stagnation of the PC market is bad news for manufacturers, but good news for anyone who needs an affordable new laptop. Manufacturers are having to offer great value in order to attract buyers, and this means that you can now get some really attractive laptops that'll do the business for a good few years in the £500-600 bracket.
There's plenty of variety, too. The models tested here include slimline convertible thingies jostling alongside more conventional 15-inch desktop replacements.
Some laptops blow the budget on a high-definition display – with an eye for graphic designers and video buffs – while others go all out with an Intel Core i7 processor for performance and productivity.
Several manufacturers even managed to squeeze in discrete GPUs for casual gaming – a value-added extra that's seldom seen in this price category. So here's a selection of some of the best, and most affordable Intel-powered laptops currently on offer for 2015.
Acer Aspire Switch 12

This is a weird one. When you open up the Switch 12 for the first time, its screen faces backwards, away from both you and the keyboard. After scratching my head for a few minutes I acknowledged defeat and consulted the manual, which informed me – fool that I am – that I had to remove the keyboard and re-attach it to the front of the screen in order to use the Switch 12 as a conventional laptop.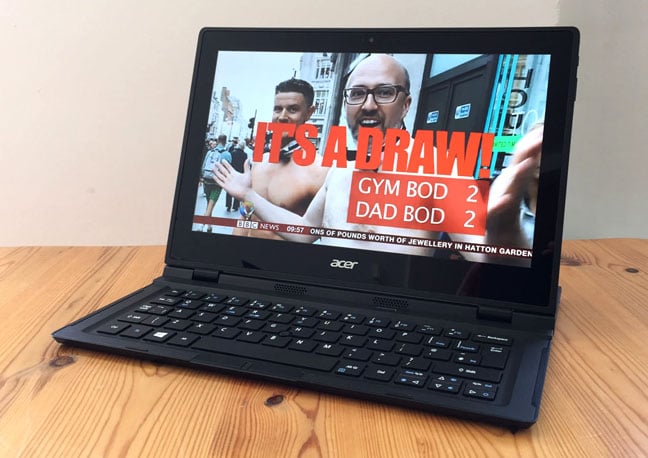 The cramped keyboard isn't much use for work, though. It's sturdy enough, but is too small for serious typing, and instead of a trackpad it only has one of those clumsy nipple-pointers and two tiny little mouse buttons.
But while you may not get much work done on the Switch 12, it actually works quite well as a kind of souped-up entertainment tablet. The 12.5 IPS touch-screen is impressively bright and colourful, with 1920x1080 resolution that works well for streaming video and browsing your photos.
The Intel Core M-5Y10a dual-core CPU only runs at 800MHz, but its Turbo Boost option bumps that up to 2.0GHz, and produced scores of 1964 and 2434 in the Home and Work suites of PCMark 8.
Those are very much entry-level scores, but they actually outpace more expensive Core M laptops such as the new Apple MacBook and Lenovo's Yoga 3 Pro. The three-cell battery is supposed to be good for eight hours and in tests managed six hours of continuous video streaming.
PCMark 8 Home and Work benchmark results
If all you're after is a full HD Windows tablet with keyboard dock convenience, then the meagre 4GB memory and 60GB solid-state drive will probably suffice. However, there is micro SD expansion available, along with USB 2.0 and micro USB 3.0, plus a micro HDMI port, all of which Acer's Switch 12 site forgets to mention.
At around £500 it might seem a bit steep given the SSD size, but it's surely the cheapest full HD 12.5-inch docking Windows tablet you'll find.
Price
£520
More info
Acer
Asus X555LD

The Asus X555LD is a resolutely old-fashioned budget laptop, but is still good value at around £550. It's a chunky 15-inch machine with a built-in DVD drive that bulks it out to about 26mm thick. It's certainly no Ultrabook, yet a weight of 2.1kg isn't bad for a model of this size, and it delivers 5.5 hours of video streaming using the BBC iPlayer, so it can handle some mobile entertainment and web surfing when it needs to.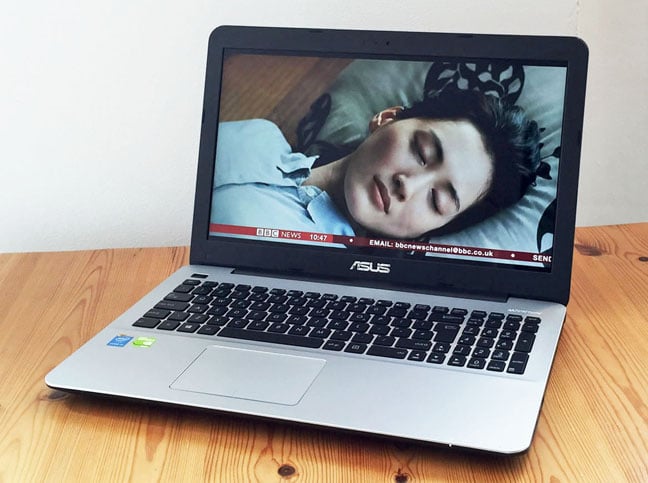 Performance is quite respectable, too. Its dual-core Intel Core i5-4210U CPU runs at a modest 1.7GHz, but gets a Turbo Boost lift to 2.7GHz, and is backed up by 4GB of memory and a 1TB hard drive.
That combination produces scores of 2401 and 2690 when running the Home and Work suites in PCMark 8, which are fine for routine web browsing and running Microsoft Office.

PCMark 8 Home and Work benchmark results
The weak spot is the 15.6-inch display, which offers only a modest 1366x768 resolution, and equally modest viewing angles. However, the money saved there has been spent on a GeForce 820M graphics card with 2GB VRAM, which can handle Batman: Arkham City at a playable 29fps on medium graphics settings, so the Asus X555LD will let you enjoy some casual gaming action without breaking the bank.
Price
£550
More info
Asus