This article is more than 1 year old
Intel inside: Six of the best affordable PC laptops
Budget machines to leave you quids in and spoilt for choice
Dell Inspiron 15 5000

The Dell Inspiron 15 5000 gives you a lot of laptop for just £500. The smart black and grey chassis houses an Intel Broadwell Core i7-5500U dual-core CPU running at 2.4GHz (3GHz with Turbo Boost), which comfortably achieves scores of 2792 and 3006 in the Home and Work suites of PCMark 8 – making it both the most powerful and the least expensive laptop in this group.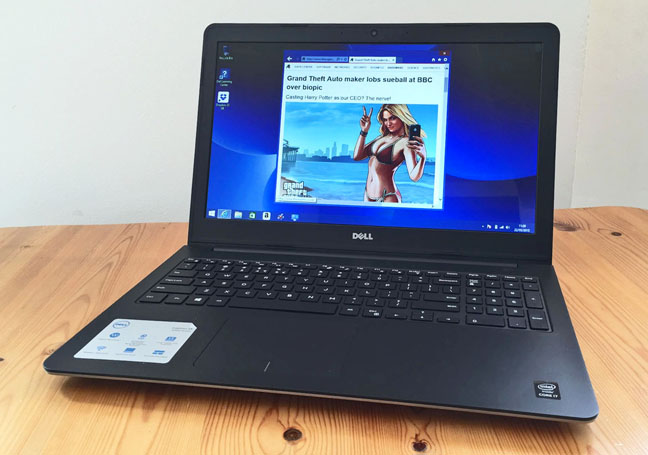 There's 8GB of memory and a 1TB hybrid hard drive, so you've got plenty of RAM and storage for demanding tasks such as photo or video editing. Dell has somehow even managed to squeeze in a Radeon R7 M270 graphics card with a full 4GB of video memory, which runs Batman: Arkham City at a smoothly playable 40fps even on High graphics settings.
Battery life is relatively modest, giving only five hours and fifteen minutes of streaming video, even with the more power-efficient integrated GPU, but at 2.3kg the Inspiron isn't going to be spending that much time on the road anyway.

PCMark 8 Home and Work benchmark results
The only real disappointment is the 15.6-inch display, which only provides 1366x768 resolution and quite limited viewing angles. It works well enough if you're sitting directly in front of the screen, but anyone sitting next to you will struggle to get a clear view of any photos or web pages that you might want to show them.
But, to be fair, low-def displays like this are a common weakness in budget laptops, and the Inspiron's strong performance is hard to beat at this price.
Price
£500
More info
Dell
HP Envy x360 15

I'm not entirely sure that using the Envy x360 15 as a 15-inch tablet is a good idea – at 2.4kg it's as heavy as five and half iPad Airs – but the 360-degree reversible screen could come in handy if you want to rest it on your lap when you're in bed or flaking out on the sofa.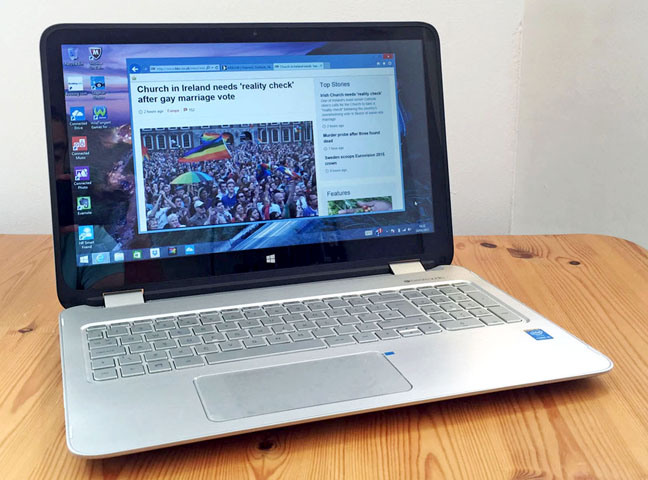 The screen resolution is only 1366x768, but it's quite bright and well suited to watching streaming video – albeit annoyingly glossy and reflective. The screen is touch-sensitive too, so you can tap away in comfort when you've got your feet up. You might want to plug in some headphones, though, as the tinny Beats Audio speakers are a bit of a let-down.
In most other respects the Envy x360 15 is a fairly conventional budget laptop. The Intel dual-core 2.2GHz Core i5-5200U CPU manages unremarkable scores of 2390 and 2779 when running the Home and Work suites in PCMark 8, but those are still adequate for routine web surfing and productivity.

PCMark 8 Home and Work benchmark results
It's a power-efficient Broadwell chip too, which managed to deliver a full eight hours of video streaming on the BBC iPlayer. Chuck in 8GB of memory and 1TB of storage and you've got an affordable laptop that is well suited to home entertainment or school work.