This article is more than 1 year old
Intel inside: Six of the best affordable PC laptops
Budget machines to leave you quids in and spoilt for choice
Lenovo Yoga 2 13

Lenovo's Yoga 2 laptops have fallen in price since the arrival of the newer Yoga 3 range, and at £600 this 13-inch model is now pretty good value for money. It's one of the few laptops in this price range that provides a full HD display, with a bright, colourful IPS panel that provides good viewing angles.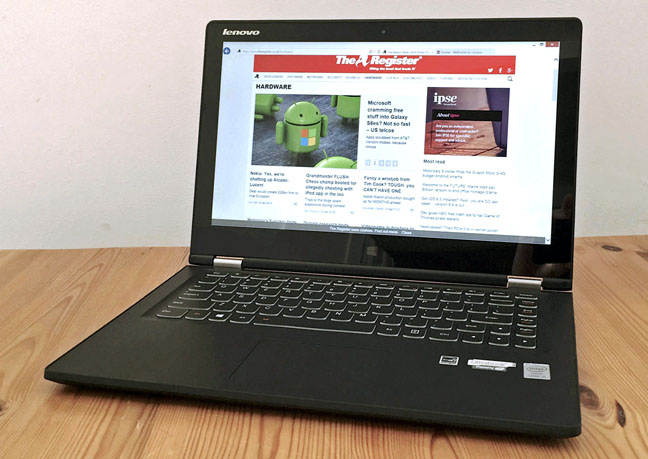 And, like all the Yoga range, it allows to you fold the screen back so that it acts like a stand when you're watching video, or to wrap the screen right around in order to turn the entire thing into a 13-inch tablet.
That flexible design makes it a good choice for relaxing when you're off-duty, but the Yoga 2 13 can handle some more serious work too. Its Core i5-4210U dual-core CPU runs at a relatively modest 1.7GHz, but Intel's Turbo Boost option can step that up to 2.7GHz, allowing it to achieve scores of 2266 and 2618 respectively in the Home and Work suites of PCMark 8.

PCMark 8 Home and Work benchmark results
Admittedly, the benchmark scores are pretty much entry-level, but they're still perfectly adequate for web browsing or running Microsoft Office. The Yoga 2 13 also delivered a full six hours of streaming video, so you should get a good day's work out of it if you're not hammering the Wi-Fi all the time.
The 4GB of memory and 500GB hard drive are fairly basic, but that's nit-picking at this price, and the slimline 17.3mm design and 1.7kg weight make the Yoga 2 13 one of the better budget Ultrabooks available at the moment.
Toshiba Satellite S50-B

When it comes to battery life, Toshiba's Satellite S50-B isn't going to win any prizes, but an attractive display and solid performance make it a good option for multimedia and entertainment.
Indeed, the Satellite S50-B is one of the few laptops in this price range to offer a 1920x1080 resolution for its 15.6-inch display. It could be a little brighter, and the glossy screen coating is annoyingly reflective, but the viewing angles are still good and it works well for tasks such as photo-editing or streaming video.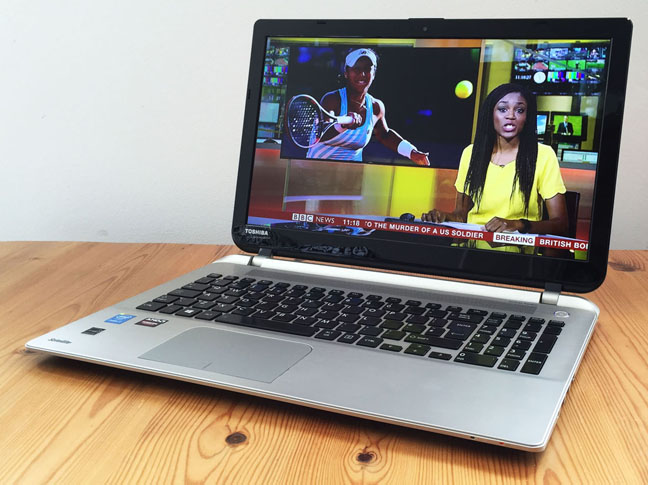 The full HD display is also backed up by good performance, courtesy of an Intel Broadwell Core i5-5200U dual-core CPU running at 2.2GHz (2.7GHz with Turbo Boost), 8GB of memory and a 1TB hybrid hard drive.
That combination managed solid scores of 2651 and 2917 in the Home and Work suites, which will allow it to handle a wide range of tasks, as well as providing plenty of storage for all your music, photos and videos.
It can even try its hand at some light gaming, thanks to a Radeon R7 M260 graphics card that manages 30fps when running Batman: Arkham City with High graphics settings at 1366x768 resolution.

PCMark 8 Home and Work benchmark results – the chip is the same as the HP Envy x360 but the scores are significantly higher, a factor no doubt due to the presence of the discrete AMD Radeon R7 M260 GPU
You'll be looking to make power saving tweaks if you're on the move with laptop as it managed only 3.5 hours of video streaming video in tests. But given its size and 2.1kg weight, the S50-B is the sort of laptop that you're more likely to carry from room to room at home, rather than lugging it around in a backpack. ®
Thanks to ebuyer for the loan of the HP Envy x360 15.