This article is more than 1 year old
Adobe Creative Cloud 2015 launches – and gets Android in on the act
Shrinks time, enlarges your wrinkles and gets hazy
Pics Adobe has updated its Creative Cloud Suite for 2015, bringing enhancements and new features to 15 desktop applications and delivering tighter integration for its desktop and mobile users. Adobe has also let Android in on the mobile party with versions of Brush, Color, Ps Mix and Shape being made available to the platform for the first time.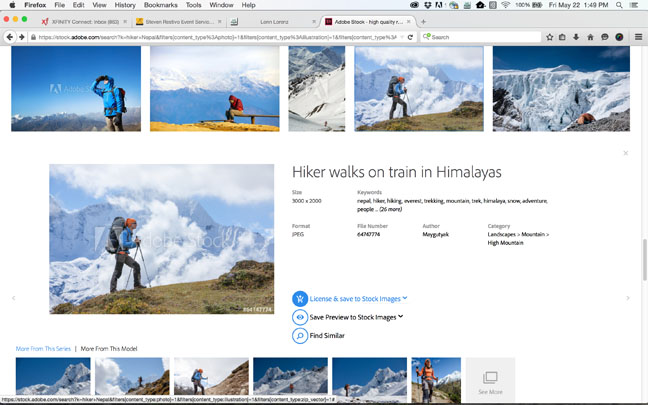 Adobe Stock: £5.99 per image, £29.99 for 10 images per month (or 19.99 with any Creative Cloud plan). For 750 images a month £119.99. Image contributors get 33 per cent of the sale price.
The company is also introducing Stock, its aggressively priced photo library of four million stock images available for purchase on a one-off basis or as part of a subscription plan.
The Creative Cloud update sees even more convergence among the desktop applications, with Adobe adopting the term CreativeSync to describe the synchronisation that occurs in the workflow.
Assets can be synced enabling access to photos, brushes, sketches, colours, fonts and design elements from within both CC desktop and mobile applications.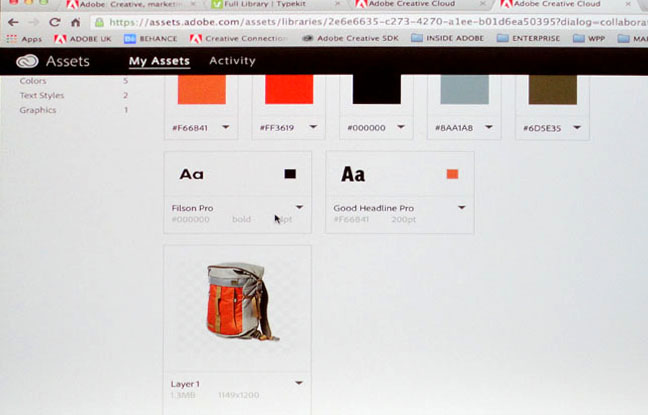 View assets from a web browser: colours, fonts and images shown up for review and available for use on both desktop and mobile apps
Moreover, assets in Creative Cloud library can now be linked, so if you make changes to an asset in use on multiple documents or in a collaborative library, you automatically get the option to update across all of the content. If there's one more change to a company logo, all the instances using that graphic in a shared library – from web site, brochure to business card – can be revised across the board.
Talking of boards, Photoshop now implements a feature previously found in Illustrator, Art Boards. These can be customised but there many presets already in place, with some that represent various iOS screen sizes, enabling design interfaces to be composed and viewed across different target screens.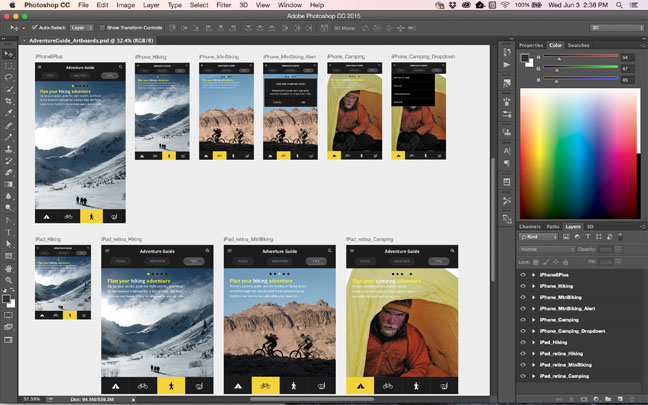 Art Boards now available in Photoshop, here showing iOS screen sizes to aid interface design. Click for a larger image
Throughout the preview in London last week, Adobe made comparisons to Creative Suite 6, in recognition that a lot of its users have yet to be convinced of the merits of Creative Cloud. Putting it up against apps from 2012 makes the figures look good too, with claims that the Healing Brush, Spot Healing Brush and Patch tools were now 120 times faster than in CS6.
Illustrator also claims to be up to 10 times faster than its CS6 predecessor, thanks to further tweaks to the Mercury Performance System which enable swifter zooming, scrolling, page up/down and handling of complex documents. The zoom function has also increased from 6,400 per cent to 64,000 per cent.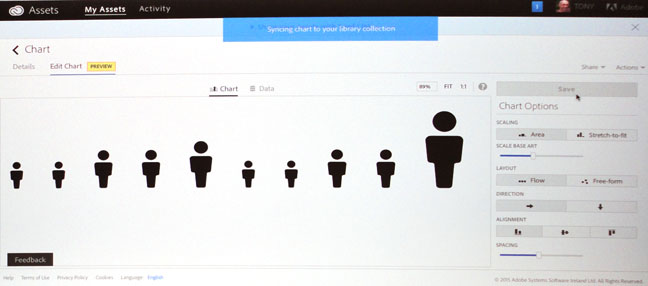 Configuring a chart within Assets from a web browser
Gasps of "at last…" were heard with the news that Illustrator could now create custom graphs, charts and infographics. Apparently what you've been able to do on Excel for decades has eluded Illustrator until now, although Adobe's app does this with a lot more style.
Interestingly, the demo was initially performed from the Assets web page, with all the chart data applied and manipulated to deliver a preview online. To show how seamlessly CreativeSync actually functions, the same asset was then opened on Illustrator to continue the work.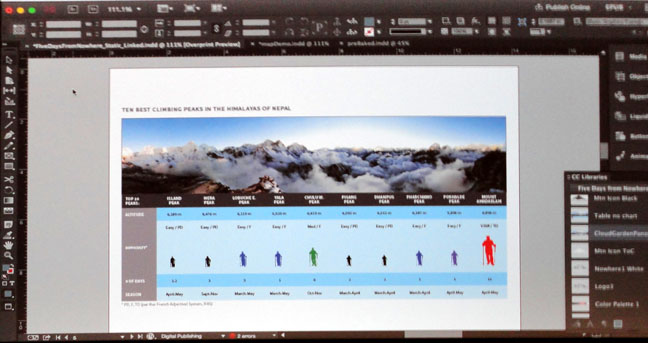 Graphing information used in Illustrator with scaled custom icons
"Recover your work when Illustrator crashes before you have a chance to save" is the confidence-boosting addition to Adobe's stalwart drawing app. Apparently, the document is restored to its "pre-crash state" when you reopen Illustrator. It makes you wonder how often Illustrator crashes. Maybe it was put together by the same team that worked on Flash? It does an awful lot with vector graphics, after all. As Steve Jobs said back in April 2010, "Flash is the number one reason Macs crash."