Microsoft's new Surface 3 tablet should be the perfect hardware for Windows 10, set to be released on 29 July. We put it to the test.
Microsoft's Surface experiment is significant on several levels. When the initial Surface device (running Windows on ARM, also known as Windows RT) was released in October 2012, it was the first time the company competed directly with its hardware partners.
Perhaps this was because it did not trust them to create tablets that worked well with Windows 8 and its curious hybrid personality, part touch-friendly and part wedded to keyboard and mouse. Surface was also an attempt to counter Apple's success with the iPad: tablets with long battery life, low maintenance, easy app deployment, and high resistance to malware.
Surface was also Microsoft's opportunity to show that a device running Windows could match the Mac's out-of-box-experience, where one company controls both hardware and software, and there is no pollution from adware or mis-conceived vendor enhancements.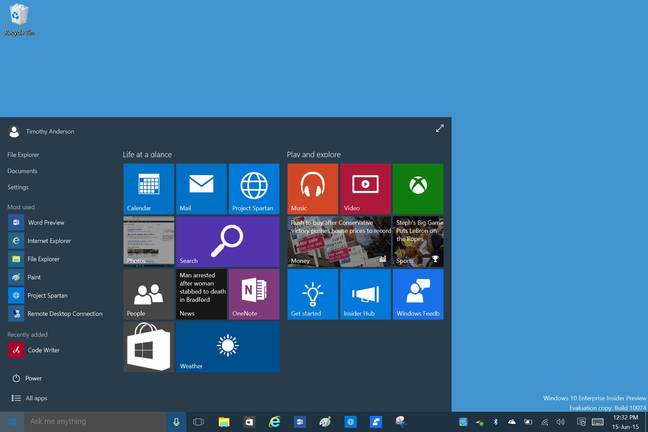 Windows 10 on Surface 3
As it turned out, Microsoft's success was limited. Surface RT was a flop, thanks to underpowered hardware, a lack of compelling Windows Store apps, and puzzlement among Windows users about why they might want a Windows tablet that could not run any existing desktop apps, other than the built-in Office and Windows accessories.
There were good reasons – security and maintainability – but they were not communicated effectively, and lack of apps made it too restrictive. The Surface Pro range, more conventional devices based on x86 CPUs, fared better in the market but there were still shortcomings.
Battery life on the first Surface Pro was poor, thanks to its 3rd generation Intel i5-3317U processor, but improved to eight hours or more (with typical use) in the Surface Pro 2 with the Haswell-based i5-4200U.
Power management is another issue. In theory, you are meant to treat a modern Windows device like an Apple iPad; rarely turning it off completely and relying on power management to keep the system in a very low power mode when not in use. In practice, Surface has never been good in this respect.
The original Surface RT would drain power quickly when not in use, and Surface Pro was worse – especially if you made the mistake of enabling the Hyper-V hypervisor,which happens if you install the Visual Studio developer tools.
You could turn your Surface "off" in the approved way, and later find it heating your bag, which is frustrating when battery life is precious. This is fixed, apparently, in Windows 10.
Other persistent Surface annoyances are where the keyboard cover stops responding and has to be removed and re-attached, and unreliable Wi-Fi, where you have to fiddle with device manager or reboot to get a connection. Both problems seem improved with the latest models and firmware but the wider point is that even with full control of hardware and software, Surface has not proved immune to PC-type reliability issues.
Similar topics