Pics Smart-tech poster child Nest has revamped two of its three products and updated its app to better integrate all three.
At a launch event on Wednesday in San Francisco, CEO Tony Fadell said his company's products would be "doing more together than they can independently."
A slimmer, better Nest Protect smoke and carbon monoxide detector will hit the market in a month and cost $99. A re-engineered DropCam, now named Nest Cam will cost $199 and be available from next week.
Software updates, both for the Nest thermostat and the mobile phone app that helps tie them together, will be pushed out for free in the next two weeks.
Combined with a new discount program with insurance companies, the company's goal is to paint a picture of the "thoughtful home" that is less futuristic and Jetsons-inspired than simple and potentially cost-saving.
Fadell was clearly a little crestfallen to have missed his opportunity for a big Nest Cam product launch after FCC filings and leaked photos revealed its existence last week. Yet he plowed on, outlining the improvements, which include a thinner, stronger body; a tripod thread that makes it more flexible; improved night vision; HD 1080p image quality; customizable motion zones; and a zoom feature.
One killer feature of the Nest Cam, however, may be its revamped software, which can capture clips of movement and make them instantly available on your phone or through your browser. It's the kind of video management that has been sorely lacking in many other wireless cams.
If you want that footage, however, you will have to pay Nest $30 a month for its cloud service called Nest Aware.
The new smoke detector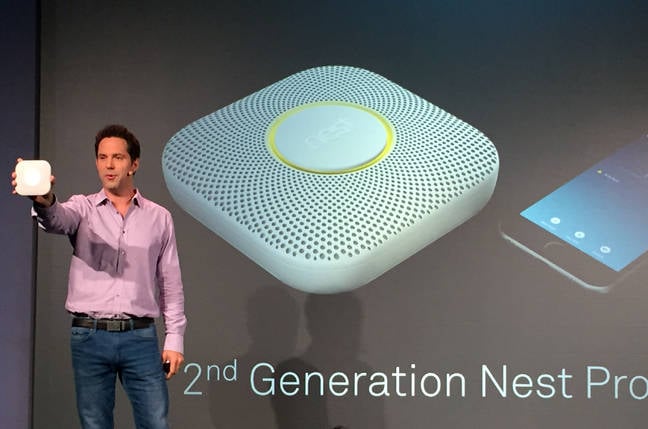 Product head Maxime Veron shows off the new, slimmer smoke detector.
Nest also launched the second generation of its Protect smoke and carbon monoxide detector. It is slimmer (11 per cent, apparently) and comes with a two-part "split-spectrum" detector that is otherwise only available in industrial applications at the moment.
The improved detector will be able to tell the difference between "slow and fast fires," as well as know what is smoke and what is steam. It will be easier to install, Nest says, and will include better self-testing, giving it a 10-year lifespan instead of the current seven years. It can also communicate with other Nest products in useful ways (more on that in a minute).
According to Nest, the new Protect gizmo "automatically tests the speaker and horn – quietly and quickly – using a built-in microphone," once a month. A mic on a Bluetooth-connected device; what could go wrong?
The Nest thermostat stays as-is but a software update will bring additional functions and tighter integration with the other Nest products. A revamped and improved app for iOS and Android gives users access to all three products via an improved UI and also includes new features, such as the ability to turn off the smoke detector alarm.
As for useful interconnection, Fadell gave two examples. For one, if the Nest Protect detects high levels of CO, it can tell the Nest thermostat to shut off the furnace (35 per cent of CO problems come from leaky furnances). Also, if the Protect detects smoke, it can tell the thermostat to shut off the fan (to prevent smoke being circulated around the house).
The connections between Nest products and other manufacturers' products were less convincing. For example, Fadell suggested Nest gear could start a smart washing machine when energy is cheapest, or flash smart light bulbs for hearing-impaired customers who can't hear audible alarms.
Nest also didn't provide any more information on the IoT full architecture it has been working on with parent company Google (Weave and Thread), promising only that it will have a lot of announcements coming out soon.
The Reg did learn that the Nest Cam will not run on Google's cut-down Android OS for IoT product, Brillo. And there are no plans for Nest to switch its development to Brillo at the moment – it's happy with its own software.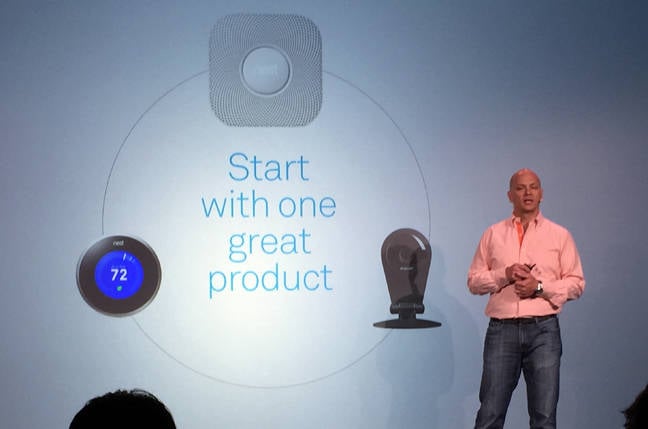 CEO Tony Fadell tries to sell the Nest ecosystem.
Getting the products out there
The biggest problem Nest faces – as do many other smart-tech companies – is that its products cost a lot more than less impressive but equally functional alternatives. "Dumb" thermostats cost from $30; the Nest is $250. Smoke detectors start at $10; the Protect is $100.
Nest has been pushing the energy savings of its thermostat, claiming that it pays for itself in two years and then creates ongoing savings. But the market is unsure. So, the company is now promoting its partnerships with utility companies, some of which will give you a free thermostat if you sign up with them to have your energy usage reduced at peak times.
Nest also announced a new partnership program with insurance companies for its Protect smoke detectors. Insurers will give you "up to five per cent" off your premiums if you agree to let them verify that you have a working smoke detector installed in your house.
Nest has signed up two insurance companies so far: American Family and Liberty Mutual. It has also created an industry-specific API that will allow insurers to pull a limited amount of data from your Protect if you agree and authenticate the connection.
It's a tricky handshake, but it's something the company has worked hard to make simple while protecting users' privacy, senior product manager Greg Hu told The Reg.
Overall
Taken altogether, these latest revamps and iterations continue to keep Nest ahead of its growing competition in the smart-tech market.
While Nest's signature thermostat has a very serious rival in the form of Ecobee, the Protect is still far ahead of the market and the new Next Cam may well push it to the front of the wireless cam pack.
Of course, none of these products are cheap and there are cheaper competitors readily available, albeit without the bells and whistles. Nest hopes that by neatly integrating them and working with other industries to get them into people's home it can cause a network effect for the smart home.
It's not clear that the mainstream is ready for that, but Nest is making all the right moves. ®
Similar topics