A testing time for storage – it's VMware from Nutanix, by a nose
Chuck Hollis chucks (possibly simplistic) price bomb into the mix
VMware evangelist and blogger Chuck Hollis says Nutanix prices are vastly higher than VSAN prices for equivalent performance and functionality at least, so why pay more?
It seems VMware sees Nutanix's hyperconverged products as the top competitor for its VSAN (Virtual SAN) product, so Hollis compared various VSAN configurations with equivalent Nutanix ones to see what the prices looked like.
He carried out four comparisons:
A four-node Nutanixx NX-3460 G4 versus a VMware VSAN/SuperMicro equivalent using list prices
The same configurations with a 40 per cent discount for the VSAN gear and 50 per cent off for Nutanix
A Dell OEM'd Nutanix configuration versus equivalent VMware VSAN/Dell configuration
4-node EVO: RAIL vs Nutanix 1050
We tabulated the numbers:

VSAN vs Nutanix price comparisons
And then graphed them: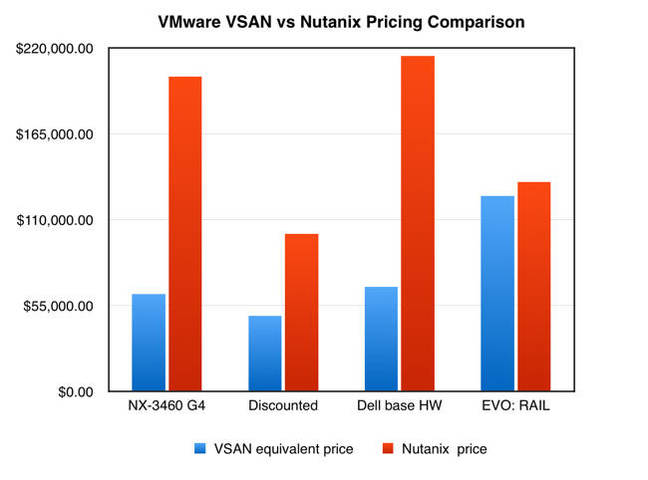 VSAN vs Nutanix equivalent configurations price chart
Hollis says the list price comparison for four-node Nutanixx NX-3460 G4 versus a VMware VSAN/SuperMicro equivalent showed VSAN to be 69 per cent cheaper. Applying the discounts still resulted in VSAN being less than half the Nutanix price.
Comparing VSAN and Nutanix sdoftware on Dell-based kit in the third comparison resulted in VSAN being $147,984 less expensive. Hollis says this is a big difference for a four-server appliance.
With EVO: RAIL versus Nutanix the price difference is far less marked. "Compared with the Nutanix 1050, the EVO:RAIL is about $10,000 less expensive, and the EVO:RAIL includes 64GB of additional RAM," said Hollis. "Not as large a delta as previous examples, as this is a very price-sensitive portion of the marketplace."
Also, VMware's EVO: RAIL partners set their own pricing and an undisclosed partner's list pricing was used and compared with Nutanix list prices. The net result is a seven per cent difference in favour of EVO: RAIL, which surely can come out in any discount negotiation wash.
Customers pay highly for the convenience of hyper-converged systems. Comparing source-it-yourself VSAN-based configurations to Nutanix's all-in-one converged systems shows the difference vividly.
Hollis asks "why pay more?" for the same kit? Well, because Nutanix takes care if all the bundling and integration and that's worth a lot to customers. When VMWare, with its partners, does the same work to deliver EVO: RAIL hyperconverged systems the VSAN and Nutanix pricing is pretty similar.
There is further information in Hollis' blog with a second and more expensive Nutanix 3050, costing $198,000, compared with the EVO: RAIL set-up.
Performance
Hollis and VMware also tested performance of four-node Dell/Nutanix gear and equivalent VSAN/Dell configurations, but can't publish the results as Nutanix' end user license agreement (EULA) says:
"You must not disclose the results of testing, benchmarking or other performance or evaluation information related to the software or the product to any third party without the prior written consent of Nutanix."
VMware has the same sort of restriction in its EULA:
"You may use the Software to conduct internal performance testing and benchmarking studies. You may only publish or otherwise distribute the results of such studies to third parties as follows: (a) if with respect to VMware's Workstation or Fusion products, and only if You provide a copy of Your study to benchmark@vmware.com prior to distribution; (b) if with respect to any other Software, only if VMware has reviewed, and approved of, the methodology, assumptions and other parameters of the study (please contact VMware at benchmark@vmware.com to request such review and approval) prior to such publication and distribution."
Hollis and VMware asked Nutanix if they could publish their Nutanix-vs-VSAN testing results, and Nutanix said 'no'.
So, all Hollis can say about the results is this: "We think many people will find these results extremely useful in helping them to make informed buying choices."
Where's an industry-standard benchmark when you need one? ®