Hardware storage
The product has hardware and software components. Base hardware involves a 2U, four-node block with 96TB of disk capacity, 6.2TB of flash and 8 x 10GbitE ports. A SnapFS Distributed File System is layered across these and said to offer infinite scale-out, clones and snapshots with global deduplication (inline and post), automatic tiering and non-disruptive operations.
A data management function sits above this in Cohesity's stack. It is distributed, always on, load-balanced and supports multiple operations such as data protection, archiving, disaster recovery, cloud integration and DevOps.
The stack then has an application integration layer with support for VMware, distributed NFS (isn't NFS distributed by default?), a Restful API and public cloud access. The top layer is a global management function with both GUI and CLI, RestAPIs and a single pane-of-glass approach.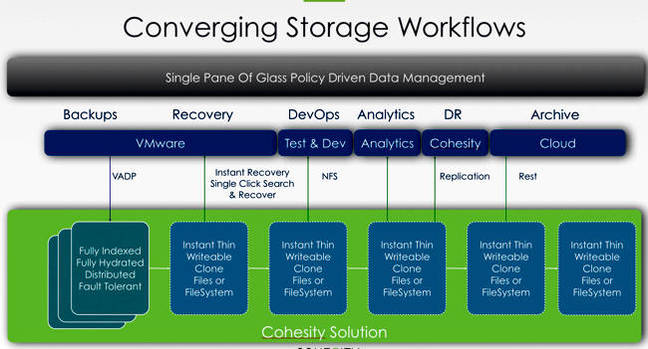 Cohesity diagram of its functionality
Back-up data is fully indexed and hydrated with instant thin writable clones used for recovery and DevOps. The analytics engine is MapReduce and that works on the backed-up data.
Cohesity suggests customers have a three-phase approach, first backing up primary data onto its platform. They can use live data for DevOps via copy data virtualisation and benefit from flash storage performance. Analytics using Cohesity's built-in engine and Rest API for custom queries would be a third phase.
It says it's piloting its product with four customers, wanting another 10, and has offered early access to select clients.
The focus is on mid-market customers using VMware and its pricing is likely to be less than $100,000 for a basic system. There will be a hybrid direct and channel sales model with sales teams in the USA, Canada, UK and Japan/Pacific region.
The B-round cash will be used to ramp up its engineering, sales and marketing teams ahead of the general release of the Cohesity Data Platform product by the end of the year.
Our take is that Delphix is probably the market leader in this general area with Actifio second. Cohesity wants to come sprinting out of the gate and join this race. Delphix picked up its last venture round in 2012 with a $25m infusion, taking total funding to $44.5m.
Actifio is the richest of the three startups with $187.5m in funding, having picked up $100m last year.
We could see Delphix perhaps go for another funding round so that it could build up its market-facing infrastructure and not leave weaknesses waiting to be overwhelmed by Cohesity.
Storage system software is getting more and more interesting. Check out Cohesity's early access programme here. ®