This article is more than 1 year old
Farewell then, Mr Elop: It wasn't actually your fault
Elop elopes from Redmond
Comment The leadership of Nokia phones shuffled out of Microsoft yesterday, with phones VP Jo Harlow joining former CEO and Microsoft devices VP Stephen Elop in the taxi queue. The traffic wasn't all one way: Meego UX guy Peter Skillman has joined Microsoft from Nokia's HERE division.
The moves are a result of a corporate reshuffle which has demoted the entire hardware business at Microsoft, subsuming it into the Windows fiefdom under Terry Myerson, so there were fewer chairs to sit on. It's no surprise: Nadella had been saddled with an acquisition he didn't really want and distanced himself from it from Day One. Nadella shed some 18,000 jobs, with the majority coming from the former Nokia unit.
Elop himself divides opinion, with some Finns blaming him for the demise of Europe's biggest technology company and the former number one phone maker in the world. This really is a bit of chauvinistic nonsense, which seeks to transfer blame away from years of complacency and mismanagement at Nokia. What Elop's critics forget is that he had an impossible choice in front of him when he arrived in late 2010.
Nokia's demise differs from RIM/BlackBerry's demise in one very important way. Apple's iPhone, along with almost all devices on the market today, is a power-guzzling mobile computer which also makes phone calls. This doesn't matter to people, as the value shifted to apps and services. Suddenly, everything the mobile industry had talked about for a decade was easy and accessible, and you didn't need a manual. The consumer gave up a four-day battery life to enter this brave new world and so far seems pretty happy with it. RIM at first insisted that the practical nature of its assets – a great physical keyboard and efficient data usage – would mean the fad would pass. Then it kidded itself that it could make a leisurely transition at its own sweet pace.
Nokia was different, however, as it obsessed with the future and foresaw the eventual platform shift. In 2002 it began planning for it, by developing a computer which also made phone calls. It launched it ten years ago. Unlike RIM, Nokia saw the future and was ready for it... except it wasn't. When the crunch came, it was too slow to execute. Corporate bureaucracy and infighting saw to that.
Nobody in the industry was interested in licensing Nokia's modern, but still-to-be-finished Meego platform by then, and licensing was Nokia's preferred ethical way of doing things. Google had given Android away for free, and Google wasn't Nokia. There was no time to look the gift horse in the mouth; eager to get something iPhone-ish to sell punters clamouring for an iPhone-ish experience (which Symbian couldn't offer), the industry rapidly swung behind Android.
So Elop's choice was really to go with Android or risk going with the brand new Windows Phone platform. Going with Android may in theory have yielded more revenue, but look at where Android OEMs are today: Sony, HTC and even Samsung are all bleeding red ink. Some day soon, Google will reintroduce its Silver program and try and capture what value there is left in those brands. The Android option would also have been too much of a culture shock for Nokia. Think of Brian Clough at Leeds.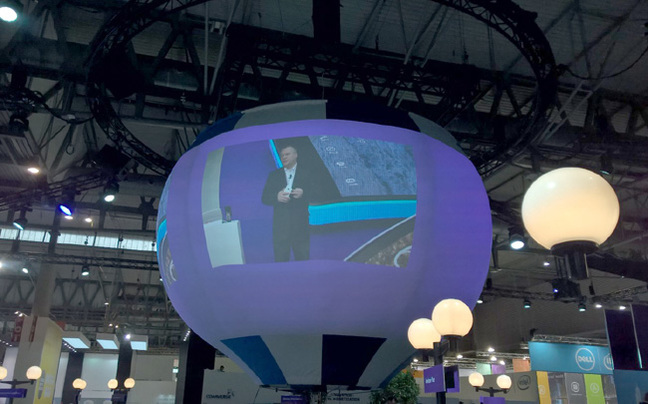 We last saw Stephen Elop trapped inside a balloon at MWC in Barcelona. He's been let out now
But by choosing to retain more independence than he would have under Android, Elop ran into two problems, as David Wood's epic insider account of the smartphone wars reminds us, and armchair pundits forget. Windows Phone was very immature and lacked key features, while Nokia was left with a dead-end branch of the platform – leaving it effectively with nothing competitive to sell for almost two years. Only in early 2013 – two years after the Burning Platforms memo and the big switch – was Nokia able to start introducing a range of devices, from high-end flagship imaging phones to budget models.
Talking to dozens of former Nokians, I'm struck by how well-respected Elop was amongst his colleagues. Elop may have sometimes been predictable in interviews, for fear of moving the share price the wrong way. But Nokia's presentations were a model of good, clear communication, and often full of playful little details people didn't notice. Nokia made bold design choices that others, notably Apple, have copied. Elop chose the right technologies to promote, too, seeing the potential of the imaging team.
Windows Phone loyalists today haven't seen a flagship for 18 months, but that's a pragmatic decision too: the Zen-like consistency of the UI and meagre hardware requirements lend the platform to be a feature phone replacement. The Microsoft merger largely tied his hands: the board wouldn't sanction expensive splurges on showy flagships like the Lumia 1020 that few people bought. And once in Nadella's hands, the Nokia phones unit went from bold experiments to continually having to justify its existence.
Elop was actually a pretty good CEO – I've no doubt he will be again. ®