A chap named Daniel Korell got quite a surprise when, in late May, he scanned the QR code on a bottle of Heinz Hot Tomato Ketchup, as the bottle led him to pornography rather than information about the comdiment.
Korrell's Facebook post on the matter depicts a bottle of sauce that bears a promotion for a site we think is sagsmitheinz.de on its label. He says that when he scanned the QR code pointing to that site it led to a smut site.
At the time of writing the site doesn't load. But as the image below demonstrates, Korrell was able to load images capable of producing some interesting dinner table conversation.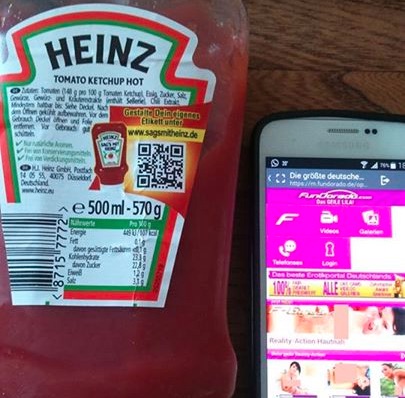 Now that's hot sauce
The source of the saucy mess appears to be lax domain name maintenance: once the promotion concluded, Heinz lost interest in the domain and when it expired smutmeisters moved in for their turn.
Heinz has apologised for the mess, promised to take more care in future and offered Korrell a new bottle of sauce. ®