In My House, Stalin's Daughter and The Smartest Book in the World
Despotic dad, destitution and a dazzling debut
---
Stalin's Daughter: The Extraordinary and Tumultuous Life of Svetlana Alliluyeva
Rosemary Sullivan is a Canadian writer, active in many genres. Stalin's Daughter is the biography of Josef Stalin's youngest child, born in 1926, shortly after her father's rise to power.
Svetlana was brought up alongside the families of "Old Bolsheviks" who lived in nearby Kremlin apartments. At aged six, her mother Nadezhda Alliluyeva committed suicide, she only finds out that her mother died by her own hand ten years later in an English magazine.
Svetlana's father is portrayed as a remote figure, sometimes indulgent, at other times bullying, but always controlling.
"Sometimes you are forced to go even against those you love" he tells Svetlana. On one occasion she returns home from school and tells her father about the myth of Christ. Stalin tells her that no, he was a real person and she recalls sitting on her father's lap whilst he recounts his life.
As the 1930s purges get underway and her friend's families begin to disappear, Svetlana "Couldn't understand where everybody had gone, people simply 'vanished', no-one explained why".
There is the classic anecdote of Stalin visiting his mother in Georgia: "Joseph, who exactly are you now?" "Remember the tsar? Well I'm like the tsar." "What a pity you never became a priest."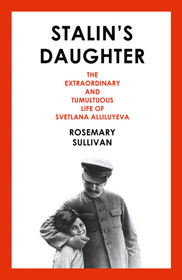 Svetlana grows up to become a lover of literature, but her father insists she avoids bohemians and studies history. He also curtails some of her early reckless love affairs. As one of her ex-lovers states: "Never in my life had I been so directly shaken and captured by the tragedy of another person."
Svetlana marries young and spends much of the war and post-war years raising a family, though she seems unable to maintain a long-term relationship, falling in and out of love with a series of men. When her Indian lover dies in 1967, she is permitted to leave the USSR to take his ashes to the Ganges. She lingers longer than her visa and eventually decides to defect to the USA.
She arrives as something of a celebrity dissident and publishes a memoir, gets married and has a daughter. But her husband is a weak man who is part of a communal cult and basically spends all her royalties.
For the rest of her life, Svetlana leads a peripatetic existence in the USA, England and a brief return to the Soviet Union in the mid-1980s, where she is reunited with the remains of a family still haunted by the spectre of Uncle Joe.
Lana as an older woman cuts a rather tragic figure, her daughter Olga seems her only solace. She is pulled from the parapet of London Bridge by a stranger, her advice: "Never wear a tight skirt if you intend to commit suicide". Lana Peters eventually dies in the USA in 2011, still unable to escape the shadow of her notorious father.
Rosemary Sullivan has created a great piece of work here. Stalin's Daughter probably tells us more about Stalin the man than most of his biographers and is therefore essential reading to any student of his life and times. But this book is not about him – Stalin's Daughter is the most compelling Russian biography that I have read since Nadezhda Mandelstam's Hope Against Hope some thirty years ago. Mark Diston

Author
Rosemary Sullivan
Title
Stalin's Daughter: The Extraordinary and Tumultuous Life of Svetlana Alliluyeva
Publisher
4th Estate
Price
£25 (Hardback), £14.99 (eBook)
More info
Publication web site