In My House, Stalin's Daughter and The Smartest Book in the World
Despotic dad, destitution and a dazzling debut
---
The Smartest Book in the World
Most people will be familiar with Californian comedian and middle-aged Buddy Holly impersonator Greg Proops from his TV appearances on improv show Whose Line Is It Anyway? It therefore may not surprise you to learn he has recently been using his improvisational talent on a long-running podcast called The Smartest Man in the World – a weekly affair in which he makes a 90-minute show up on the fly with whatever comes to hand.
So that's nice. But online success led to a book deal, presenting Proops with a problem. His rambling podcast style involves riffing with the audience, taking in random pop culture, obituaries and whatever else crops up, as well as occasionally ranting at length about the NSA. He's a clever, funny guy, but it's not a method that should adapt well to print.
But in his freeform, devil-may-care style, he's given it a go and somehow it works. This is an odd collection, resembling an old-fashioned miscellany in its magpie aggregation of subjects: Roman emperors, poetry, feminism, words (he appealingly suggests that 'kittens' should be "an exclamation used in place of profanity: 'Holy kittens, that was godlike pudding'") and his favourite subject – baseball.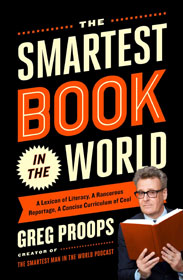 Baseball manages to take up a lot of this book, in the same way that Christmas conversations with elderly relatives often somehow end up being about the war and their part in it. Proops describes "making baseball likable and interesting to people who aren't middle-aged white guys" as "the toughest part of my job".
He does this by giving us a potted history of the game and creating subjective 'greatest' teams of feminist icons, British monarchs, US presidents and even film bombshells ("Tall, dark and awesome" Diana Rigg is pleasingly on first base), as well as baseball greats and villains.
He also gives a lot of time to players and teams from the pre-integration Negro Leagues and his favourite player, Satchel Paige – "the greatest clown and showman and maybe the greatest pitcher ever", who played for 40 years but never got the recognition he deserved because of segregation.
Elsewhere, Proops gives us his very personal opinion of certain albums, books and old movies, and does so with relish. For example, he uses most of his review of Hitchcock's Lifeboat to wax lyrical about the film's star, Tallulah Bankhead, rather than the film itself: "An outrageous character who makes Angelina Jolie look like a nun... what we would now call fierce, but fierce is a poor adjective to describe her fabulousness." Somehow, these cheerfully biased vignettes come across as informative rather than annoying, much like Gary Mulholland's similarly subjective music book This Is Uncool.
This is an unusual and occasionally indiscriminate read, with the facts filtered through Proops's louche perspective. It could have been a very dreary internet crossover – a series of listicles that might have been culled from BuzzFeed if they'd been written straight – but they are saved by his personality and wit.
His style lends itself particularly to the film, book and record reviews here and a Proops book on old movies would certainly be worth investing in, as he has the knowledge and style to carry it off.
Whatever he does, though, a bit less baseball next time out, eh? ® Matt Dupuy

Author
Greg Proops
Title
The Smartest Book in the World: A Lexicon of Literacy, A Rancorous Reportage, A Concise Curriculum of Cool
Publisher
Touchstone
Price
£16.99 (Hardback), £10.49 (eBook)
More info
Publication web site