This article is more than 1 year old
Buy with your head, drive with your heart: Alfa Romeo 4C Coupe
Seduced by a sexy Italian
Vulture at the Wheel The Alfa Romeo 4C is unusual. It's not, like every other Alfa, "the make or break car for the company's future" – a tag which has been attached to pretty much every new launch since the 75 in 1985.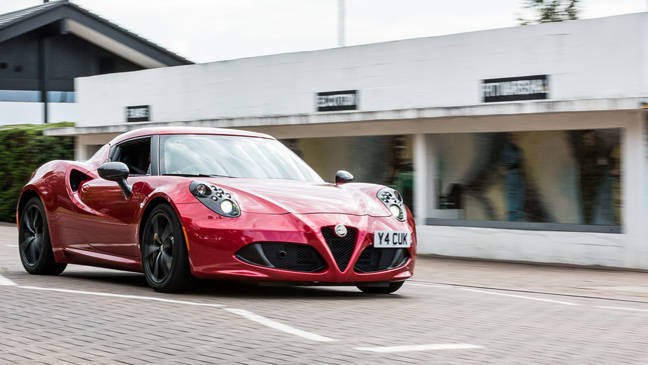 If you buy a 4C, budget for a shorter number plate
At £51,500, this is an out-and-out sports car. The engine is based on the 1,750cc turbo in the Giulietta Quadrifoglio Verde but is cast in aluminium and so very much lighter.
The flagship feature is the carbon fibre chassis . That's outstanding in a sub-£50,000 car. It puts it alongside the McLaren 570s (£120,000 plus options) the Porsche 918 (£650,000). The Alfa has a fraction of the power of the other carbon-tubbed rivals but it does mark the car out as being as beautiful on the inside as it is from the outside.
What the 4C is, is a halo product, or something to give added cool to the already cool brand. Alfa has previous form in this territory: T33 Stradale, Montreal, SZ and 8C. The 4C harks back to the original 8C and 6C in the glorious days of Fangio. And it's amazing to look at. Guy Swarbrick has worked really hard to capture that.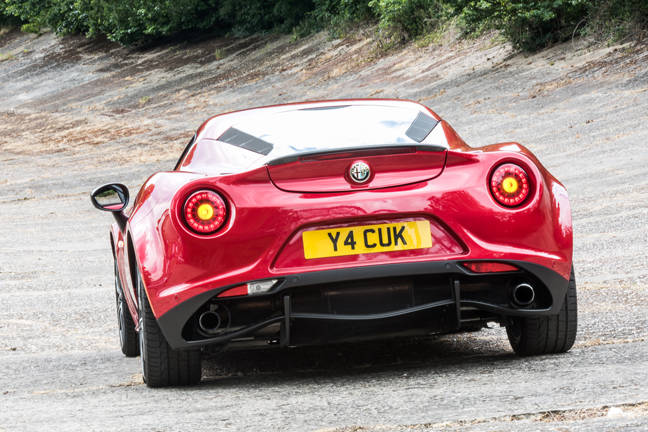 This model looks good from behind
So perhaps it's unsurprising that, having taken on the mantle of greatness, it's been shot down in lots of reviews. After a week, and 500 miles, I've learnt that a lot of what I've read is coloured or wrong.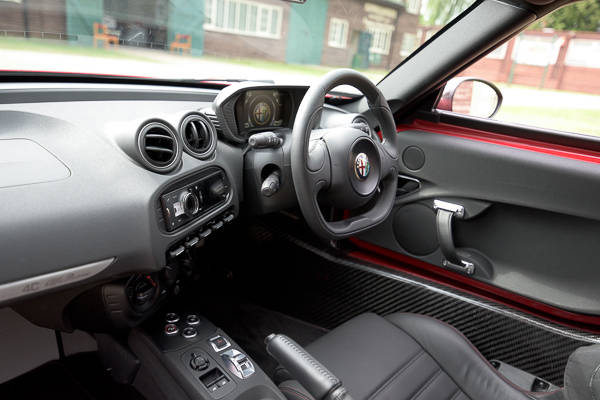 That flat-bottomed steering wheel in full
The steering wheel is generally panned. When I asked Alfa about this, and why the new Spider – not yet available in the UK – retains the wheel, I was told that journalists didn't like it but owners did. And I side with the owners. It's small, thick-rimmed and feels great. The plastic paddles are not as tactile as metal ones but I don't hold with the view that it's too thick. The size is perfect and the thumb rests perfectly placed. Flat bottomed? Sometimes clichés are appropriate.
Potential owners I canvassed liked the wheel and loved the car. I took the 4C to an Italian car night at the Ace Café where I basked in the reflected celebrity. Of course, I 'fessed up that it was not my car and then got to enjoy the even greater fame of working for El Reg. Ace Café Alfesti all liked the flat-bottomed wheel.