Film Review Last week, I was transported to a galaxy far, far away (well OK, Sarf London) to barter with Jawas. Life's hard when you're a Jedi kitted out in eBay's finest robes, especially after a night drinking Spice Smugglers at the Mos Eisley Cantina.
Secret Cinema started back in 2007 with an idea nicked straight from the cult classic musical Rocky Horror Picture Show. And it didn't take long for me to be tempted to splash my cash on large scale recreations of a few of my favourite films, such as Blade Runner and Brazil.
Rumours of the Star Wars: Episode V The Empire Strikes Back production, shrewdly timed to precede the release of The Force Awakens later this year, had me digging out my Hasbro lightsaber in anticipation.
For a ludicrous £75 a ticket, I was hoping to get a free pet Wampa on entry. Alas, my furry friend was not forthcoming. Instead, I'm greeted with a slurry of covert communications from Rebel X – these spies and saboteurs of the Empire forces. After a short questionnaire, I'm assigned to a character and class.
As an animation lecturer (the day job) I am rather chuffed to be recruited to the Creative Council, a group that looks suspiciously Jedi. A shame, though, as I've always been rather fond of the Sith.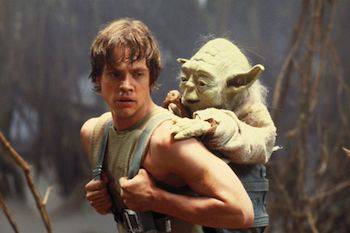 Luke Skywalker and Yoda in The Empire Strikes Back, first released in 1980
Waiting in the holding dock, I check out the costumes of other rebels and – as with Back to the Future (last year's production) – I am shocked and pleasantly surprised by the amount of effort attendees have gone to to look the part. It's the crowd that make these events. I just wish Secret Cinema didn't so obviously try to fleece us at every turn for cash.
Otherworldly characters strafe the queue, making sure we feel part of what is to come and prepare us for our spaceflight.
So now I move to the dark side by concealing the details from you, dear readers. But hey, it is Secret Cinema and who am I to spoil the fun.
What I can tell you is that things start to get interesting as I arrive at Terminal HX-1138 (a nod to George Lucas's first film). From here I am quickly transported to Tatooine where I start to feel I am getting my money's worth with the appearance of some familiar characters and a quest to procure some of the underground currency, spice and – in my case – many cocktails and halloumi chips.
After exploring Tatooine, it's time to hang out with the rest of the nerfherders at the Cantina, where we watch some sexy aliens strut their stuff to a live band.
Suddenly I am approached by a dubious character and told to meet at gate 48 for Transport to Endor. Which, on first impressions, has a lot in common with a Kraftwerk concert.
This continual interaction and progression through the narrative and key plot points of Star Wars: A New Hope to prepare us for the screening of The Empire Strikes Back ensures things never get boring. But it's quite a wait for the film to start.
In 1999, I foolishly attended a midnight screening of The Phantom Menace and, even though I ended up choking on my popcorn at the first glimpse of Jar Jar Binks, I do recall that the atmosphere and hype made the whole screening feel special.
Likewise, Secret Cinema's organisers impressively manage to orchestrate a wave of nostalgic hysteria as the opening narrative crawls up the screen.
Throughout the movie, projected on disappointingly small screens, key events are played out by actors, all the while accompanied by the whooping of the mob. As is any snogging between Han Solo and Princess Leia and all appearances of Yoda.
As the end credits roll, it's time for another Spice Smuggler at the Cantina and one last look round the set to try to entrench these memories in the absence of any ubiquitous selfies – photography of any sort is strictly prohibited. At this point, even though the prospect of missing my last train to Surrey is becoming a distinct possibility, I am loathe to leave.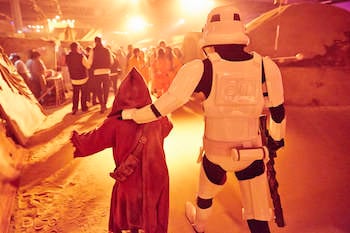 Storm Trooper-style entertainment. Image credit: Paul Cochrane
To make the most of this eye-wateringly nostalgic and enjoyable night, I fully participated by dressing up and role-playing with the actors inhabiting this immersive production. I'd suggest this is the way to get the most out of these histrionics.
In retrospect, The Empire Strikes Back didn't feel as grand in scale as Back to the Future, so I'm not convinced by the price tag hike.
Still, well done Secret Cinema – the force remains strong with this one. ®
Secret Cinema Presents The Empire Strikes Back runs until 27 September this year at a secret location in London. Tickets are priced at £75 and are available here.