ITU: we'll have 5G standards ready by 2020
20 Gbps air interface on the cards
Following a working party meeting in San Diego, the ITU has announced the timeline for 5G standardisation.
The IMT-2020 process, outlined here, envisages completing standards for 5G during 2020.
The standards body expects to complete its 5G vision statement to be completed this year, which will let it start serious work on 5G technical performance requirements at the beginning of 2016.
The ITU envisages that the air interface will need to support 20 Gbps channels to be defined as 5G, and while this has received the usual "download an ultraHD movie in 10 seconds", it's likely that the telco-bureaucrats are talking about the capability of a whole channel rather than the download speed available to the individual subscriber.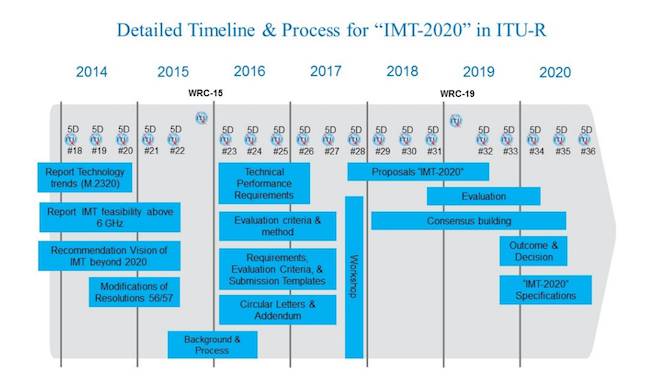 The ITU-R timeline for IMT-2020
ITU-R – the radiocommunications assembly – is expected to formally adopt the IMT-2020 terminology when it meets in October. ®