This article is more than 1 year old
Breqwatr breqs hyper-converged mould with all-flash box
Trnqey applianc builds on OpnStac for prvat clod deplymnts
Breqwatr? What on Earth is a Breqwatr? It looks like someone is trying too hard to get attention with bad spelling.* In fact, it's a company making the Breqwatr Cloud Appliance, a turnkey, all-flash, scale-out, hyper-converged appliance for private cloud deployments.
This BCA v2.0 product is built on OpenStack's Juno release, Solidfire all-flash storage and Arista software-driven cloud networking. It features:
2U rack enclosure
8-core Xeon E5-2660 v2 CPU with 1,024GB of system memory
Windows and Linux OS support
24TB all-flash array with quality-of-service features
Object storage software
Arista networking: 8 x 10GbitE plus 4 x 1GbitE for management
Two hot-plug redundant power supplies and hardware component redundancy
The Arista networking is described as having four main attributes:
Universal Cloud Network

Scalable standards-based MLAG for L2: ECMP for Layer 3
Non-blocking Spline/Leaf-Spine for 50,000-100,000 hosts

Cloud Control

Standards-based EOS with AEM, ZTP/ZTR, LANZ, DANZ, RAIL etc.
Automated monitoring

Network-wide virtualisation

Multi-vendor API support with eAPI

Network applications and automated management

Network Applications for workload mobility, smart systems upgrade and telemetry
Single point of management with no proprietary lock in CloudVision
Open – OpenFlow, OpenStack, OpenVirtual Switch, OVSDB and others
The BCA is RAID-less, and has a shared-nothing controller architecture. Appliances are added to scale out performance and capacity in a linear fashion. Performance virtualisation allows the control of performance and capacity independently.
The system includes deduplication, compression and thin-provisioning.
We're told: "Each incremental appliance is self-discoverable, making resources available in a matter of minutes with zero disruptions."
Breqwatr says the BCA has native integration with Active Directory via LDAP, and NetApp and Solidfire storage solutions. Users consume Infrastructure-as-a-Service with components for virtual machine management, chargeback and resource-based quota models.
The system has resource leasing, automated VM retirement and resource reclamation.
There is a "self-service UI [which] provides users with on-demand access to the compute and storage resources". We're told there is instance-level high availability.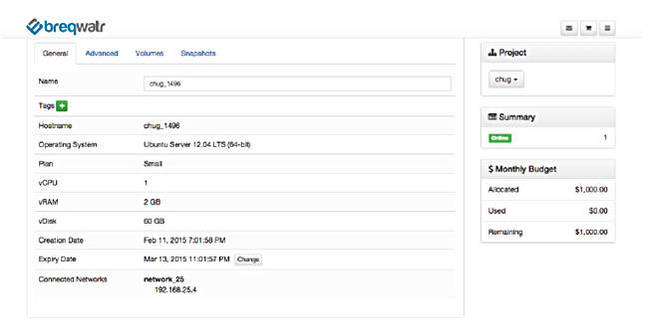 Breqwatr's GUI lets users provision a new instance in 4 clicks and displays budgeting metrics and usage summaries
There is support for external enterprise storage, meaning, we think, Solidfire and NetApp. The company says it will typically be one release behind OpenStack because of OpenStack's rapid 6-monthly pace of development.
We think this is an intetresting variation on the hyper-converged appliance idea, setting Breqwatr apart from mainstream hyper-converged suppliers such as Nutanix, SimpliVity, Maxta, the VMware EVO: RAIL group and others. It will clearly be of most interest to OpenStack adoptees and the hardware promises a high level of performance.
The Breqwatr Cloud Appliance is available now from Toronto-based Breqwatr, which provides a single point of support. No pricing details were provided. Find out more here. ®
Bootnote
*It could be worse. Be grateful it isn't called Mekwnd.