The rotating restaurant at the top of the BT Tower will open for two weeks this year to celebrate its 50th anniversary.
The GPO Tower, as it was named many decades ago, used to be open to the public, with both a restaurant and a public viewing galley. A 1971 IRA bomb led to the closure of the gallery, with the restaurant closing in 1980.
The BT Tower has been an important communications hub for fifty years and is currently home to the TV Network Switching Centre.
This carries broadcasting traffic and relays signals between broadcasters, production companies, advertisers, international satellite services and uplink companies.
The safety of UK communications was deemed a good reason to close the gallery and restaurant.
Visitors to the tower today have to submit their names in advance and undergo airport-like security checks, involving an up-to-date passport, driving licence, or photo credit card for security checks.
BT is expecting there to be huge demand, so has decided to give all members of the public an equal chance by holding a ballot, with the lucky winners drawn at random. Anyone over the age of 18 will be able to enter the ballot, with the winners having the choice of a champagne lunch or dinner in the famous revolving 34th floor.
A four-course lunch will cost £49.95 per head, while the seven-course dinner will cost £67.95 per head.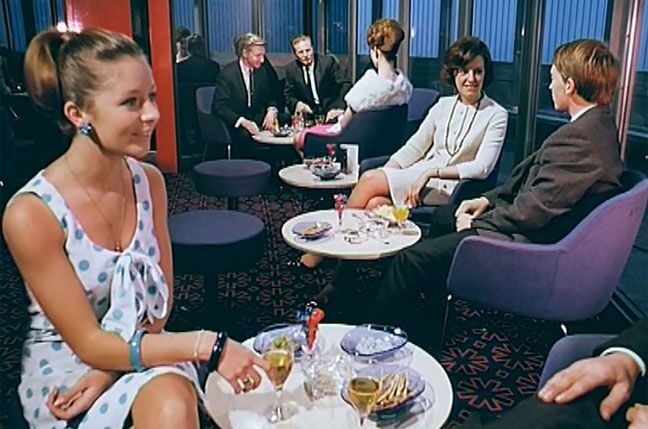 The BT Tower restaurant, apparently hosting an after-party bash for a regional production of Abigail's Party
Anyone who is not successful in the restaurant ballot will get another opportunity to visit the top of the BT Tower this autumn, when BT will hold a further ballot to offer more than 2,500 people the opportunity to visit the 34th floor when they will be served free drinks and snacks.
The restaurant will be open for lunch and dinner between Saturday 25 July and Friday 7 August, excluding Mondays, with one sitting for lunch and dinner each day.
This means the lucky winners will be able to spend several hours at the top if they wish, with no pressure to make way for other diners.
Each winner will be able to bring up to three guests. The first ballot (seen here), for week one, will open at 9am on Monday 22 June 2015, closing at 9am on 29 Monday June.
A second ballot, for the following week, will then begin at 9am on Tuesday, 30 June, lasting until 9am on Tuesday 7 July. ®