Developer of flash storage solutions and startup Mangstor is developing PCIe flash cards usable both as direct and shared flash storage, with figures indicating SanDisk has some work to do if it wants to return Fusion-io to the top of the performance tree.
The base MX6300 flash card technology uses non-volatile Everspin ST-MRAM (Spin Torque Magneto-resistive Random Access Memory) to buffer incoming writes. It has an NVMe, 8-lane, Gen 3, PCIe interface. Its flash is 19nm eMLC sourced from Toshiba and there are three capacity levels; 2TB, 2.7TB and 5.4TB.
These are usable capacities and there is in-built over-provisioning; the 5.4TB card has 8TB of raw flash capacity for example, with the 2.7TB product having 4TB of raw flash.
This over-provisioning contributes to endurance with the 2.7TB card capable of seven full drive writes a day for five years.
The MX6300 controller has custom hardware, with three FPGAs, a 100-core, 500GHz processor, firmware, 4GB of Micron DDR3 RAM and the ST-MRAM.
We understand Mangstor uses 67 of the controller processor cores for SSD functions with 33 left idle. An API is being developed so that external applications could use these spare cores for on-card processing to perform, for example, tasks using the data.
Performance numbers are good, to say the least, with Mangstor saying the 2.7TB product is the fastest SSD available.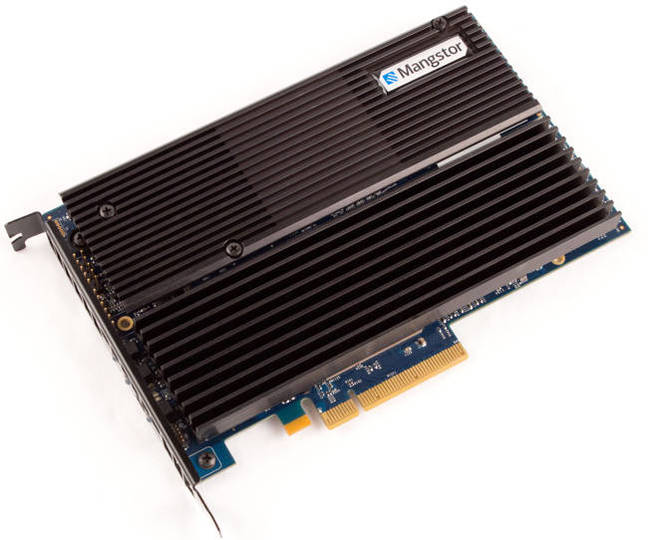 Mangstor MX6300 NVMe PCIe flash card
Read/write latency is <90 µs/15 µs
4K random reads — to 900,000 IOPS (2TB card is 700,000)
4K random writes — to 600,000 IOPS (2TB card is 350,000)
Sequential read bandwidth — 3.7GB/sec (2TB card is 2.8GB/sec)
Sequential write bandwidth — 2.4GB/sec
How does this compare to other products?
SanDisk's PX600, with from 1TB to 5.2TB capacity, also uses 19nm flash and its latency is almost the same, but the IOPS and bandwidth considerably inferior:
Read/write latency is 92 µs/15 µs
4K random reads — to 350,000 IOPS
4K random writes — to 385,000 IOPS
Sequential read bandwidth — to 2.7GB/sec
Sequential write bandwidth — to 2.2GB/sec
Here's a table listing some other PCIe flash card products and their performance:

Not one comes close to the MX6300. It is a hot card, and if you want server-resident IO-bound applications to go as fast as possible, this should supercharge them admirably.
We understand pricing is around $5.50/GB, making the 2TB model yours for $11,000 and the 5.4TB one available for a shade under $30,000.
We understand Huawei's Tecal ES3000 PCIe flash card is another high-performer and a review in Tom's IT Pro found it second to the MX6300 performance-wise and less expensive (at $2.7/GB).
What about the shared server SAN product?