Mellanox is putting itself forward at the heart of faster Ethernet data centre networks, with both chips and switches pitched at 25 Gbps, 50 Gbps and 100 Gbps deployments.
Speaking to The Register ahead of the launch, the company's VP of marketing Gilad Shainer said the silicon provides "the only non-blocking 100 Gbps switch in the market".
The Spectrum chip is pitched as competitor to Broadcom's Tomahawk ASIC, and the "non-blocking" remark is a shot at Broadcom, because Shainer says "you don't get full wire speed" on Tomahawk.
Spectrum can run all speeds from 10 to 100 Gbps Ethernet, and each port on the silicon can run at a different speed. The Connect X4 LX adapter runs between 10 and 50 Gbps with a focus on 25 Gbps applications Shainer said.
Spectrum's support for SAI, the Switch Abstraction Interface, is a big pitch to the OpenEthernet world, he added, targeting the growing number of companies pitching to the hyperscale world.
As noted by The Register's sister site The Platform, "The movement towards adapters and switching using 25GE technology is also coinciding with the rise of open switches, which seek to break the network operating system free from the underlying switch", and that's an attractive pitch for Mellanox to enter.
If the company can prise companies like Cumulus, Pluribus and Big Switch away from the Broadcom architecture, Mellanox would get a slice of what Kevin Deierling reckons is a US$7 billion market.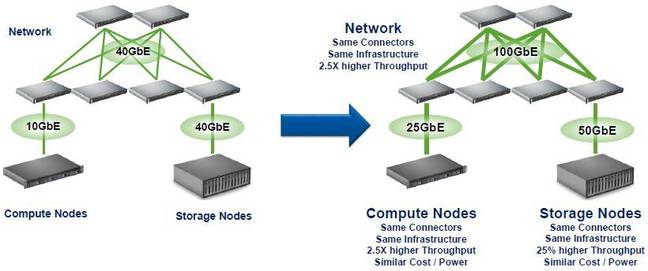 Shainer also told The Register the chip has other features the hyperscalers need: support for the large maps of IP tables needed for data centres with large numbers of virtual machines, and very low latency.
The pizza-box based on the Spectrum chipset can support as many as 128 servers in a single rack unit.
There's a bunch more at The Platform here. ®